Syracuse needed Fair back in the fold to stay competitive
Syracuse lost four of its top players a year ago and still went to the Final Four this past season. That would have been difficult to duplicate next year, but Jim Boeheim will only lose three after C.J. Fair decided to come back to school.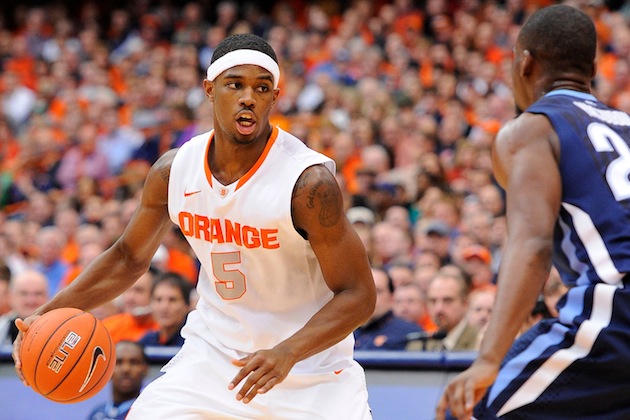 Jim Boeheim reloaded after this past season, so it's only natural to believe the 68-year-old Syracuse coach could do it again. I mean, he lost Dion Waiters, Scoop Jardine, Kris Joseph and Fab Melo -- and the Orange responded with its first Final Four appearance in a decade. 
But Syracuse could not afford to lose C.J. Fair. 
Boeheim already has to replace seniors Brandon Triche and James Southerland, along with talented sophomore point guard Michael Carter-Williams. The loss of the versatile 6-foot-8 Fair would have meant that the Orange would have had to replace its top four scorers. 
The team's top returning scorer would have been, um, Rakeem Christmas -- who isn't exactly known for his ability to put the ball in the basket. He averaged 5.1 points this past season and is offensively challenged. 
Syracuse would have had its hands full next season, especially entering its first in the ACC, with a young team that had little in terms of scoring punch. 
Fair led the team in scoring (14.7) and rebounding (7.0) this past season, but did it quietly. Next season, with the loss of nearly 40 points between Triche, Southerland and MCW, Fair will be the featured player on the offensive end. 
DaJuan Coleman should get an opportunity now that the Orange need offensive production -- and expect Jerami Grant to emerge, although he's not a guy who specializes in knocking down shots. Grant is long, athletic and should be effective in the 2-3 zone. He showed potential in spurts this past season. Syracuse still has Trevor Cooney, a quality perimeter shooter who has never been able to get in a rhythm due to a lack of playing time, but don't be surprised if Duke transfer Michael Gbinije winds up starting on the wing. The 'Cuse will also add a five-man freshman class that is led by talented Canadian point guard Tyler Ennis.
Syracuse can toss out a starting lineup now of Ennis and Gbinije in the backcourt with Fair, Grant and either Coleman or Christmas in the middle -- depending on whether Boeheim needs offense or defense in the post. There's Cooney and Baye Moussa Keita -- and the other freshmen: wings B.J. Johnson and Ron Patterson and power forward Tyler Roberson. 
That may not be a team that gets back to the Final Four, but with Fair in the fold the Orange shouldn't drop too far. 
Gary Parrish and Matt Norlander spend some time on the SEC, too

Having shocked Kansas at Allen Fieldhouse, Duke legend Bobby Hurley is coaching the Sun Devils...

Jay Wright's undefeated Wildcats are now No. 1 in the Top 25 (and one)
Coach K's Blue Devils are the fourth preseason top-10 team to lose to a sub-75 KenPom team

TCU, which downed Nevada late Friday, continues to flourish under second-year coach Jamie...

The fans rushed the floor and celebrated after Taylor University scored its 10th point of the...