Talented forward Austin Colbert getting back to his strengths
Austin Colbert spent much of last year expanding his offensive game to the perimeter. However, this spring and summer, Colbert is looking to get back to playing on the inside more often.
• 2 min read
Last spring and summer, it looked like Austin Colbert was making a concerted effort to expand his offensive game. The 6-foot-9 forward was spending a lot of time on the perimeter, shooting jumpers and showing off his ball-handling ability.
Colbert was used to playing in the post for most of his early high school career at St. Patrick (N.J.), where he was a dominant prospect in his age group. After experimenting with becoming a combo forward, Colbert is looking to get back to his roots.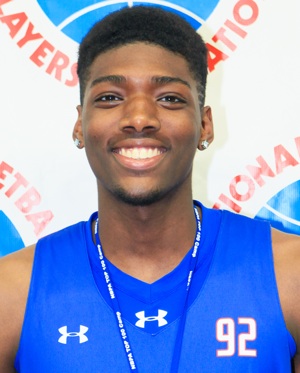 Austin Colbert has a top five of Florida, Texas, Seton Hall, Baylor and Georgetown. (Davide DePas)
"I expanded my game, but I tended to float," he said. "It helped me with my ball-handling and basketball IQ, but it would be better if I went into the post more."
At the NBPA Top 100 Camp in Virginia two weekends ago, Colbert looked more aggressive and assertive in the post than we have seen him in a long time. He was not afraid to go up in traffic or bang inside for finishes around the rim. He ended up averaging 7.2 points at the camp.
After seeing his ranking drop over the past two years, more performances like his one at camp could see him regain some of the stature he lost.
"I'm just trying to be the best player I could be," Colbert said. "I want people to be like, 'Oh, that's Austin Colbert.' I want to turn heads and open eyes."
For now, his top five consist of Florida, Texas, Seton Hall, Baylor and Georgetown. VCU and other schools are also showing interest, but his five are pretty set at this point.
Colbert wants to take another visit to Florida, and he also wants to check out Texas and Baylor.
"Somewhere that will get me better, develop me mentally and further my basketball development," he said when asked what he was looking for in a school. "A place that will get my IQ up."
For someone who has spent his entire high school career in New Jersey and Connecticut, Colbert might be looking to move to a warmer-weather climate for his college years.
"As much as I love the Northeast, I'm originally from Virginia," he said. "So I have a Southern mentality."
A decision from Colbert is probably coming before his final year of high school, most likely at the end of July.
"I want to be able to just focus on that school, get my mind right and get ready for college," he said. 
No. 2 Arizona and No. 18 Purdue are each 0-2 in the Battle 4 Atlantis, and they'll play each...

It's rare to see two incredibly gifted big men going head to head this early in a college hoops...

The Wildcats are no longer undefeated after losing to NC State
Brey's team overcame a 16-point deficit to top Wichita State in the Maui finale

No. 13 Irish led for only 22 seconds, but a pair of clutch free throws lifted them to a Maui...

Freshman overcomes plenty before he even puts on a jersey and then sparks signature win for...