Teams chasing NCAA bids to end droughts or get in for first time
Who's on the cusp of getting to the Big Dance -- but normally isn't on the radar? Plenty of teams.
• 7 min read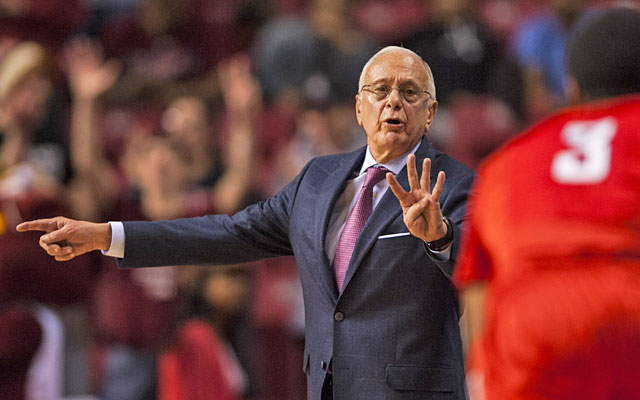 This year's NCAA tournament will be one for inaugurations. And it'll absolutely look quite different from recent brackets. Turns out, more than two dozens teams that have either never made the NCAAs or spent a decade or more away are in good position to get into the field of 68 this season. I can't remember a year that was this ripe with first-timers or furloughed programs who have a good possibility of being called out on Selection Sunday.
This is a good thing. It's always a nice shot to the arm of the bracket when you look and see schools that appear out of place. The less teams in the field you can identify, the more fun it can be, I say.
I've split up the unfamiliar candidates into two categories. First, the schools that have never earned a ticket to the ball -- ever. Below that, all the teams in contention to get back for the first time in 10 years or more.
The criteria was simple for inclusion: Either be a bubble team or better from a multi-bid league; or, if in a one-bid conference, currently have a first- or second-place record in your league. The list would've been even longer if I opted to wrangle in third-place teams.
As is, we have plenty of fresh faces ready to show up to college hoops' cotillion. Here's who's on the cusp of breaking through to the big dance.
Possible NCAA tournament newbies

Buffalo Bulls , D-I since 1991: At 17-8 and 11-4 in the MAC East, the Bulls are having a great year under first-year coach Bobby Hurley. Senior forward Javon McCrea, who has been an elite mid-major player his entire career, is deserving of a showing in the Big Dance.

Denver Pioneers , D-I 1947-1979, and again since 1998: Technically the school with the longest drought of any listed here. Sinbad played ball here during the 1970s. This year, the Pioneers are 15-12 but second in the Summit League at 8-4. Chris Udofia is a solid senior big man who's plenty efficient.

Elon Phoenix , D-I since 1999: Bet you didn't know there were two teams nicknamed the Phoenix in D-I hoops. And both are on this list. Matt Matheny's team is 18-11 and 11-3 in the SoCon, two games behind perennial power Davidson.

High Point Panthers , D-I since 1999: Just 15-13, but lead the Big South with an 11-4 mark at the moment. And have done this without their best player, Allan Chaney, who had to give up a career in basketball due to a heart condition.

IPFW Mastodons , D-I since 2001: The Mastodons! At 8-4, they're in a second-place logjam in the Summit League. Not the league's best team, but capable of winning the tournament and getting that auto bid? Why not?

North Carolina Central Eagles , D-I since 2007: The Eagles are legit. At 22-5 overall and 12-1 in the MEAC, this team has a solid shot at keeping the league proud in the way Norfolk State did back in 2012. NCCU already beat North Carolina State this season. LeVelle Moton is a rising star in the coaching business.

Quinnipiac Bobcats , D-I since 1998: As someone who lives less than an hour from the Quinnipiac campus, shame on me for not realize QU had never made an NCAA tournament. The Bobcats are involved in the best mid-major race in the country in the MAAC, and are 14-4 in the league. Tom Moore's team has won seven straight. What's more, it's the school's first season in the conference; it left the NEC after last season.

Stony Brook Seawolves , D-I since 1999: At 20-8 and 12-2 in the America East, Stony Brook has been banging on the door for a few years now. But it can't get past Vermont, which again leads the AE. Will this be the season?

UC Irvine Anteaters , D-I since 1977: The team with a top-five nickname in all of D-I (and how I wish the UC Santa Cruz Banana Slugs were D-I, by the way) is 18-10 overall and tied atop the Big West at 9-3 with Cal-Santa Barbara, which boasts the best player in the league in Alan Williams. But the Anteaters have three 7-footers, including freshman Mamdou N'Diaye (7-feet-6). In a great turn of events, these teams play each other Thursday night.

Utah Valley Wolverines , D-I since 2008: Will not fault you for not even knowing this school exists. It is of course relatively new to the D-I scene. And it's part of the geographically curious WAC now. At 10-3 in-conference, the Wolverines are tied atop the standings with perennial league bully New Mexico State. And how terrific: the two play Thursday night.
Long time, no see
Now, the teams with at least one previous NCAA tournament appearance who are still in the mix to finally get back after a decade or more away. We'll start with the longest drought.

Yale Bulldogs (1962): Yale beat Harvard already and the Crimson still have to take a trip to New Haven next weekend. The Ivy only gets one bid, so the Bulldogs will need to win out to rip this from the preseason favorites. Yale is 14-10 and 8-2 in the Ivy League. 1962!

Toledo Rockets (1980): This one was shocking. Could've sworn I saw Toledo in one or two brackets in the 1990s, when I grew to love the NCAA tournament. Alas, no. The Rockets got off to a 12-0 start this season, and are now 23-5 with an 11-4 mark in the MAC. 

Mercer Bears (1985): Also a team I thought had been to the Big Dance some time in the past 10 years, for whatever reason. But the Bears, currently 22-7 and tied atop the A-Sun with Dunk City at 13-3, are enduring a 29-year dry spell. The metrics say this is the best team in the league. It was also the preseason favorite. Veteran group.

Louisiana Tech Bulldogs (1991): Conference USA has four other teams -- Middle Tennessee State, Southern Miss, Tulsa, UTEP -- vying for the league's auto bid. And here are the Bulldogs, 22-6 and 10-3 in the conference. C-USA has a good shot at doing real damage in the NIT, but only Southern Miss seems to be a fringe candidate for an at-large here. La. Tech trying to stir memories of the Karl Malone days.

Towson Tigers (1991): Pat Skerry has done an amazing job turning this program around. Remember, it went 1-31 (GOODNESS) in 2011-12. Now, two years later, it's a 21-9 team with a 12-3 CAA mark. Jerelle Benimon might be an NBA player, too.

SMU Mustangs (1993): The hiring of Larry Brown was panned by most. Now he's showing why SMU took the chance. This team is getting back to the NCAAs and will be one of the bigger stories in the days leading up to the Round of 64. The Mustangs are 22-6 and a No. 9 seed in the most recent bracket forecast on CBSSports.com.

Green Bay Phoenix (1996): The other Phoenix (Phoenii?)! I had a story up earlier this week on why Green Bay is a team that's perfect for that 12-over-5 upset we get every season. The Phoenix have already clinched a share of the Horizon League title and have a possible future pro in Alec Brown. Awesome team to watch. Will be popular upset pick if they get to the big boy bracket.

Massachusetts Minutemen (1998): Like SMU, a virtual guarantee to make this year's NCAA tournament. I was on hand last Friday when the Minutemen beat VCU to improve to 21-5. Now they're 22-5 and sitting with a No. 7 seed on our board. The dream of the '90s is alive in Amhert. Carmelo Travieso, where are you!

Delaware Fightin' Blue Hens (1999): The alma mater of our own Jeff Borzello. He's so UDel, bro. The Blue Hens or Towson will likely be the team getting knocked off this list in 17 days. Monte Ross' club is 13-2 in the conference but has lost two of its past four.

Georgia State Panthers (2001): With a 13-1 conference record, Ron Hunter's team is running away with the Sun Belt. Remember, this is the program where former Kentucky point guard Ryan Harrow transferred.

Tulsa Golden Hurricane (2003): Remember when Tulsa was absolutely rolling in the mid-1990s and through the turn of the century? From 1994 through 2003 the program went to eight NCAA tournaments and won 11 tourney games, including three second-weekend appearances. Tubby Smith, Steve Robinson, Bill Self and John Phillips turned the Golden Hurricane into a top-30 national job, basically. But it has fallen off since. This season, Tulsa's 15-12 but 10-3 in Conference USA. It has a shot.

Wagner Seahawks (2003): Behind the youngest head coach in D-I (Bashir Mason), Wagner is 10-4 in the NEC and three games behind Robert Morris. But if one small league has proven its conference bracket to be wild over the past five years, it's the NEC.

Providence Friars (2004): The fans are starving for entry to the NCAA tournament. Jerry Palm has Ed Cooley's team in the First Four as of Thursday. At 18-10, PC still has two of its final three games on the road. Will likely need to reach the Big East semifinals to feel even kind of hopeful.

Western Michigan Broncos (2004): The team currently leading the MAC, at 12-3. Steve Hawkins' team will have a challenge for sure in the league tournament, but at least the conference is compelling at the top, even if it's not near the glory days of the 1990s.
Indiana's Archie Miller and Mizzou's Cuonzo Martin have been killing it on the recruiting...

Duke's much-anticipated Allen-Duval connection is off to a hot start already

It'll be Miller vs. Miller if the Hoosiers and Wildcats can finalize the proposed series
Wisconsin's Ethan Happ has made only two jumpers in his career, but is adding a long-range...

The deal is part of long-awaited $2.64 billion contract; CBS' hoops-only commitment runs through...

If Wichita State guard Landry Shamet has a breakout season, he could leave early for the N...