Teki Gill-Caesar headed to Missouri, will reclassify into 2014
Missouri has landed Montaque Gill-Caesar and he will reclassify into the class of 2014, sources told CBSSports.com.
• 2 min read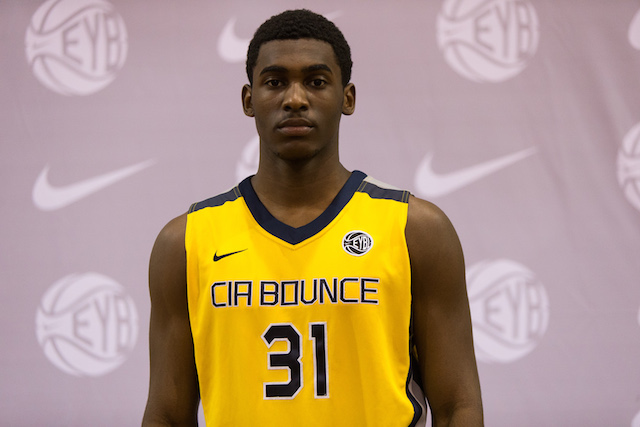 MORE: Latest News | Recruiting Updates | 247Sports Coverage
There aren't too many impact players left on the board for the upcoming season -- but Missouri might have landed the best one.
Four-star wing Montaque Gill-Caesar has decided to reclassify into the class of 2014 and will enroll at Missouri, sources told CBSSports.com. He signed a financial aid agreement with the school.
After the news broke, Missouri followed it up with a press release.
"I'm so excited to be joining the University of Missouri family and cannot wait to get on campus and get to work," Gill-Caesar said. "Everything about my visit to Mizzou was perfect, but I wanted to be thorough make the decision that was best for me and my family. I already had great relationships with Coach Rob (Fulford) and Coach Fuller, but having a chance to meet Coach Anderson and get to know him on a personal level just put everything over the top. I want to thank my family and everyone at Huntington Prep for their support and I'm ready to be a Missouri Tiger."
Gill-Caesar, a 6-foot-5 Huntington Prep (W.Va.) product, was ranked No. 36 in the 247Sports Composite for the class of 2015. The Canada native had offers from a long list of schools, including Michigan State and others.
There had been rumors for months that Gill-Caesar would reclassify, but as time went on, it seemed less likely -- until Missouri hired Rob Fulford as an assistant coach. Fulford coached Gill-Caesar at Huntington Prep, and the Tigers immediately had a hook to get Gill-Caesar. A visit to Columbia shortly after Fulford was hired got the ball rolling in Missouri's favor.
"Having the opportunity to continue coaching Teki is tremendous, not just for me, but my entire family, because we developed such a strong relationship during our two seasons together at Huntington Prep," Fulford said. "Teki is certainly a talent, but he really is a better person. Our fans will see that once they get to know him. He is such a genuine young man and has an engaging personality. He fits the type of student-athlete Coach Anderson will recruit to Mizzou."
Gill-Caesar is a strong and physical wing player who will immediately upgrade Missouri's perimeter group. He has improved his outside shot, and can also finish effectively at the rim. With the Tigers losing Jordan Clarkson, Jabari Brown and Earnest Ross, new head coach Kim Anderson badly needed an influx of offense. Gill-Caesar will be another newcomer option, joining transfers Deuce Bello (Baylor) and Cameron Biedscheid (Notre Dame), as well as freshman D'Angelo Allen and Namon Wright. 
"Teki is an outstanding addition to our family and fills a position of need for us on the wing," Anderson said. "Teki has all the tools to be a big time talent over the course of his college career and fits extremely well with the young perimeter players we have in the program because they are so versatile. He can shoot the ball on the perimeter, he can attack the rim off the bounce, he can use his size and leaping ability to rebound over bigger players and he has great presence on the defensive end of the floor. He will have an opportunity to come in an contribute right away and gives us another important influx of talent as he joins Keith (Shamburger) in arriving next month."
Gill-Caesar averaged 13.0 points and 4.7 rebounds on the Nike EYBL circuit with CIA Bounce.
Here's how the top teams are trying to stay elite as recruiting heats up

There's never been anything like Wednesday night's LaMelo Ball-Zion Williamson showdown

The best basketball player in the world showed up too late to the biggest game in Las Vega...
Thousands of fans were turned away (even LeBron!) from the LaMelo Ball-Zion Williamson sho...

"Four Sides of the Story" also takes a look at Tiger Woods' first PGA tournament and the role...

Indiana's Archie Miller and Mizzou's Cuonzo Martin have been killing it on the recruiting...