Jamie Dixon left Pittsburgh for TCU on Monday.
So the Pitt men's basketball job is now officially open.
Here is a list of candidates whose names could surface ...
Archie Miller (Dayton head coach)
First things first: The Sean Miller thing isn't happening. Yes, he's a former Pittsburgh point guard, and I'm sure the school holds a special place in his heart. But Sean Miller has one of the very best jobs in college basketball and a recruiting class signed that'll give him a chance at a Final Four next season. So it makes almost no sense to move, which is why he announced on Twitter earlier Tuesday that he will not be the next coach at Pittsburgh.
So if Pitt wants a Miller, it'll have to aim for Archie.
That's Sean's younger brother, the coach at Dayton, and a 37-year-old who was raised just outside of Pittsburgh. So he's an obvious target. But sources have told CBS Sports that Archie Miller will likely remain patient and wait for something better, which he'll surely be offered in the next few years. "Never say never," I was told. So anything is possible. But sources said it's highly unlikely that Archie Miller will leave Dayton for Pittsburgh.
Andy Enfield (Southern California head coach)
Enfield has most famously worked in Florida (at Florida Gulf Coast) and California (at USC), but he's from Shippensburg, Pennsylvania, which is about 170 miles from Pittsburgh. He built Florida Gulf Coast into a national brand that made the 2013 Sweet 16, then bounced to USC and also rebuilt that program -- evidence being how he just guided the Trojans to their first NCAA Tournament since 2011. So if Pitt wants a 46-year-old with a name that resonates, and who has ties to the state, and who has never failed professionally, and who plays up-tempo basketball, Enfield is an intriguing option.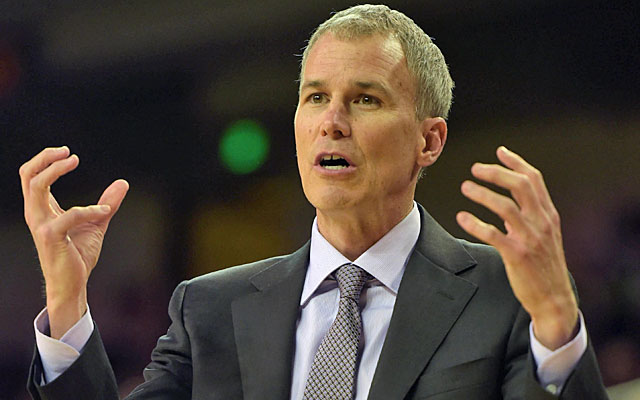 Dan Hurley (Rhode Island head coach)
Yes, Hurley just passed on Rutgers to remain at Rhode Island. But the Pittsburgh job is way better than the Rutgers job, and Hurley is smart enough to know that. He has a nice team returning; it would be difficult to walk away from URI right now. But the Pitt job is the type of job that would make Hurley at least look, and he's a sensible option worth consideration.
Ed Cooley (Providence head coach)
Cooley has made the Providence job look easier than it is the past three years while taking the Friars to three straight NCAA Tournaments. But he's losing Kris Dunn, and he might also lose Ben Bentil. In other words, this wouldn't be the worst time to cash in on recent success, and his dynamic personality would excite fans quickly.
Mick Cronin (Cincinnati head coach)
Cronin is clearly serious about leaving his alma mater or else he wouldn't be so publicly flirting with UNLV. And considering Pitt could definitely offer more money and, perhaps, also present a better job, it's worth seeing if he would rather move East than West.
Bryce Drew (Valparaiso head coach)
Drew has passed on Power-5 jobs and seems in no rush to leave his alma mater. But he's won at least 26 games in four of the five seasons he's coached at the Division I level, and he's the two-time Horizon League Coach of the Year. Drew got a look from Iowa State last offseason. Pittsburgh would be wise to at least take a look, too.
Herb Sendek (former Arizona State/NC State head coach)
Sendek has taken three different schools to the NCAA Tournament -- including North Carolina State, an ACC member, five straight times from 2002 to 2006. He grew up in Pittsburgh and graduated from Carnegie Mellon. So he's a local guy with a résumé filled with accomplishments. He's won more than 400 games at the Division I level.
Mike Lonergan (George Washington head coach)
Lonergan has averaged 24 wins the past three seasons and probably could've just had the Rutgers job if he really wanted the Rutgers job. He barely missed the NCAA Tournament this season and is respected in the industry as a good tactician who wouldn't be overwhelmed by the level of coaching in the ACC.
Kevin Willard (Seton Hall head coach)
Willard is a former Pitt point guard who just led Seton Hall to its first NCAA Tournament appearance since 2006. His father, Ralph, coached Pitt in the 1990s. So Willard checks the box if the box is "coach coming off of a nice season with ties to the university."
Greg Kampe (Oakland head coach)
Some Pitt fans seemed to grow tired of Dixon in the sense that he neither plays fast nor has a big personality. So why not look at a guy like Kampe -- who plays fast and has a huge personality? He's guided Oakland to the NCAA Tournament three times, has turned so-so prospects into NBA players, won 550-plus career games, gone 24-10 in the Horizon the past two years, and his Grizzlies led the nation in scoring this season by averaging 86.3 points per game, which has to be appealing to a school that just lost to Wisconsin in the first round of the NCAA Tournament while scoring a grand total of 43 points.