Ten players who must be productive this summer to help their teams
It's all about what they did last summer when the 2014-15 season begins. And Louisville's Mangok Mathiang is among 10 who must put in the work.
• 8 min read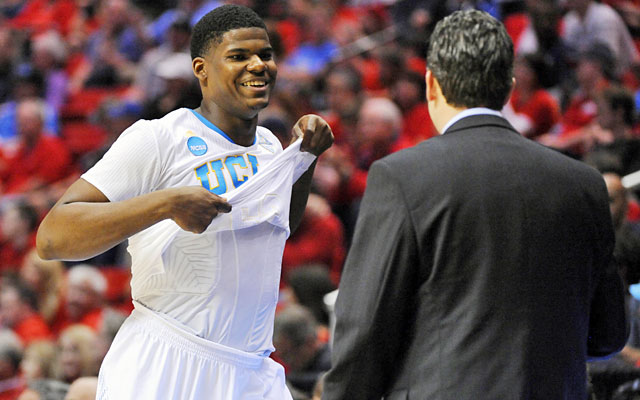 Latest in college hoops: Latest News | Coaching Changes | 247Sports: Recruiting
"The time will come when Winter will ask you what you were doing all Summer." -- Henry Clay
College basketball may be played in the winter but players become elite thanks to the work they put in during the summer. Here are 10 players who need to have productive summers leading up to the 2014-15 season.
Mangok Mathiang, C, Louisville: The Cardinals are bumping up a weight class by jumping from the American to the ACC and they'll need an accelerated effort on the backboards from Mathiang. The 6-foot-10 big man only collected seven total rebounds in Louisville's three NCAA Tournament games last March and with the departure of veteran big man Stephan VanTreese (six games with seven or more rebounds in March 2014), Mathiang's presence now becomes a bit of an x-factor for Louisville in '14-15. Somewhat limited last year as a freshman, Mathiang needs to polish up his skills around the rim if the Cardinals are going to have ample protection on both sides of the ball next to Montrezl Harrell next season.
Malcolm Hill, G/F, Illinois: The Illini are loaded next season on the perimeter and that means Hill will likely spend plenty of time as an undersized power forward. The 6-6 Hill (4.4 points in 2013-14) played a good deal of "four" last season as a freshman but needs to continue to add strength and improve his 3-point shooting accuracy (34.1 percent last season) if he's going to be as effective as Illinois needs him to be on a regular basis. During both of John Groce's first two seasons in Champaign, he has used a stretch four-man (Tyler Griffey in '12-13 and Jon Ekey in '13-14) to open driving lanes for his perimeter players. If Hill can become more reliable from long distance it would only augment Illinois' potent backcourt. This team adds two impact transfers at guard in Ahmad Starks (Oregon State) and Aaron Cosby (Seton Hall) while also returning three quality perimeter pieces in Tracy Abrams, Rayvonte Rice and Kendrick Nunn. The Illini played their best basketball last season when Hill made open 3-point shots and defended and rebounded like a four man. It's on him this summer to make sure he can do those things on a regular basis in 2014-15.
Hanner Mosquera-Perera, F, Indiana: There's no time like the present for this 6-9 big man. Perera was a highly decorated recruit when the Hoosiers signed him out of high school in 2012, but his first two seasons in Bloomington have been a bit of a disappointment. The Colombia native showed a glimpse of what he's capable of in Indiana's win over Ohio State on March 2, when he tallied eight points, five rebounds and three blocked shots in 15 minutes of work. That's exactly the type of production this team will need from him in 2014-15. With Noah Vonleh now in the NBA, Perera all of a sudden becomes someone who has to give the Hoosiers quality minutes in the pivot. Tom Crean's perimeter of Yogi Ferrell, highly decorated freshman James Blackmon and Troy Williams will keep Indiana in a lot of games next season, but the Hoosiers need Perera's rebounding, conditioning and ability to finish at the rim to be significantly better next season than it has been thus far in his collegiate career -- if this team wants to compete for a place in the top half of the Big Ten standings.
Shaquille Thomas, F, Cincinnati: Lanky wing is the Bearcats' top returning scorer (6.7 points) from last year's team that won 27 games and reached the NCAA Tournament. Mick Cronin has led Cincinnati to 101 victories and four straight appearances in the field of 68 over the past four seasons, but if the Bearcats are to return to the sport's most hallowed showcase in 2015 it will be partially because Thomas becomes more of an alpha dog as a junior. Bouncy, agile and active, the New Jersey native has all the tools to blossom into a reliable scorer but needs to become more assertive on a daily basis. Thomas only reached double figures in one of Cincinnati's final 12 games last season.
Luke Kornet, PF, Vanderbilt: Stretch four-man had moments of promise last season as a freshman and will take on a significant role for the Commodores as a sophomore. Kornet has already added 10 pounds of muscle since Vanderbilt's final game in March and needs to continue to gain strength if he's going to guard power forwards with regularity in the SEC. The 7-footer had six games last season where he made multiple 3-point shots and needs to continue to improve his shooting accuracy if Vandy is again to become a factor at the top of the conference standings.
Christian Wood, PF, UNLV: Anyone who has seen Wood play knows there's no ceiling on his talent. The 6-10 forward played over 20 minutes on just three separate occasions last season and averaged 6.7 points and 7.3 rebounds during those games. If this guy plays 25-30 minutes each night, he's a walking double-double. But how will he handle potentially being the Running Rebels' initial go-to option next season? UNLV lost its three best players in Bryce Dejean-Jones, Roscoe Smith and Khem Birch, which means Wood is the most seasoned returning threat on Dave Rice's roster. The Rebels bring in a highly decorated recruiting class in freshmen Rashad Vaughn, Dwayne Morgan and Goodluck Okonoboh as well as fifth-year transfer Cody Doolin from San Francisco, but there's no way to know how any of those players will immediately adjust to a considerably higher level of competition. No one is questioning Wood's talent level --- he has the goods. But this summer, he needs to prepare himself mentally to regularly be a factor for UNLV and help this team make a difference where it matters most --- the won-loss column.
Sam Singer, PG, California: Crafty floor general isn't a great athlete but he has to become an effective pick-and-roll player as well as a better defender if the Bears are going to compete for an NCAA Tournament bid in Year 1 under Cuonzo Martin. Singer is the only real option for Cal at point following Justin Cobbs' graduation, and his ability to make timely 3-point shots will be paramount during this season in Berkeley. Shooting and conditioning are two areas of Singer's game that need to be addressed multiple times a day if he's to give Cal the type of lift it needs from the most important position on the floor. 
Tyler Roberson, F, Syracuse: Jim Boeheim has thrived over the years with athletic forwards and this 6-8 sophomore is cut from the same cloth. A highly decorated prospect out of high school, Roberson would have had a major impact at just about any program in the country last year as a freshman but was caught in a numbers crunch behind Jerami Grant and C.J. Fair. With both those players and Tyler Ennis now in the NBA, the Orange don't just need Roberson to play, they need him to score. A capable finisher around the rim, he has to enhance his mid-range game and also be a threat from long distance so opposing defenders aren't allowed to sag off him. With Rakeem Christmas, DaJuan Coleman and 6-10 freshman Chris McCullough set to log the bulk of the minutes at power forward and center for the Orange next season, Roberson's ability to bring offense from the three spot is beyond critical for Syracuse. Shooting and ball handling are two areas of major focus for this combo forward.
Mark Donnal, PF, Michigan: There are multiple methods to John Beilien's incredibly successful run as a head coach, but one of them is knowing when to redshirt players. Donnal was a Top 100 recruit in the Class of 2013 who wound up sitting out last season because Michigan had Glenn Robinson III, Mitch McGary, Jon Horford and Jordan Morgan up front. Now all of those players are gone and Donnal is left as a critical piece for the Wolverines. The 6-9 forward has a quality face-up game and is armed with the type of skill level Beilein likes in his big men. A capable finisher around the rim when he was in high school, Donnal needs to spend all summer making sure his foot work, timing and grasp of the Michigan offense are rock solid when practice officially begins in early October.
Tony Parker, C, UCLA: The time has come for Parker (6.9 points, 4.4 rebounds last season) to live up to the promise he showed a few years ago when he was in high school. And if he doesn't, Steve Alford can put somebody else in the game who could challenge Parker for minutes on a regular basis. The Bruins' freshman class will be one of the best in the country next season and one of the highlights is 6-11 center Thomas Welsh, a true center with good hands and a soft touch around the rim. If Parker's motor isn't at the level it needs to be on a regular basis, Alford could turn to Welsh to take his place. The 6-9 Parker came into last season as a sophomore in better shape than he was as a freshman, but still needs to be more productive on a regular basis. The Atlanta native only scored in double figures twice during UCLA's entire Pac-12 slate, including the conference tournament, and hopefully the threat of competition will drive him to a level he has yet to show since his arrival in Westwood.
The Mountaineers blew a double-digit lead in the second half and Huggins decided he'd seen...

The No. 3 Wildcats crush the No. 4 Musketeers to move closer to winning a 5th consecutive Big...

The No. 2 Spartans overcame a 27-point deficit vs. Northwestern and South Carolina holds on...
John Calipari's team gets a healthy home win over Alabama, and UK fans can finally calm th...

McLemore was taken to a nearby hospital for further evaluation

Bagley is leading the Blue Devils in scoring and rebounding