Ten thoughts from Nike Peach Jam and Under Armour Finals
The Nike Peach Jam is annually the summer's best AAU event -- and this year was no different. But Under Armour's signature event was in Atlanta, and that added some fun.
• 8 min read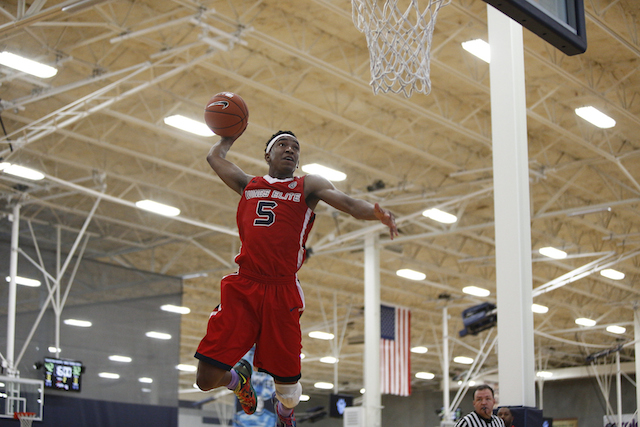 MORE: Peach Jam Notebook | UAA Finals Notebook | Chance Comanche Update
The second weekend of the July recruiting period is usually the best. And that was the same this year – especially with the first period occupied mostly by high-profile shoe company camps. It was highlighted by the Nike Peach Jam in North Augusta, S.C., but Under Armour's signature event was in Atlanta and there were a couple of other events in the area too. Here are 10 takeaways from the event:
1. I'm glad Under Armour moved their event to Atlanta: This is obviously for selfish reasons, as it was easy to get to both events during the four-day period. Last year, Under Armour's biggest July event was in Milwaukee, during the first evaluation period. This year, they leveled a shot across the bow at Nike by moving it to Atlanta, just about two and a half hours south of the Peach Jam. It makes sense, though. Many coaches (and media) fly into Atlanta on Wednesday, and Under Armour scheduled its showcase games for Wednesday night and Thursday morning. Plenty of people stopped by for those two days and then went on up to the Peach Jam. Other coaches bounced back and forth between the events. Either way, having two big-time events so close was a big plus.
2. The elite in 2016 are better than the top-ranked guys in 2015: When ranking the top guys in high school basketball regardless of class – which I will do after the third period in Las Vegas – it's clear the class of 2016 has better top-tier guys than 2015. Ben Simmons is terrific and well-deserving of the No. 1 spot in 2015, while players like Jaylen Brown and Malik Newman (and Ivan Rabb, etc.) are also big-time players. But the cream of the crop in 2016 is outstanding. Thon Maker has an enormously high ceiling and will be one of the most talked-about players in the country – yet he's not even in the top three in the class. Malik Monk has had maybe the two best performances on the Nike circuit this spring and summer – and he's not even top three in the class. Jayson Tatum already has a pro arsenal offensively, Josh Jackson is an excellent passer and freakishly long, and Harry Giles might be better than both of them at 100 percent. There is some talk that Maker and Jackson will reclassify to 2015, though, boost that class's stock just a bit.
3. The gap between the top players in 2015 and the second-tier guys isn't very big: Ben Simmons is clearly the No. 1 player in the class of 2015, but the difference between No. 2 and No. 15 isn't all that wide, especially in the frontcourt. For a couple of examples, Tyler Davis is ranked No. 33 in the 247Sports Composite – and he went out and averaged 19.4 points and 10.6 rebounds at the Peach Jam. Jawun Evans is No. 34 in the Composite, yet he's been one of the most impressive point guards over the last two months. Isaiah Briscoe and Allonzo Trier were maybe the most impressive performers at Peach Jam, yet neither is in the top 10. Part of the reason 2015 isn't highly-regarded is the top guys aren't program-changers. However, a school can miss a top-15 guy and still get similar value down in the 30s.
4. Two point guards to watch in 2016: Two of my favorite players from the Peach Jam were Dillon Mitchell of Team Penny and Alterique Gilbert of Team CP3. Mitchell is fast with the ball and constantly puts pressure on the defense. When doing some quick research on him, it seems he's a high-major football prospect as well, earning offers from Ohio State and Cincinnati as a wide receiver. Gilbert has terrific handles and quickness, blowing by defenders or leaving them hanging with a lethal crossover. He also showed some good body control on floaters in the lane. Memphis has become involved with both players.
5. I think Arizona ends up with the No. 1 class in 2015: Sean Miller has dominated the West Coast in recruiting lately, while also going outside of his region to snare five-star prospects. At this point, I think the Wildcats are the favorite to end up with the No. 1 recruiting class in the country. Ray Smith and Justin Simon are already in the fold, giving Miller a five-star wing and one of the best point guards in the country, respectively. Arizona will also get another five-star guard in this class, whether it's Allonzo Trier or Isaiah Briscoe. Up front, there are several players for which Arizona is strongly involved. Ivan Rabb is often considered an Arizona lean, although he has denied that in the past. Chance Comanche, a top-50 center, is also rumored to be favoring the Wildcats. Tyler Davis speaks highly of Arizona (along with Kansas), and Stephen Zimmerman also has Arizona on his list. At the end of the day, it wouldn't be a shock to see Arizona end up with three five-star players and a couple of other top-40 guys.
6. What about Kentucky? John Calipari is used to being No. 1 in the recruiting rankings – or at least very close to the top. This season, though, there is plenty of uncertainty in the Wildcats' class of 2015 as the summer period winds to a close. Malik Newman was long considered a Kentucky lean, but Kansas, Connecticut and Mississippi State have all been mentioned with him lately. Jaylen Brown might be Kentucky's top target, although UCLA, Kansas and Georgia are not going anywhere. The Wildcats are also playing catch-up with Cheick Diallo. Kentucky is likely the new favorite for Antonio Blakeney, the high-scoring shooting guard who recently received an offer from the Wildcats. Stephen Zimmerman, Henry Ellenson, Brandon Ingram, Doral Moore, Skal Labissiere and others are also on the board for Kentucky. I'm not saying the Wildcats won't end up with an excellent class – there's just a lot up in the air right now. They currently have a commitment from top-50 guard Charles Matthews. 
7. We finally got some marquee head-to-head matchups: I've complained over the past couple of months about the lack of big-time battles at the top 100 camp and LeBron James Skills Academy. That certainly wasn't the case this past weekend in Atlanta and North Augusta. There was Jaylen Brown vs. Josh Jackson, Ben Simmons vs. Harry Giles, Simmons vs. Dedric Lawson, Isaiah Briscoe vs. Allonzo Trier, Cheick Diallo and Thomas Bryant vs. Caleb Swanigan and Deyonta Davis, Jawun Evans vs. Justin Simon, Derrick Jones vs. Terrance Ferguson, even Diamond Stone vs. Doral Moore. Watching dozens and dozens of games over the course of a couple of months can get grueling – having a high-level head-to-head matchup in the mix is a nice way to spice things up.
8. Donovan Mitchell, Tyler Davis  and KeVaughn Allen will rise in the rankings: Two players that have had some hype in the past but tapered off a bit were Mitchell and Davis – but both players had excellent weeks and will receive a bit more attention. Davis is an absolute load on the block. Once he carves out position, it's over for the defender. Arizona and Kansas seem heavily involved in this one. Mitchell reportedly played well last week in Philadelphia, and then followed it up with more stellar play at the Under Armour event. He's a strong guard with athleticism that can knock down shots from the perimeter or get to the rim. Louisville is among a number of schools to recently boost their interest in Mitchell. Florida pledge KeVaughn Allen is another player who will see his stock rise, as he outplayed Antonio Blakeney head-to-head, and also was consistently one of the best players on the floor in Team Penny's games.
9. Malik Monk is the most entertaining player in high school basketball: I'm not sure this one is all that close. When Monk is on, he's nearly unguardable – and he has the confidence and athleticism to make highlight-reel play after highlight-reel play. He scored 59 points in one game back in April, knocking down 10 3-pointers and making 19 free throws in the process. At the Peach Jam, Monk went for 40 points on just 20 shots. It's not just his scoring that makes him fun, though – Allonzo Trier and Antonio Blakeney are big-time bucket-getters too – it's the manner in which he does it. Monk has deep range on his 3-point shot, often taking jumpers three or four feet beyond the 3-point line. He's also absurdly athletic and is one of the best dunkers in the country. Very few defenders can stay in front of him when his shot is falling. If he didn't mix in 3-of-20 performances with his big-time outings, he would certainly be a candidate for No. 1 in the class.
10. Schools are trying to limit their drama: This seemed to be a common theme among schools I spoke with throughout the past couple of weeks. The term "low-maintenance" came up often, while some schools discussed how they preferred to get a commitment early as opposed to waiting for another year and holding out for someone slightly better. In another school's case, they were adjusting their entire recruiting strategy. Instead of just stockpiling talent and athleticism, they were looking for some high-academic kids and kids that would help chemistry. Talent is great; too many egos is not.
Fall is being shut down after dealing with shoulder injuries and will undergo surgery soon

The Wildcats' resume doesn't seem too impressive right now

Was there contact? 'Everybody saw it,' UK coach John Calipari said
After losing its second game this week, a deep NCAA Tournament run looks far-fetched for U...

Coach K shows he is on on top of his game by landing the best three prospects in the Class...

The Buckeyes and Boilermakers continue to assert their dominance in the Big Ten