Ten thoughts from the LeBron James Skills Academy
The LeBron James Skills Academy was perfect for college and recruiting coverage. Here are 10 takeaways from the event in Vegas.
• 6 min read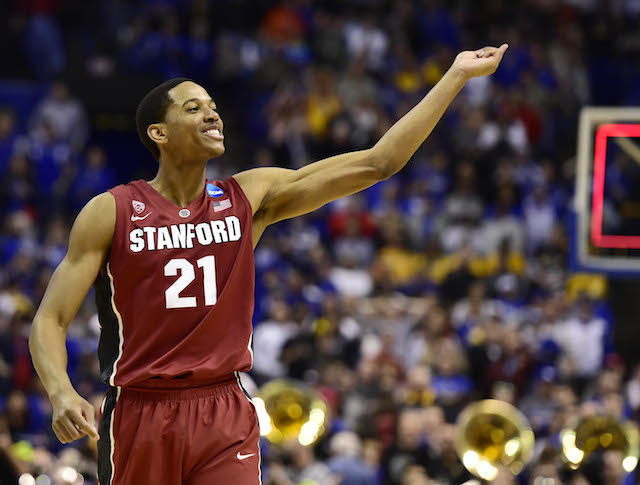 Latest in hoops: Latest News | Coaching Changes | Recruiting
The LeBron James Skills Academy in Las Vegas is perfect for someone that covers both college basketball and recruiting. It featured 80 of the best high school prospects in the country, along with 30 of the best college players. There was a mix of drills and scrimmaging, allowing one to get a very good feel for how each player's game is progressing. 
We've already hit on several things over the past few days.
Here is a roundup of takeaways from the camp, both college and recruiting.
1. Sam Dekker is poised for an All-American season at Wisconsin: Throughout the first couple of days, Dekker was the best player at the camp. First of all, he's grown a couple of inches and now stands at 6-foot-9. The rising junior had a solid season in 2013-14, but a big step forward could put Wisconsin back in the Final Four and keep them among the national championship favorites. He knocked down shots from the perimeter, handled the ball a little bit, moved without the ball extremely well -- and competed. There aren't many 6-foot-9 guys that possess his skillset.
2. Perry Ellis looked like the most improved player: There's a caveat, though: I thought Ellis was really good last season too. That's how good I think Ellis can be this upcoming season. With Andrew Wiggins and Joel Embiid gone, most people are expecting freshmen Kelly Oubre and Cliff Alexander to fill those shoes. While both newcomers will certainly get the starting spots at small forward and center, Ellis could be the key man on the offensive end next season. He consistently knocked down face-up jumpers, but also looked to be quicker. He blew past Arkansas' Bobby Portis for back-to-back finishes, once off the dribble and once in transition. If Ellis becomes a matchup nightmare, Kansas won't miss a beat.
3. R.J. Hunter could be the nation's best 3-point shooter: The Georgia State sniper simply didn't miss last week. For the first few days, I could have counted on one hand the number of shots I saw him miss. He has deep range on his outside shot, and doesn't need much room to get it off. Moreover, he has a wingspan nearing 6-foot-10, enabling him to make contested shots in crowded areas. One NBA scout called him "the best shooter in the country," and after last week, I can't disagree. He shot a notch below 40 percent last year from behind the arc, and I think that number will go up next season.
4. I think Stanford's Anthony Brown could be a sleeper going forward: One player that really caught me eye was Stanford guard Anthony Brown. Take away the name and any predispositions you have for him, and just look at this: he's 6-foot-7, has length, can defend multiple positions, and shot 45.3 percent from 3-point range last season -- on more than 100 attempts. Will he suddenly be a 20 point-per-game scorer next season at Stanford? Highly doubtful, but he seems like a player who can carve out a role at the next level, and be a nice piece for the Cardinal in 2014-15. He had trouble staying healthy up until last year, though; that will be the biggest key.
5. Where would Sviatoslav Mykhailiuk rank? Mykhailiuk drew plenty of headlines in late May, when the Ukrainian star decided to sign with Kansas. He just turned 17 in June, but is expected to play a role with the Jayhawks right off the bat. Nik Stauskas comparisons are unavoidable with him, but with some many NBA scouts in attendance, I decided to ask a couple where he would fit in. "He would be the best shooter here, by far," one said. "Plus he's 6-foot-7 and really knows how to play the game." Kansas has Wayne Selden slotted at the two-guard position, Kelly Oubre at small forward, and Brannen Greene is still there. Despite that, Mykhailiuk will find minutes.  
6. Give me rising sophomores Troy Brown and DeAndre Ayton as the best high school prospects at camp: Of all the prospects at LeBron, it was two 2017 prospects that really stood out to me. Troy Brown is a 6-foot-5 point guard who made plays off the bounce, knocked down shots from the perimeter, and created for others. He also has terrific length and was a capable defender. In a head-to-head matchup against Jalen Brunson, arguably the best pure point guard in 2015, Brown dominated. One NBA scout was equally impressed, asking "Can we draft him now?" Ayton is widely-considered the best 2017 prospect in the country, and the 6-foot-9 big man dominated older players consistently. He ran the floor, scored in the post, rebounded the ball. 
7. Jayson Tatum makes his case for No. 1 in 2016: Heading into the month, I had Tatum as No. 3 in the class of 2016, behind Josh Jackson and Harry Giles. If I had to do it over again, Tatum would be atop the rankings. His offensive arsenal is just above and beyond any other wing in high school basketball. He can score in a variety of ways, got to the basket off the dribble and in transition, made shots from deep. He is also a very impressive passer and has a high basketball IQ. I think he also has the potential to be a good on-ball defender. When combined with his outstanding play in the spring, he could certainly be No. 1 in the rising junior class.
8. SMU got the class's best shooter in Matt McQuaid: If R.J. Hunter was the best shooter of the college guys, I would take McQuaid among the class of 2015. I watched two full games of McQuaid, and I don't know if he missed a 3-point shot. He has very deep range on his jumper, and has the confidence to knock down shots from several feet behind the line. He also is very capable of making contested jumpers. SMU's roster is filled with athletes and length, but McQuaid gives the Mustangs one of the best shooters in the country -- an added dimension for the Mustangs. Moreover, he doesn't complain about shots. He's content to let other guys make plays with the ball in their hands, and then simply knock down perimeter jumpers.
9. Huntington Prep will have the best big men motors next season: The two most high-energy big men in the class of 2015 at LeBron were Thomas Bryant and Ted Kapita. They played on the same team at camp, and will play on the same team at Huntington Prep (W.Va.) next season. Bryant is excellent on the glass, battling inside for offensive rebounds and putbacks. Kapita is just really bursting onto the national scene after spending time at Florida Air Academy (Fla.). He has terrific upper-body strength and also possessed some offensive skills, both inside and out. If you're playing Huntington Prep and there's a loose ball in the paint, chances are one of these two are getting it.
10. Ivan Rabb vs. Henry Ellenson: The best individual battle I watched was Rabb and Ellenson on the first night of the camp. This came after Rabb went against Georgetown-commit Jessie Govan, and simply went to work. He was blocking shots, rebounding at both ends, running the floor, scoring with his back to the basket. Simply put, Rabb dominated the future Hoya. The second half saw Rabb finally go against Ellenson, a fellow top-10 prospect. Both players are talented big men -- in different ways. Ellenson is capable of stretching the floor and knocking down shots to the perimeter, while Rabb uses his length and athleticism to make plays at both ends of the floor. The head-to-head matchup was basically even.
Oklahoma and Arkansas are new additions to Sunday's Top 25 (and one)

Gary Parrish and Matt Norlander discuss a wild Saturday of college basketball

Ball left the program earlier this month and has since signed with a Lithuania professional...
Sooners beat third-ranked Shockers while Florida and FSU lost in upset fashion to unranked...

The Hoosiers grow up before our eyes, and Miller has his first signature victory as Indiana...

Trae Young, a freshman and the nation's top player, has a 21-point first half at Wichita S...