Terrific defensive effort leads Cincinnati past Memphis
Cincinnati isn't the best offensive team in the country. But the Bearcats don't have to be to win, and they're OK with that, too.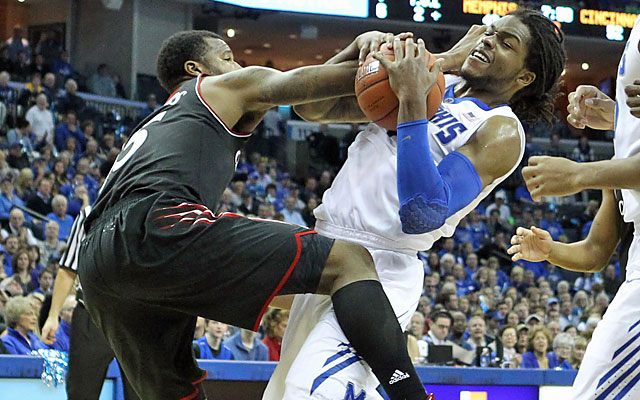 MEMPHIS, Tenn. -- It was a big win (over Pittsburgh) on a big stage (last month's Jimmy V Classic) that snapped a two-game losing streak (for Cincinnati). So, on some level, the Bearcats figured they'd exit Madison Square Garden with at least a little national respect.
Instead, folks mostly just made jokes.
Why?
Because the Bearcats only scored 44 in that win.
Style points still matter, I guess.
"We're trying to score 80," Mick Cronin told me with a laugh Saturday afternoon.
Then he explained the issue.
"We're so good defensively that it takes people time to get a shot against us," Cronin said. "We're no different than Syracuse. People talk about how everybody holds the ball against Syracuse. No they don't. It's just hard to get a shot against their zone."
Likewise, it's hard to get a shot against Cincinnati's man-to-man defense.
Or, at least, it's hard to get a good shot.
And if you didn't know that before, you should know it now -- after the Bearcats held No. 18 Memphis to 33.3 percent shooting from the field and 11.8 percent shooting from 3-point range in Saturday's 69-53 win here at FedExForum that doubled as one of the best true road victories any college basketball team has recorded this season. Sure, North Carolina's win at Michigan State is better, and Arizona's wins at San Diego State and Michigan are comparable; we can rank the best true road victories later, if you want. But, either way, know this: UC's win over Memphis in Memphis before a rowdy crowd of 17,191 belongs on any such list.
"This is a huge win, and now we have to keep everything rolling," said Sean Kilpatrick, a senior who scored 18 points against the Tigers. "This is just a stepping stone for us."
In addition to being, as Kilpatrick put it, a huge win, Saturday served as a reminder that these Bearcats now have an identity they embrace, and it's not all that different than the identity of those UC teams that Bob Huggins used to bring to Memphis when the two schools shared space in the Metro Conference, Great Midwest Conference and Conference USA. These Bearcats are tough, physical, terrific defensively and opportunistic offensively. As Cronin said, they'd love to score 80 (and they almost did against Memphis). But they're just as happy to beat you in the 40s because, you know, all of the wins count the same.
"An ugly win is a win," said Cincinnati senior Justin Jackson. "At the end of the day, it's a win, and that's all I care about. ... If we get the W, I'm all good."
Speaking of, Jackson sure was good against Memphis. He took 10 shots, made six and finished with 13 points, eight rebounds and seven blocks in 31 minutes while looking a lot like a quintessential old-school Bearcat big. Jackson was never the tallest or thickest guy on the court. But he was undeniably the most active and arguably the toughest while outscoring and out-rebounding the Tigers' starting frontcourt by himself. Simply put, Memphis couldn't get anything done around the rim because of Jackson, and that was a problem considering the Tigers' four senior guards -- Joe Jackson, Michael Dixon, Geron Johnson and Chris Crawford -- couldn't get anything going away from the rim, evidence being the fact that they combined to miss 14 of the 16 3-pointers they attempted.
"When our four senior guards play poorly collectively, like they did, then we're going to struggle," said Memphis coach Josh Pastner. "And when they play well together collectively, we're a team [that] will be tough to beat."
That's probably closer to true than not.
But how much did UC have to do with Memphis' four senior guards playing poorly?
A lot, I think.
And that might be what allows the Bearcats to thrive this season.
That and the fact that they know who they are.
So who are they?
They're a team that's going to try to stop you in transition, really guard you in the halfcourt, create turnovers, rebound their own misses and score enough to win. If they can get 80, terrific. But sometimes 44 will do. And that's OK. Because, just like Justin Jackson said, an ugly win is still a win, and that's six straight now for the Bearcats.
Junior point guard was the subject of a Title IX investigation launched by the school last...

Creighton AD Bruce Rasmussen answers questions about some of the committee's grouping metr...

Guy, the leading scorer for the No. 1 Cavaliers, had a big weekend even though UVA didn't...
The stigma of being the first men's Division I team to vacate a title will be difficult to...

The Quicken Loans Confidence Builder focuses on Syracuse, Butler and Florida

Rhode Island can clinch a share of the A-10 regular season title with a win on Tuesday