Terry Rozier, Georges Niang lead list of guys with bigger roles in 2014-15
Terry Rozier and Georges Niang are two of the main players at the LeBron James Skills Academy who need to change their roles next season.
• 8 min read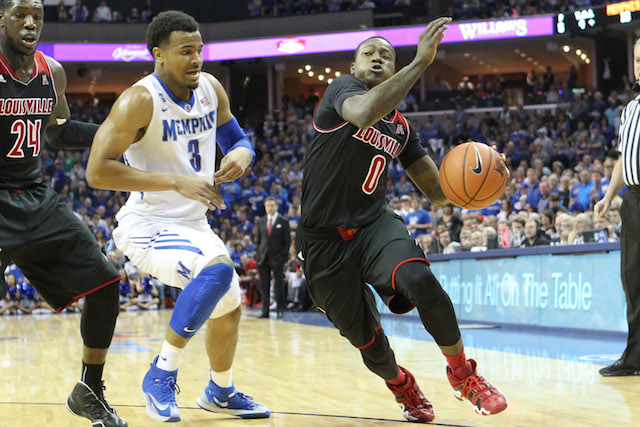 Latest in hoops: Latest News | Coaching Changes | Recruiting
LAS VEGAS – Terry Rozier is the young, promising prospect that has big expectations on his shoulders for the 2014-15 season. Georges Niang is the versatile, veteran forward that also has plenty of pressure on him entering next season.
They're in different situations, but Rozier and Niang are still in the same boat: both players need to take on bigger roles next season if their teams are to be a factor on the national scene.
Rozier, 6-foot-1 guard, was a spark off the bench for Louisville last season. He backed up Chris Jones and Russ Smith in the Cardinals' backcourt, using his athleticism and strength to provide a different dimension when he was in the game. Rozier showed flashes of his potential, and one scout even told CBSSports.com last season that the Ohio native was the best prospect on the team.
With Louisville needing to replace All-American guard Russ Smith, much of the onus falls on Rozier.
"If I told you replacing Russ would be easy, I would be lying to you," Rozier said at the LeBron James Skills Academy. "It'll definitely be tough. He played there for four years, and he's tough. But that's something that we're doing right now, playing constantly, getting to know each other. Someone has to step up and do it."
That someone is more than likely to be Rozier. Rick Pitino will have a young team, bringing in six freshmen and returning four sophomores – with Rozier slated to have the biggest increase in responsibility. In preparation, Rozier has added strength to his upper body, enabling him to finish through contact more effectively at the rim.
At the LeBron James Skills Academy, Rozier has demonstrated his ability to score in different ways – hitting pull-up jumpers off the bounce, getting to the rim, knocking down outside shots. He's a very dangerous offensive player, as demonstrated by a four-game stretch last season in which he averaged 14.7 points in just 23.0 minutes.
With Smith gone, though, Rozier also sees another void that he needs to help fill.
"I just want to be a leader," he said. "I just want to play that leadership role, because I think that's probably what we don't have right now. I think if someone leads the pack, everything else will come together.
"We're going to be darn good. I'll leave it at that."
While Rozier added some upper-body bulk, Niang was doing the opposite: slimming down and losing weight.
Niang was playing at about 250 pounds toward the end of the season, before breaking his foot in the NCAA Tournament against North Carolina Central – and injury that forced him to watch as eventual national champion Connecticut bounced Iowa State in the Sweet 16.
"I try not to think about it a lot. It was real frustrating, whenever you have to sit there and watch, and you can't do anything," Niang said. "I try to take a positive out of everything. I was taking things for granted; I wouldn't be as apt to work out as much. With breaking my foot, I made a promise to myself – this can be taken away in the blink of an eye. I found a newfound love for the game."
After getting up to 255 pounds due to the injury, Niang has since lost at least 25 pounds, fluctuating between 227 and 230. At the LeBron camp, Niang has been noticeably thinner – leading to him being even more mobile and fluid than he was last season.
Niang already owned one of the best all-around skillsets in the country, averaging 16.7 points, 4.5 rebounds and 3.6 assists in Iowa State's offense. With stars DeAndre Kane and Melvin Ejim gone, though, Niang knew he needed to be on the court for longer stretches and be more of a playmaker.
"If I want to be able to go longer and be more effective out there, I have to be in better shape," he said. "Being able to guard smaller guys and keep them in front of me. I couldn't do that last year when I was heavier. I rarely feel tired now."
Niang also looks better going off the dribble than he did a year ago, expanding his mid-range game and simply becoming a more dangerous player with the ball. Part of the reason Niang has been so effective is Iowa State's spacing and balance; defenses could focus on Kane and Ejim, while Niang would likely have a mismatch at the top of the key or in the post. Now that Kane and Ejim are gone, Niang becomes a bigger focal point for defenses.
Transfers Bryce Dejean-Jones, Jameel McKay and Abdel Nader will help replace the production of those two players, but Niang will be the primary returnee.
"I'm going to have to be a better leader," Niang said. "With those two being gone, I have to step it up to another level. Improvements in leadership, and getting my teammates involved.
"We lose guys and they say we're not going to be as good. But we come back. I've been a winner everywhere I go, and I play with a chip on my shoulder."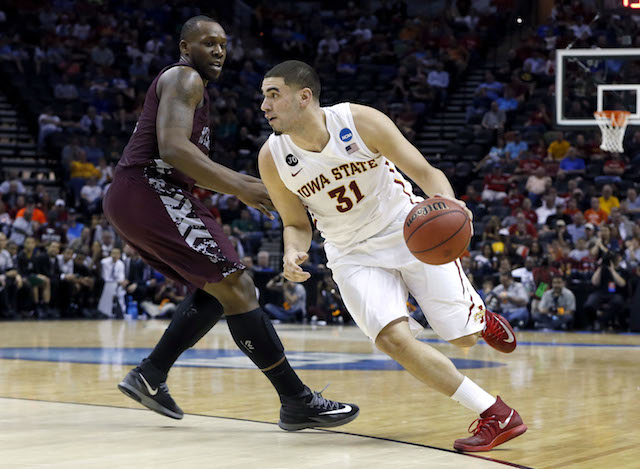 Rozier and Niang are just two of the players at the LeBron James Skills Academy that need to augment their roles for the 2014-15 season.
Stanley Johnson and Rondae Hollis-Jefferson, Arizona: As one of just two incoming freshman at the camp, Johnson clearly has high expectations. He needs to immediately slot into the shooting guard spot – and bring some perimeter shooting. He's known for his strength and ability to get to the rim, but Arizona lacks consistent shooting in its starting five; Johnson has knock down outside shots. Meanwhile, Hollis-Jefferson goes from a jack-of-all-trades type of player to someone who needs to be a consistent starter at the small forward position. Improving his jumper would be a big plus.
Perry Ellis and Kelly Oubre, Kansas: Ellis looks like one of the most improved players at this event – and given that he was very good last season, that's a great sign for the Jayhawks. He's continuing to expand his offensive game, and with Andrew Wiggins and Joel Embiid gone, there is some room to improve his scoring production. Speaking of Wiggins, Oubre will immediately have the pressure of replacing the No. 1 pick in June's NBA draft. He is supremely talented, and will need to make an impact at both ends of the floor in order for Kansas to make a Final Four run next season.
Jordan Mickey and Jarell Martin, LSU: Last season was something of a disappointment for the Tigers, as they went just 11-11 after a 9-2 start, missing the NCAA Tournament despite having a very talented roster. Johnny O'Bryant is gone from the frontcourt, while several guards have also moved on – leaving Mickey and Martin to be the key cogs up front. Mickey measured as the longest player at the LeBron camp, and he might be the best athlete too. Martin came into the season with high expectations, but was inconsistent. With a year under their collective belt, the sophomore duo of Mickey and Martin will be scary in the SEC.
Aaron White, Iowa: Despite the Hawkeyes' 1-7 finish to the season, it was still a relatively successful season – as Iowa reached its first NCAA Tournament since 2006. Leading scorer Roy Devyn Marble is gone from last season, along with frontcourt role players Melsahn Basabe and Zach McCabe. White will have to become the go-to-guy for the Hawkeyes; is he ready for that responsibility?
Darrun Hilliard, Villanova: Much of the responsibility of replacing James Bell will fall on rising sophomore Josh Hart, but if Hilliard takes the next step in his development, he could be the Big East Player of the Year. He looks a little bigger than last season, and has been aggressive on the offensive end. Hilliard is a terrific outside shooter, but expanded his game even further will be huge for the Wildcats.
Ron Baker, Wichita State: With Cleanthony Early gone, Wichita State will be looking for a little bit more consistent offense from Baker. His wingspan measured longer than expected at the LeBron camp, and he's clearly been working on his ball-handling and passing ability. He and Fred VanVleet form one of the best backcourts in the country, but a boost in scoring from both would be nice.
Joe Young, Oregon: Due to a combination of graduation, attrition and the dismissal of three players, Young is one of the last men standing on the Ducks' roster from last season. Most of the offense will come down to Young – which won't be much different than last season, when he averaged nearly 19 a game. There's even less help this season, though, meaning Young will have the green light every possession.
D.J. Newbill, Penn State: Newbill has been one of the more impressive players through two days at the LeBron James Skills Academy, finding ways to score against nearly any defender. Tim Frazier is gone from the Nittany Lions now, and Newbill is back for one more season. Penn State does return nearly everyone else, so a huge year from Newbill could make the Nittany Lions competitive in the Big Ten. 
Cavaliers basketball coach tapes statement on behalf of his university and his city

Gary Parrish and Matt Norlander discuss all things Marvin Bagley and his immediate future

Which version of Grayson Allen will show up for Duke and other questions for every ranked...
Upon landing the nation's top recruit, Duke tops the list with other title contenders at the...

The presumptive No. 1 overall NBA Draft choice makes the Blue Devils 3/1 favorites to win it...

Commitment to Duke is the first step, but the next one is the biggest; here's what you need...