That extra year at Michigan made Trey Burke a lot of money
Michigan point guard Trey Burke nearly went pro a year ago but did the right thing by staying in school for the 2012-13 season.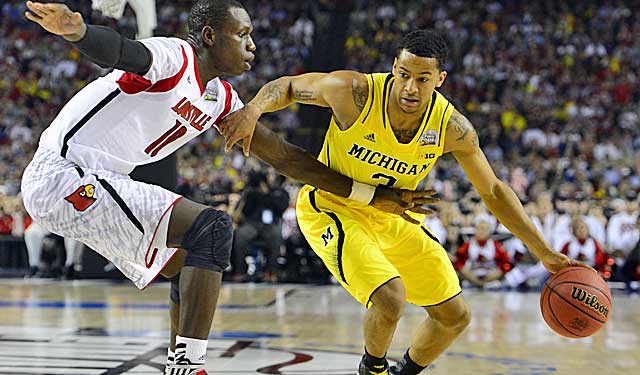 It was never a question of "if" as much as it was a question of "when," and now we know the "when" for Trey Burke is Sunday. That's when the Michigan sophomore will formally announce his expected decision to enter the NBA Draft, a source confirmed to CBSSports.com on Saturday afternoon.
Yahoo! Sports' Adrian Wojnarowski first reported the news.
More on Trey Burke
Stories
So the Wolverines will have a new starting point guard next season (Spike?!), and some NBA team, almost certainly one in the lottery, will have an intriguing prospect who projects as a future starter. Yes, Burke is small, even smaller than the 6 feet that Michigan listed him at for two years. But the Ohio native is super quick with an above-average wingspan and reliable jumper. And he's a great competitor and documented winner. So the guess here is that Burke will be a fine professional basketball player.
The extra year in college did him good.
It was around this time last year when Burke was very close to entering the NBA Draft but returned to the Big Ten in part because he was only considered a borderline first-round pick. Had he slipped into the second round, Burke would've been guaranteed nothing. But now, even if he's the final pick in the lottery, Burke will get a guaranteed two-year deal worth more than $3.2 million. In other words, he made money this season while leading the Wolverines to the national title game and winning various National Player of the Year awards, among them the Naismith Award and the Wooden Award.
Does that mean every borderline pick should return to school? No. Does that mean every freshman improves as a sophomore? No. But Burke did the first, then the second, and now he'll be rewarded. So good for him. And good for the NBA team that selects him.
Missouri freshman will miss the season and likely never play another minute of college bal...

College basketball fans, especially those at Missouri, are robbed of the excitement Porter...

School officials expect the five-star freshman to miss the rest of the season
Cincinnati and Iowa highlight an impressive inaugural field for the Cayman lslands Classic

The Bluejays are 4-0 with some impressive victories, including a win vs. the Bruins on Mon...

The world's most prominent Basketball Dad responded to Donald Trump calling him 'very ungr...