The ACC-Big Ten Challenge will be fun (but not what it could've been)
Early stumbles from Duke, North Carolina and Michigan have taken a little shine off of the ACC-Big Ten Challenge -- a two-day event that starts Tuesday night.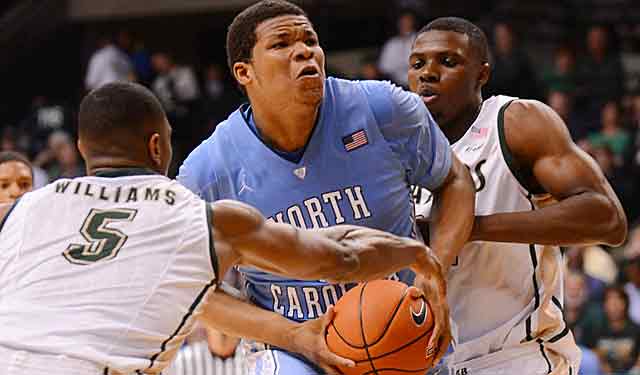 I got a note from a reader early Tuesday. Paraphrased, it read this way: "According to the Top 25 (and one), Wisconsin-Virginia will be the best game of the ACC-Big Ten Challenge."
Isn't that wild?
It highlights how much has changed already this season.
To be clear, nobody is suggesting Wisconsin-Virginia is the most interesting matchup of this two-day event. Indiana at Syracuse's Carrier Dome probably is more intriguing, as is Michigan-Duke and North Carolina-Michigan State. But the only matchup between two schools ranked in the top 20 of the Top 25 (and one) indeed is Wisconsin-Virginia, and that's because some of the top programs involved started the season with stumbles.
Just check the preseason Associated Press poll.
Michigan State was No. 2, Duke was No. 4, Michigan was No. 7 and North Carolina was No. 12 in the preseason AP poll. Of those four, only the Spartans have either maintained or improved their ranking. Duke, thanks to two losses, has dropped from fourth to 10th. Michigan, thanks to two losses, has dropped to No. 22. North Carolina, thanks to two losses, has dropped out of the Top 25. Consequently, the two games we all thought would be marquee games in the preseason -- Michigan at Duke/North Carolina at Michigan State -- are undeniably something less than they could have been, and that's too bad.
Still, I'll be watching.
And I know you'll be watching, too.
Here's a list of the 12 matchups with predictions.
Wednesday's games
Maryland at Ohio State: A team that loses to Oregon State at home probably isn't equipped to beat Ohio State in Columbus. That's unfortunate for Mark Turgeon's Maryland Terrapins, who were once coached by a current AP voter. #PollAttacks
Prediction: Ohio State 75, Maryland 67
Wisconsin at Virginia: Every other hour somebody tweets to ask why I have Virginia ranked so high considering the Cavs "haven't beaten anybody." The answer is because I had them high in the preseason, then didn't drop them much when they lost at the buzzer to VCU. Simple is that. Either way, after Tuesday, they should have a quality win to quiet skeptics.
Prediction: Virginia 62, Wisconsin 61
Northwestern at NC State: I'm not sure NC State fans are preconditioned to get excited about Northwestern. But don't look at it that way, guys. That's a Blue Devil (ex-Duke assistant and player Chris Collins) coaching the Wildcats! You fired up now?
Prediction: NC State 69, Northwestern 65
North Carolina at Michigan State: So which UNC team will show up -- the one that beat Louisville on a neutral court or the one that lost to Belmont at home and at UAB? Honestly, who knows? But it's unlikely either version is good enough to win at the Breslin Center.
Prediction: Michigan State 83, Noth Carolina 76
Boston College at Purdue: The Boilermakers went 1-2 at the Old Spice Classic with the only win being a comeback victory over Siena. That's not great. But Boston College isn't great, either. So this matchup should workout fine.
Prediction: Purdue 68, Boston College 67
Miami at Nebraska: Miami has lost to St. Francis of New York but beaten Arizona State, meaning UNC isn't the ACC's only roller-coaster team. The idea that the ACC-Big Ten Challenge could theoretically come down to this is weird. But I didn't make the TV schedule.
Prediction: Nebraska 64, Miami 62
Tuesday's games
Indiana at Syracuse: The Orange are coming off three wins in the Maui Invitational and will have a massive crowd at the Carrier Dome for their first appearance in this event. Can't wait to see Yogi Ferrel against Tyler Ennis. But C.J. Fair should be the difference in a close game that turns late, and it's still weird to me that Syracuse is in the ACC-Big Ten Challenge.
Prediction: Syracuse 73, Indiana 65 | Result: No. 4 Syracuse 69, Indiana 52
Illinois at Georgia Tech: Illinois enters on a seven-game winning streak, although none of those seven victories have come against what should be considered a quality opponent. Georgia Tech is, I think, a quality opponent, especially in Atlanta. So this game presents a new challenge for the Illini, one that I think they'll handle OK ... but just barely.
Prediction: Illinois 66, Georgia Tech 65 | Result: Ga. Tech 67, Illinois 64
Penn State at Pittsburgh: Pittsburgh is 7-0 and ranked third at KenPom thanks to an offense and defense that are both operating at a high level (against mostly terrible opponents). There's no reason to think Penn State can or will compete in this game. But it should still be fun for the in-state fans ... and Jamie Dixon's team.
Prediction: Pittsburgh 74, Penn State 61 | Result: Pitt 78, Penn St. 69
Michigan at Duke: Duke's two losses (to Kansas and Arizona) are better than Michigan's two losses (to Iowa State and Charlotte). But these are still two comparable teams. Consequently, I'd pick the home team in this matchup regardless of the location. And Duke is the home team here. So you know what that means, right?
Prediction: Duke 72, Michigan 70 | Result: Duke 79, Michigan 69
Notre Dame at Iowa: Iowa was this close to entering the Top 25 (and one) over the weekend. The Hawkeyes just needed a win over Villanova in the Battle 4 Atlantis. They didn't get that one, obviously. But they'll get this one, presumably.
Prediction: Iowa 78, Notre Dame 70 | Result: Iowa 98, Notre Dame 93
Florida State at Minnesota: Richard Pitino already has the Gophers competing at a higher level than I anticipated this early; they nearly caught Syracuse last week. But Florida State is better than anybody anticipated and only a bucket here and there from being undefeated. So I'll give the edge to the Seminoles in what amounts to a coin-flip of a game.
Prediction: Florida State 72, Minnesota 71 | Result: Minnesota 71, Florida State 61
Gary Parrish and Matt Norlander discuss a wild Saturday of college basketball

Ball left the program earlier this month and has since signed with a Lithuania professional...

The Hoosiers grow up before our eyes, and Miller has his first signature victory as Indiana...
Trae Young, a freshman and the nation's top player, has a 21-point first half at Wichita S...

Michigan State is probably going to have company atop the Big Ten standings

Sooners beat third-ranked Shockers while Florida and FSU lost in upset fashion to unranked...