The definitive explanation of why Kentucky should be ranked No. 1
The Kentucky Wildcats have experience, depth, the most talent by a wide margin and a coach who has proved capable of guiding a team to a national championship.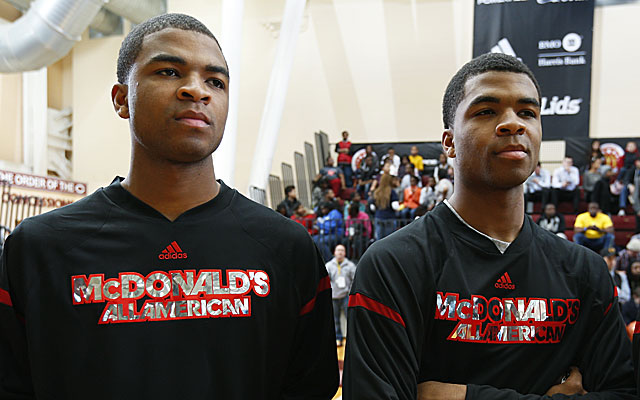 Several hours after the national title game ended, at some point between 3 a.m. and 5 a.m. on Tuesday, Jeff Goodman and I (along with our colleagues Matt Norlander and Jeff Borzello) settled into a booth at a Waffle House in the shadows of the Georgia Dome, ordered omelets and finalized our Ridiculously Early Preseason Top 25 (and one).
We argued about Colorado.
We argued about Ohio State.
We argued about Duke and Memphis and Wichita State.
But the one thing -- literally the one and only thing -- we agreed on without debate or discussion is that Kentucky should be No. 1. It was the easiest decision we made. And yet, the somewhat common opinion among a contingent of common folk (outside of the Commonwealth, of course) is that it's silly to rank a school No. 1 based mostly on the quality of a recruiting class, especially when that same school was ranked No. 3 last preseason before ending up in the NIT. To that, I say ... sigh.
I suppose I knew this would happen.
On the night the Wildcats lost at Robert Morris in the NIT, I tweeted, "Enjoy this while you can. There's a good chance Kentucky is ranked No. 1 eight months from now," and the reaction consisted of lots of people calling me dumb. I let it go because, honestly, I was busy and what's the point in arguing on Twitter about preseason rankings during the NCAA tournament? But now here we are. There's no longer merely a "good chance" that Kentucky will be ranked No. 1 in the preseason; Kentucky is ranked No. 1 in the preseason (by us and most other media outlets I've seen). So I'm compelled to explain exactly why that is and why this team will be different than the team we just watched limp through an entire season, with and without Nerlens Noel .
First things first: Kentucky is returning two first-round NBA Draft picks.
So while it's true that the recruiting class is the main reason this team is projected to be great, the fact that UK is returning two first-round picks -- namely Alex Poythress and Willie Cauley-Stein -- should not be discounted. Combined with Kyle Wiltjer, they'll provide John Calipari with three veterans who averaged at least 23 minutes per game, which is something this season's team lacked and, quite clearly, needed. Wiltjer was the lone "veteran" this season, and he only averaged 11.6 minutes in 2011-12. Consequently, UK's heralded freshman class had nobody to look to like the previous class headlined by Anthony Davis and Michael Kidd-Gilchrist did (in the form of Terrence Jones, Darius Miller and Doron Lamb), and it showed. That was a big issue. But it shouldn't be an issue at all next season because of the return of Poythress, Cauley-Stein and Wiltjer.
Got that?
Good.
Now to the recruiting class.
I think some fans have grown so accustomed to annually reading about "Kentucky's top-ranked recruiting class" that they've failed to grasp, on some level, just how gifted and deep this recruiting class is. If you fall into that group, know this: What Calipari is enrolling is literally the best collection of prospects anybody has ever enrolled. Ever. In history.
That is not hyperbole.
The class features eight players.
Two are in-state products in for the long haul.
The other six are five-star recruits -- among them the nation's top-ranked point guard (Andrew Harrison), top-ranked shooting guard (Aaron Harrison), top-ranked power forward (Julius Randle) and top-ranked center (Dakari Johnson). The Wildcats also enroll the nation's second-ranked center (Marcus Lee) and third-ranked small forward (James Young), meaning this class is historically special regardless of whether it later includes the nation's best prospect, Andrew Wiggins. It is no exaggeration to suggest there will be at least eight future first-round picks wearing UK uniforms next season. DraftExpress.com currently projects five of them (Randle, Andrew Harrison, Aaron Harrison, Cauley-Stein and Poythress, in that order) to be among the first 16 picks in 2014.
So I ask: How could anybody not rank Kentucky No. 1?
The Wildcats have experience, depth, the most talent by a wide margin and a coach who has proved capable of guiding a team to a title. So laugh at the projections, if you must. And keep bringing up that NIT. But next season's team isn't going to be anything like this season's team. I mean, the question isn't whether UK is capable of winning it all as much as it's if UK has a chance at completing a season without losing at all.
The BC fan has a ton of apparel and gear headed his way after this putt

Durant's made a habit of making sure his alma mater is set with the latest customized gear

Ball says UCLA told him to thank Trump for getting him back to the states after shoplifting...
SportsLine's advanced computer model simulated Wednesday's Villanova vs. Temple game 10,000...

Will any of these six teams make it to 2018 without their first loss?

Temple could be a big problem for undefeated Villanova, the No. 1 team in the Top 25 (and...