The Final Stretch: Title race reset
As conference play winds down, where does each league's title race stand? We go conference-by-conference.
• 9 min read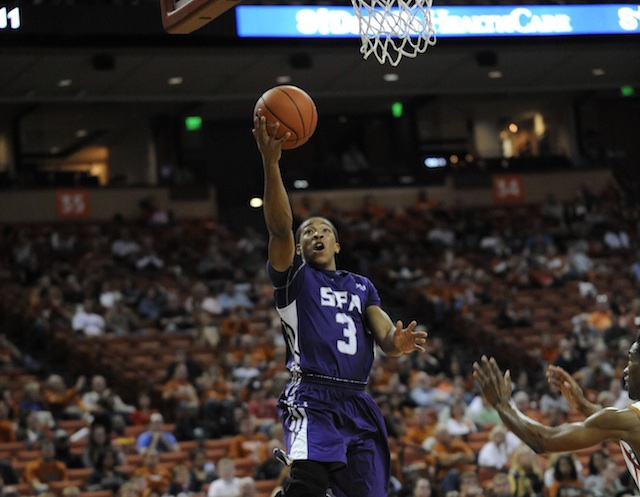 We had our first few regular-season championships clinched last week and over the weekend, whether outright or a share. With Selection Sunday less than three weeks away, the schedule is winding down in every conference – some end this coming weekend, the rest end next week. Let's take a look at each league to see where the title race stands.
America East: Thursday will decide this league. Vermont currently leads Stony Brook by one game, but the Catamounts lost the one meeting between the two teams so far. The rematch takes place in Vermont on Thursday.
AAC: Louisville's win over Cincinnati on Saturday afternoon threw this one back into play. The Bearcats and Cardinals are tied in the loss column, with Louisville sitting a half-game back. SMU and Memphis sit two games back in the loss column, Connecticut three games back. Cincinnati and Louisville split their regular-season meetings, although the Cardinals' remaining games are a bit more difficult.
ACC: Things started falling Virginia's way a couple weeks ago, and now the Cavaliers sit atop the ACC by themselves with just one loss. They lead Syracuse in the loss column by one game, and are ahead of Duke and North Carolina by three games in the loss column. Virginia gets a chance to really solidify things this weekend, when Syracuse comes to town.
Atlantic Sun: This one got very interesting on Friday, when Florida Gulf Coast held serve on its home court and handed Mercer a 14-point loss. Those two teams are now tied at 13-3 with two games left. Mercer plays at home for both, while FGCU heads on the road. The two teams split the regular-season meetings.
Atlantic 10: There are still four games remaining in the regular season, and Saint Louis has a three-game lead on Saint Joseph's – and a four-game lead on VCU, Massachusetts and Richmond. The Billikens should clinch at least a share of the title at home against Duquesne on Thursday, plus they already beat St. Joe's earlier this month.
Big East: Creighton's two blowout wins over Villanova have put the Bluejays in the lead with two weeks left. They are both tied with two losses, as Villanova sits a half-game back. The Bluejays have two of their final three on the road, while Villanova gets to play at home for three of its final four games.
Big Sky: With its 20-game conference schedule, there is still time left in this one. Weber State leads the league at 12-4, while Northern Colorado sits two games back. Four teams have seven losses. Weber State split with Northern Colorado if it comes to that.
Big South: This is a wild league right now, with two games remaining. The top two teams in the North are tied at 10-4, while the top three teams in the South are tied at 9-5. There are also two teams at 8-6. High Point and VMI, the two 10-4 teams, face off on Wednesday. In the South, Gardner-Webb and UNC-Asheville play next Saturday, and Coastal Carolina is also tied at 9-5.
Big Ten: Michigan is in the driver's seat for the regular-season championship, as the Wolverines completed a two-game sweep of Michigan State on Sunday afternoon. They now lead the Spartans by one game in the loss column with four remaining. Wisconsin and Iowa sit two games back, while Ohio State and Nebraska are three games back. Michigan doesn't play any of those teams the rest of the way.
Big 12: Big shocker: Kansas is likely bringing this one home. The Jayhawks' blowout of Texas over the weekend put a three-game cushion between themselves and the Longhorns, along with Oklahoma and Iowa State. Four games still remain, but the only time Kansas plays a title threat is Monday at home against Oklahoma.
Big West: With four games remaining in league play, there is still much to be decided. UC Santa Barbara and UC Irvine sit atop the standings at 9-3, but Long Beach State is just one game back, and Hawaii is two games behind in the loss column. UCSB and Irvine play a key matchup on Thursday.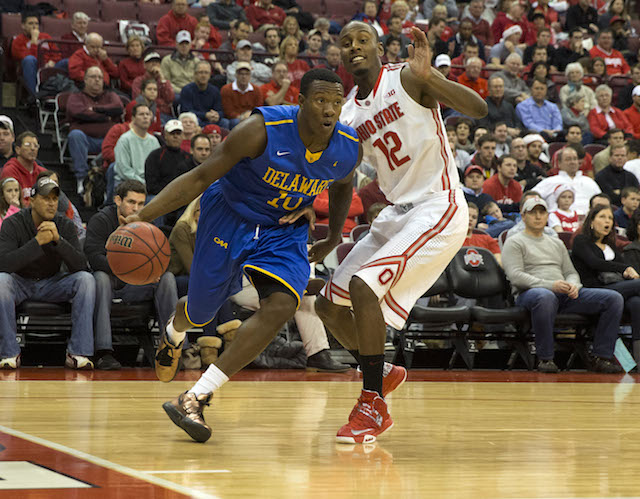 CAA: Delaware missed its chance to clinch a share when it lost at home to Drexel on Sunday, the Blue Hens' second loss in three games – after winning 13 in a row. The Hens are now one game up on Towson with two games remaining, and the two teams split their meetings. One note: the Blue Hens go on the road for their final two games.
Conference USA: This one seems like fun. Middle Tennessee is by itself at the top with an 11-2 record – but four teams are chasing. Louisiana Tech, Southern Miss, Tulsa and UTEP are all 10-3, with three games left in the season. Middle Tennessee travels to Louisiana Tech on Thursday, which could open things up even more.
Horizon: The only thing left to see is if Cleveland State can forge a tie in the standings – as Green Bay is up two games with two left, and also beat Cleveland State twice during the season.
Ivy: This weekend was huge in the Ivy League, as Harvard came back to beat Princeton – and Yale got blown out by Columbia. The Crimson now sit one game up on Yale with four left. Yale won the first meeting between the two teams, and gets to host the second meeting next Friday. That could decide the title. 
MAAC: Iona clinched at least a share of the regular-season title by beating Marist on Sunday, and Quinnipiac is the only team capable of forging a tie heading into the final week. Iona does have a difficult game at Manhattan on Friday, but a home tilt with Rider on Sunday should be enough to get the outright title. The Gaels have won 11 in a row.
MAC: It seems the Mid-American Conference always has some intrigue heading down the stretch. Toledo and Western Michigan are tied for first in the West Division, while Buffalo leads Ohio and Akron by one game apiece in the East division. Four games remain – including Western Michigan's trip to Toledo this weekend.
MEAC: Since losing its MEAC opener at Florida A&M, North Carolina Central has won 12 straight games within the league – and the Eagles sit two games up in the loss column on Hampton, Morgan State and Norfolk State with only three or four games left for each team. NC-Central does travel to Norfolk State in the season finale.
Missouri Valley: This one is done and dusted, obviously. Wichita State is up four games on Indiana State with just two games left – and the Shockers cut down the nets over the weekend. All eyes will still be on Gregg Marshall's team, though, as there are two games separating Wichita from an unbeaten regular season.
Mountain West: This one isn't over yet. New Mexico's dominant win over San Diego State on Saturday night left both teams with a 12-2 record heading into the final four games of the regular season. Boise State, UNLV and Wyoming are all four games back. This one could come down to March 8, when New Mexico visits San Diego State in the finale.
Northeast: Robert Morris clinched the outright regular-season title over the weekend, beating St. Francis (N.Y.). Andy Toole's group is now up three games in the loss column on Bryant and Wagner – with just two games left on their schedule.
Ohio Valley: Two former Cinderellas are likely going to battle for the outright title, as Belmont leads the East Division by two games with two left, and Murray leads the West Division by five games. Belmont won the head-to-head matchup earlier this month, so Murray State needs the Bruins to slip up in the final two games.
Pac-12: Heading into the final two weeks, Arizona has a two-game lead on UCLA, a three-game lead on Stanford and California, and a four-game lead in the loss column on Colorado and Arizona State. Arizona and UCLA only play once this season, and the Wildcats won in Westwood in early January.
Patriot: Boston University had a chance to clinch at least a share of the title when it faced Bucknell at home on Sunday, but the Terriers lost – and now sit just one game ahead of American in the standings. Holy Cross is two games back with two left. The two league leaders split their regular-season meetings.
SEC: This one is still theoretically unfinished, even though Florida leads Kentucky by three games with four remaining. The Gators won the lone regular-season meeting so far, and they meet the Wildcats again in the season finale. Florida should have this wrapped up by then.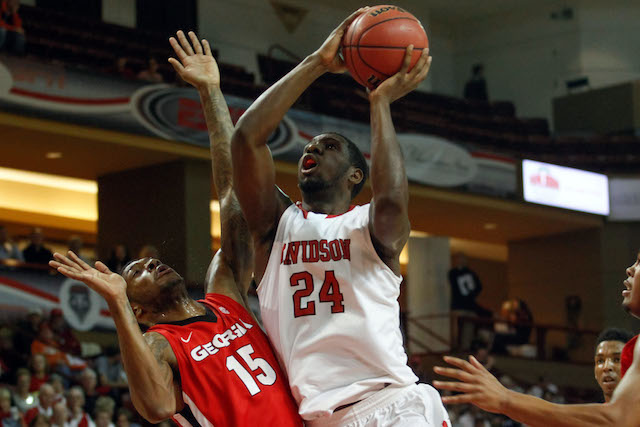 Southern: Chattanooga jumped out to an 8-0 start in league play, but has lost five of seven overall to drop to a tie for third with two other teams. Davidson has a hold on this league right now, leading Elon by two games in the loss column with just two games left for the Wildcats. The two play in the season finale.
Southland: Stephen F. Austin has this one nearly locked up – although going 14-0 and winning 22 in a row will usually do that. The Lumberjacks lead Sam Houston State by three games with four left, while Texas A&M Corpus Christi is four games back in the loss column. The Lumberjacks seem poised to secure the league crown.
SWAC: Southern has a two-game lead in the loss column on Alabama State, but the two teams face off on Monday night. If Southern wins, the Jaguars will own a three-game lead in the loss column with three games left. Alabama State will have four games left after Monday night.
Summit: North Dakota State is in good shape here, leading three teams by two games with just two games left. Denver, South Dakota State and IPFW are within striking distance, but it's going to difficult. NDSU has its final two games at home – where it has won nine in a row.
Sun Belt: Georgia State is one game from clinching at least a share of the regular-season title, as the Panthers sit three games ahead of Western Kentucky with four left. Arkansas State is four games back. If Georgia State stumbles – the Panthers only have one league loss – the regular-season finale against Western Kentucky could be interesting.
WCC: Gonzaga losing back-to-back games has left the door slightly open. The Bulldogs now lead BYU and San Francisco by just two games in the loss column heading into the final weeks. The Zags would have to lose both games – at Pacific, at Saint Mary's – for either team to tie.
WAC: This one has been more interesting than most people thought heading into the season. New Mexico State and Utah Valley are tied atop the standings at 10-3, while Grand Canyon is 8-4. Each team plays 16 league games. The key will be Thursday, when NMSU heads to Utah Valley – the Wolverines need to forge a split after losing by 23 in the first meeting. 
Duke, which held the previous record of 32 set in 1950, took to Twitter to congratulate the...

Without Trier, Arizona's Final Four chances are clearly in jeopardy

Porter Jr. is a projected top 10 pick but has played just two minutes all season
Our advanced computer model simulated Friday's IUPUI vs. Wright State game 10,000 times

Dawn Staley was accused of promoting an atmosphere that induced racial slurs toward Mizzou...

KU can clinch at least a share of its 14th straight Big 12 title with a win Saturday over Texas...