The greatness of Doug McDermott, and where he goes from here
Doug Gottlieb breaks down what makes Creighton star Doug McDermott so effective, and discusses his adjustment to the NBA level.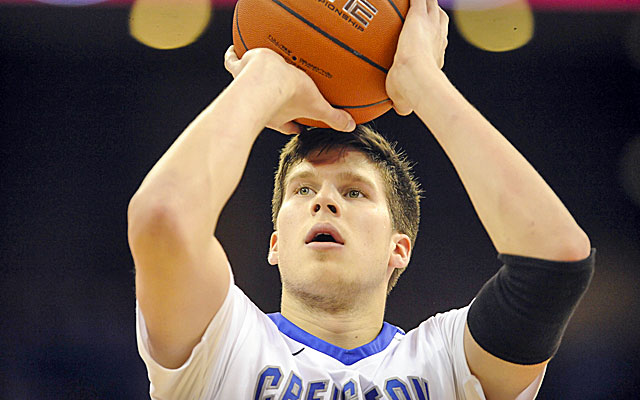 Doug McDermott isn't the greatest basketball player in history, it's true. He has limitations, but it is his ability to play around those limitations, and with a successful team, that makes him special.
When I watch McDermott I think of the statement all basketball people make about him. "He knows how to play."
What exactly does that mean? McDermott moves without the ball tirelessly. He reads the defense and makes the proper cut based on how the defense plays him. Put a guard on him, and he rolls into the post. Put a big man on him, and out to the three he roams. McDermott is an active screener as well, giving up his body for teammates and reading his defender as he screens.
When McDermott catches the ball on the perimeter, he is always "shot ready." In the low post he can use either hand, and has developed quite the fadeaway to boot. Double him and he passes, play him straight up and he looks for an angle while understanding he isn't great off the dribble.
McDermott may not be a glove defensively, but he does give effort and guards all five positions, as Creighton switches ball screens.
How opponents feel about McDermott can be summed up by Butler assistant Michael Lewis, who played for "The General" Bobby Knight at Indiana in the 90's (famously yelled back at him too, and was one of Knight's favorite payers).
When I talked to him before last week's Butler/Creighton game, Lewis could not have been more effusive in his praise. And that was before McDermott gave his squad 26 including the game-deciding 3, when the Bluejays were down two at Hinkle Field House in the final minute.
"So few kids move without the ball well, and even fewer still can move well, read the screens well and then make shots," Lewis said. "I just love watching him post guards and stretch big men out. Then he screens as well, and makes the right plays. We prepared for Marcus Smart in Orlando (for the Old Spice Classic in November) -- guy is a bull in a china shop -- but this kid ... not close, hardest to prepare for all year."
Yet for all McDermott has done, people want more. Instead of enjoying this year, they only want to know about next year. And when that discussion begins, there are three questions, depending on who's you're talking to.
The most commonly asked question by fans is: "Is he a pro?"
The most commonly asked question by analysts is: "Who does he remind you of?"
The most commonly asked question by NBA people is "Can he guard anyone?"
Asking one of those questions requires answering all three, and I'll explain why.
I spoke with an NBA head coach the other day. He was explaining that because he had so many young players who were one-and done guys, he literally ran three sets the entire game. "We need more guys like McDermott in the league. He knows how to play basketball. So many of the kids can only play off the ball screen or when rotating for a catch off the ball screen, and that limits what you can run or how you can score. He may get exposed against a Paul George, but he won't get punked in the post, and Paul George will be forced to a spot where he is less comfortable for sure. I would kill for McDermott to be on my team ... but not as a star."
Back to the first question.
Is McDermott a pro? Of course. McDermott will go in the mid-first round. But I believe his level of success is as much dependent on his own ability to improve and stretch his range and improve his fit with a NBA club. If McDermott is asked to be "the guy" or even "the guy next to the guy," I think he will struggle. But, if he is drafted as a supporting player on a playoff team, or a team with other young stars, he should only help the culture and help the team.
In my mind the two biggest issues with Doug McDermott heading into the NBA are switching to small forward from a 4/5 spot in college, and that he will have to be as efficient a shooter/scorer with a quarter as many good looks and touches. Instead of guarding or being guarded by college big men, McDermott will have to deal with guys like Jared Dudley, Jeff Green, Josh Smith, Michael Kidd-Gilchrist, Paul George, Kawhi Leonard and other stars at the 3.
The good news is that McDermott is a solid post defender, and can score in the post on wings, but finding a team that allows and features his off the ball movement is key.
In terms of reminding me of someone, I think he's closest to Matt Harpring, who averaged a solid 11 points and five boards over 11 NBA seasons. Harpring was tough as heck and contributed to a couple of Jazz teams that made deep playoff runs, but keep in mind that it took a year or two to find his role and adjust to the NBA.
McDermott is close with former Creighton star Kyle Korver, a guy who keeps working and who understands the role acceptance it takes to last for a decade in the NBA and be productive. Korver has been a starter for the past two years on playoff-caliber Atlanta Hawks teams.
McDermott has also studied Paul Pierce and others who have scored and been great players despite not having an explosive first step, a good sign that McDermott knows who he is and understands the NBA is as much about playing to your strengths as it is just being "great."
Who can he guard? I think there will be some bumps there, and I believe he will also have more limitations on his movement and shot volume, but that doesn't mean you shouldn't want him on your team.
But before we get there, we should all be focusing more on what's left of McDermott's college career. A coach's son who is the best college player in America? Enjoy folks -- you have at most a month and a half left. 
After a close game against Michigan, Air Force is playing San Diego State with some moment...

Quickley played for John Calipari this summer with USA Basketball

A revamped Erwin Center is part of a $4.25 million upgrade to the Longhorns' hoops facilit...
Nov. 10 will be here before you know it so here's what you need to know

The league would be wise to treat that series like the ACC treats Duke-North Carolina

Pacific is penalized after the NCAA found academic rules were broken