The Poll Attacks
Kentucky fell from the AP Top 25 this week. But one voter still has the Wildcats in the top 10. So you know what happens next. Let's do the Poll Attacks!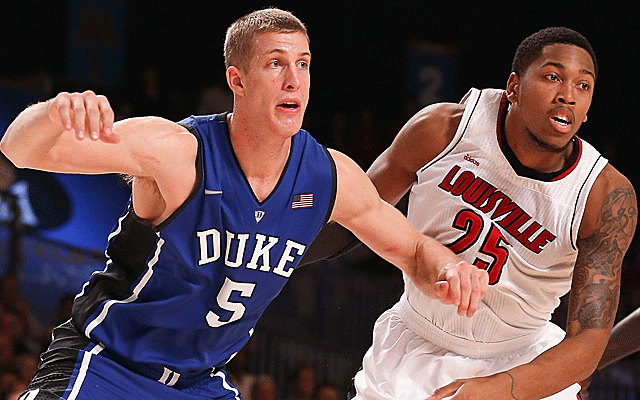 There is no doubt this week that Duke should be ahead of Louisville in the polls.
(US Presswire)
Kentucky fell from the AP Top 25 this week. But one voter still has the Wildcats in the top 10. So you know what happens next. Let's do the Poll Attacks!
Associated Press poll: Don't ever say the Poll Attacks doesn't make an impact.
Because it does.
They highlight dumb things and, in most cases, force writers to adjust their ballots the following week in a more sensible way, which brings me to Michael Hunt. The Milwaukee Journal-Sentinel's Hunt was the focus of last week's Poll Attacks because he had, among other things, Duke ranked behind Louisville even though Duke was undefeated with a neutral-court win over Louisville, and Memphis ranked 18th even though Memphis was 3-2 with neutral-court losses to VCU and Minnesota -- two teams Hunt didn't rank at all.
It was silly in a completely uninformed kind of way.
But now look!
Hunt this week moved Duke up to No. 3 and Louisville down to No. 6, got rid of Memphis and added Minnesota. Nevermind that it makes no sense to drop Louisville to No. 6 in a week when Louisville went undefeated or drop Memphis completely in a week that Memphis won its only game by 28 points, because that still makes more sense than having Louisville behind Duke and Memphis ranked at all. So Hunt was just trying to adjust for past errors. For that, he's to be applauded. Seriously, I applaud him for doing his best to make things right.
Anyway ...
You might've heard that Kentucky went from No. 8 to unranked this week in a historic fall from the AP poll, and I realize some Kentucky fans probably think that's extreme. But don't blame Fletcher Mackel from WDSU-TV in New Orleans. He had nothing to do with UK falling out of the poll. In fact, he tried his best to prevent it by ranking Kentucky 10th despite the fact that the Wildcats are 4-3 with a road loss to No. 22 Notre Dame and a home loss to an unranked Baylor team that was coming of a home loss to Charleston.
Now I know what you're thinking.
"Hey, Parrish. Aren't you the guy who wrote Kentucky should be No. 1 in the preseason?"
Answer: Yes I am.
But that was in the preseason -- when I thought Ryan Harrow might be an NBA-caliber point guard, and before Kentucky had dropped three of its first seven games. Fast forward to the present and it seems pretty clear that Harrow isn't an NBA-caliber point guard, which is causing John Calipari to play Archie Goodwin out of position. And, either way, Kentucky, again, is 4-3 with losses to No. 22 Notre Dame and unranked Baylor. So there's no way I (or anybody else) could still reasonably have the Wildcats anywhere near the top 10 of a Top 25 ballot.
But Fletcher Mackel still does.
Somehow.
Of course, he, like Michael Hunt, is one of the voters who last week had Louisville ahead of Duke and UCLA still ranked following a home loss to California Polytechnic State University. So perhaps this week's nonsensical ballot was to be expected. I just hope that, like Michael Hunt, he'll correct his mistakes before next week's poll is updated. Otherwise, he'll get it again because I'm not above punching the same dude twice in two weeks.
Coaches poll: Alabama got 38 points in last week's Coaches poll, throttled Lamar, played No. 16 Cincinnati to the buzzer at Cincinnati and then lost 11 points in this week's Coaches poll.
Why?
This is something that drives me crazy -- when schools lose points in polls for taking close losses on the road to higher-ranked schools. For the millionth time, a team getting 38 points in a poll is supposed to lose on the road to a team ranked 16th with 295 points. So why should that school lose votes for losing such a game at the buzzer and by a 58-56 margin? Bottom line, whatever you thought about Alabama last week shouldn't have been diminished by a close loss at Cincinnati. The Crimson Tide dropping for that is just as dumb as that Georgia receiver not dropping that pass to stop the clock at the end of Saturday's SEC Championship Game against the Alabama football team. But that's another post for another day ... and, I guess, for another blog.
Oklahoma and Arkansas are new additions to Sunday's Top 25 (and one)

Gary Parrish and Matt Norlander discuss a wild Saturday of college basketball

Ball left the program earlier this month and has since signed with a Lithuania professional...
Sooners beat third-ranked Shockers while Florida and FSU lost in upset fashion to unranked...

The Hoosiers grow up before our eyes, and Miller has his first signature victory as Indiana...

Trae Young, a freshman and the nation's top player, has a 21-point first half at Wichita S...