The Scott Drew jokes never stop but they don't really make any sense
Here's a column about the power of groupthink, Nickelback, and Baylor coach Scott Drew.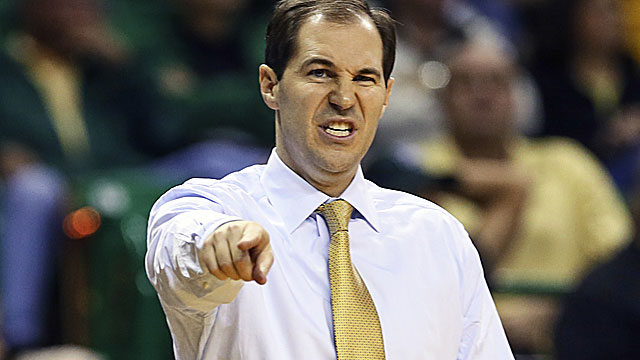 Let me start by making one thing clear: I do not like Nickelback.
I don't own any Nickelback albums, never been to a Nickelback show, and I can't name any Nickelback songs other than that one about having "been to the bottom of every bottle," that other one about having a "drug-dealer on speed dial," and that other one talking about looking at a photograph. (I think it's called "Photograph.") I know the singer is married to Avril Lavigne because I heard them on Howard Stern. I also know the band has sold like 50 million albums. And that's pretty much all I know about Nickelback.
And yet I hear the word "Nickelback" all the time.
Like everyday.
The reason is because, at some point, it became cool to publicly profess hatred for Nickelback. So folks stay professing hatred for Nickelback. Which is weird for two reasons.
Nickelback is far from the only bad rock band working today.
Nickelback is far from the only successful bad band working today.
I'd rather listen to Chewbacca get his back waxed than listen to Nickelback's new Greatest Hits album.

— Darth Vader (@DepressedDarth) December 3, 2013
Seriously, Darth Vader is tweeting Nickelback jokes.
And this, I think, proves my point.
There's no way every college kid in the country -- in addition to Luke and Leia's father -- genuinely hates Nickelback and Nickelback's music this much. It's just not possible. So what's happening is a pretty obvious example of groupthink because, again, at some point, and I don't know exactly when, it became cool and hip to yell that Nickelback is terrible. So now people do it constantly. And the retweets are never far behind.
Which brings me to Baylor's Scott Drew.
"You cannot compare me to Nickelback," Drew said with a laugh on Tuesday. And, I swear, I'm not ... at least not in the most obvious way. My point here is simply this: In the same way that it became cool or hip or whatever to make Nickelback jokes, it has also become cool or hip or whatever to make Scott Drew jokes, and I, for the life of me, can't figure it out.
I was reminded of this last Friday night.
I was sitting at home watching Baylor improve to 8-1 with a win over Kentucky on a neutral court, and, as is typically the case when I'm watching a game, I was perusing Twitter and commenting here and there. For every positive Baylor tweet, there was a snarky reply about Drew on Twitter. Eventually, I tweeted that the Bears would be in the top 10 of the Top 25 (and one), and the first reply I saw was from a guy named Mike Jones.
@GaryParrishCBS you forget the scott drew factor. So drop them 5 spots at least

— Mike Jones (@MikeWJones) December 7, 2013
I didn't respond to Mike Jones because, I think, it was late and I was tired.
But I'll respond now: What, exactly, is the "Scott Drew factor?"
What does that even mean?
I'm not asking that question specifically to Mike Jones. I'm asking that question to everyone who has ever made a Scott Drew joke. Where does it come from? Why do you do it? Do you even know why you do it? Or are you just doing it for the same reason folks make Nickelback jokes, i.e., because you've heard somebody else do it before?
I think it's the latter.
I think it's classic groupthink.
Because, otherwise, it makes no sense.
Jeff Borzello, Matt Norlander and I talked about this on the podcast earlier this week, and I made the point that I think it's weird how Drew can in some circles be considered a joke even though -- and make sure you read this next part very carefully -- he's in the middle of one of the greatest rebuilding jobs in the history of college basketball.
Seriously.
One. Of. The. Greatest.
I'm not suggesting that Drew is one of the top coaches ever or even now, if only because I don't think in those terms. All I'm telling you is that he's undeniably doing one of the best rebuilding jobs ever and one of the best jobs in college basketball today, all things equal.
Perhaps you need a history lesson.
Drew inherited a program in 2003 that had made only four NCAA tournaments ever and had just been rocked by a scandal rooted in the fact that one player murdered another. The penalties -- among them scholarship losses and a postseason ban -- were so severe that non-league games weren't even allowed one year, meaning this was the mess of all messes, and lots of people thought Drew was dumb to leave Valpo to take the Baylor job.
But now look.
Drew has made three of the past six NCAA tournaments, and he's one of just 10 coaches to make the Elite Eight in two of the past four years. Meantime, Baylor has averaged 24 wins over the past six seasons, and the Bears are 15-3 in the postseason in the past five years, which represents a winning percentage of .833 that ranks first nationally in that span.
UNC (.810) ranks second.
Kentucky (.789) ranks third.
And before you point out that some of Baylor's postseason wins have come in the NIT, let me remind you that North Carolina and Kentucky have also been in the NIT in the past five years. "So it's kind of apples to apples," Drew said.
Also worth noting: Baylor has more Big 12 wins in the past six seasons (53) than Baylor combined to get in its first 11 seasons in the league (43), and Baylor and Kansas are the only Big 12 schools to be ranked in the AP poll at some point in each of the past six seasons. Meantime, Drew is 48-2 since the 2011-12 season when leading at the half, which means there's no evidence to suggest he's just getting exposed by other coaches' halftime adjustments. He literally wins 96 percent of the time when he's leading after 20 minutes.
And this is the guy people are making jokes about?
I asked Drew on Tuesday if it baffles him.
I also asked if it bothers him.
"Anytime somebody criticizes you, you take it personally," Drew acknowledged in a lengthy conversation. "But I think I have facts to stand on."
Yeah, I think he does, too.
To be clear, I get why other coaches might not like Drew because he recruits aggressively and relentlessly, and he's made their jobs harder. And, let's be honest, there will always be whispers about recruiting violations when any coach is signing prospects a level or two above the prospects his school has traditionally signed. But, on that point, it's only fair to note that Drew's program was recently investigated by the NCAA for nearly three years, and the worst charges amounted to little more than excessive phone calls.
That said, I'm not telling you Drew is totally clean.
I'd never tell you that about any successful high-major coach.
All I'm telling you is that there's no tangible reason to think he's dirty.
Either way, Drew undeniably rubs rival coaches the wrong way; I'm not pretending otherwise. Again, I get why coaches might not like him. But what I don't get is why fans all over this country spend time cracking jokes about him. The only explanation is groupthink. You once heard a Scott Drew joke so now you make Scott Drew jokes. That's the only thing I can come up with. I guess it's the cool thing to do these days. (How would I know?) But the Nickelback jokes have never made me laugh. Not even once. And the Scott Drew jokes are even worse because the Scott Drew jokes don't even make any sense.
Calipari threw major shade at Duke and the coaching staff's recruiting pitch

Brown is the No. 2 center in the Class of 2018 and a big get for the Bruins

The Sooners are on a two-game losing streak but still rising on one AP ballot
Vegas legend Kenny White has nailed 3 straight UNC picks and just made a play for Monday's...

Josh Nagel has almost two decades of handicapping experience and locked in a play for Monday's...

The Wildcats stumbled to an 0-2 record this week and fell out of the top 25