The SEC is still what we thought it was -- despite a 7-0 NCAA record
Yes, Florida, Kentucky and Tennessee are in the Sweet 16. But that doesn't mean the majority of the rest of the league was just as bad as all of the computers said all season.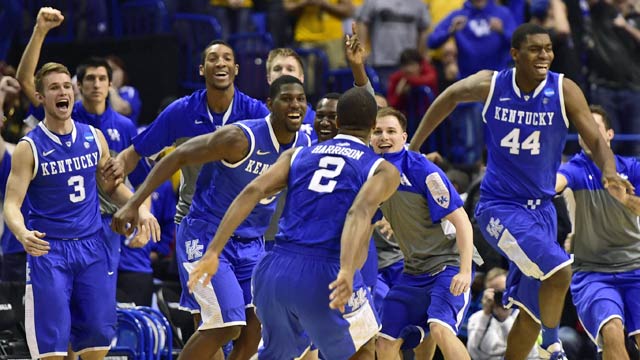 More: NCAA Tourney News | Bracket Hub | Expert Brackets
MEMPHIS, Tenn. -- At 9:45 ET, or somewhere right around that time Thursday night, the top-ranked and top-seeded Florida Gators will take the court here at FedExForum, where they'll play a Sweet 16 game against UCLA that they're favored, and thus expected, to win.
If they do, the SEC will be 8-0 in this NCAA Tournament.
That's a nice fact for Mike Slive's often-ridiculed basketball league.
But what does that nice fact actually mean? Certainly not what some are suggesting.
This happens every season, you know? We watch four months of basketball, witness blowouts and buzzer-beaters and everything in between, and we all seem to agree that pretty much anything can happen in a 40-minute game between comparable teams, and we all seem to understand that drawing big conclusions from any single 40-minute game is silly bordering on stupid. Then the NCAA Tournament starts, and some folks just can't help but draw big conclusions from every single 40-minute game , and it's maddening.
Dumb people do it.
Smart people do it.
Now both of those types of people are doing it on behalf of the SEC, and I couldn't disagree more with the growing sentiment. What's the growing sentiment, you ask? It's that the SEC's 7-0 record in this NCAA Tournament that's pushed three schools into the Sweet 16 somehow proves that the SEC spent the past four months underrated by humans and computers alike.
With all due respect, that's ridiculous.
The two things have nothing to do with each other.
Florida being here in this river city combined with Kentucky and Tennessee spending Friday night in Indianapolis proves one thing and one thing only -- that Florida, Kentucky and Tennessee are quality teams capable of advancing in this single-elimination tournament, and anybody with a KenPom subscription could've told you that a week ago. Those three schools were all in the top 20 of the KenPom ratings before this NCAA Tournament started, meaning there's nothing crazy about any of them still being alive.
Let's take the schools one by one.
Florida: The Gators' appearance in the Sweet 16 doesn't need much of an explanation, does it? As previously stated, they're top-ranked nationally and top-seeded in the South Regional, meaning they're here because they're supposed to be here, because it would be fairly surprising, given their body of work, if they weren't here. So let's move on.
Kentucky: The Wildcats were voted the nation's preseason No. 1 team thanks to a roster featuring more projected future NBA Draft picks than any other roster. Did they always play like it this season? Of course not; that's why they're the No. 8 seed in the Midwest Regional. But it's forever been clear that they could physically overwhelm opponents -- remember this column I wrote last month? -- and make another Final Four if things ever clicked, and, against Wichita State on Sunday, things clicked. So here they are, and it didn't take a big imagination to picture Kentucky in this spot.
Tennessee: The Vols are the surprise of the SEC -- but they aren't really a surprise considering they were ranked 11th at KenPom heading into their First Four game with Iowa. UT opened as a favorite against the Hawkeyes and was also subsequently favored by six points in a Round of 64 matchup with UMass. After that win, yeah, it reasonable to expect the Vols to be eliminated, but a funny thing happened, and that funny thing is this: Mercer beat Duke in the Round of 64. So the Vols got to play Mercer instead of Duke, and they were an eight-point favorite in that game that they won 83-63. In other words, Tennessee has opened as a favorite in all three of its NCAA Tournament games. So, given the path placed in front of the Vols courtesy of the selection committee and Mercer's upset, they are actually right where they're supposed to be even if they spent Selection Sunday on the bubble.
Bottom line, take this for what it is.
It's great for the SEC.
It's lucrative for the SEC.
But what it's not is an indication that the SEC was or is anything more than a league that A) ranked seventh among conferences in the RPI, B) featured just three of its 14 members ranked inside of the top 50 at KenPom on Selection Sunday, and C) featured 36 percent of its members ranked outside of the top 100 at KenPom on Selection Sunday.
The past week doesn't change any of that.
The past week has merely provided a distraction from all of that.
Dawn Staley was accused of promoting an atmosphere that induced racial slurs toward Mizzou...

KU can clinch at least a share of its 14th straight Big 12 title with a win Saturday over Texas...

Larry Hartstein is a perfect 5-0 picking for or against the Utes and locked in a play for...
Huggins wasn't fined but was reprimanded after pointing out the disparity in free throws in...

UCLA travels to fellow bubbler Utah and Washington also hits the road in Pac-12 bubble act...

Bagley's knee problem is worth worrying about, but Allen has suddenly found his All-American...