The worst recruit Josh Pastner ever signed might be his most important
Memphis began this season with five starters from the city of Memphis, which was a source of pride for fans in this town who love little more than homegrown products. There are seven Memphians on this roster, three McDonald's All-Americans in uniform. And yet the school's most popular player is a 6-foot-5 wing from Texas who is quite literally the worst recruit Josh Pastner has ever signed.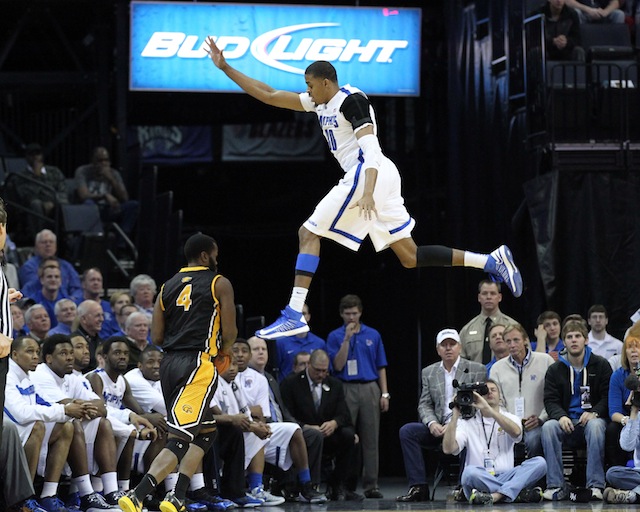 MEMPHIS, Tenn. -- Josh Pastner has forever talked about how he offered D.J. Stephens a scholarship out of desperation, in response to a mass email from a coach, because he needed a body to use in practice, sight unseen. Which is why I was confused this week when Stephens told me about a photograph from his AAU days that shows the high-flying athlete dunking while the Memphis coach watches from the baseline.
"I didn't know he was there at the time," Stephens said. "I just noticed him in the picture."
And so the story of how D.J. Stephens became the heart, the soul and one of the most important players on a Top 25 team should now be considered more amazing than it was before, and it was already pretty amazing. Turns out, Pastner had actually watched Stephens play before offering him a week before classes started in 2009 (and only after a signee from France suffered a knee injury). The proof is in the picture. But Stephens was so average on that day and unheralded in general that Pastner didn't notice him and genuinely doesn't remember ever laying eyes on him.
"I don't recruit Division II players," Paster said with a laugh. "So if I watched him, I don't know that I watched him, which means he wasn't good. So I wish I could take credit for his evaluation, but I can't. I didn't take him because I saw something in him. I just took him because I needed a player, and his AAU coach told me he could jump and that he had high character, which was important because I couldn't afford for him to be a bad player and a bad person. That's the truth. He wasn't a one-star recruit. He was a zero-star recruit. But now he's an NBA prospect who has won so many games for us."
****
Memphis began this season ranked 17th and with five starters from the city of Memphis, which was a source of pride for fans in this basketball-crazed town who love homegrown products like Larry Finch and Penny Hardaway. There are seven Memphians on this roster, three McDonald's All-Americans in uniform. And yet the school's most popular player heading into Saturday's final home game with UAB is a 6-foot-5 wing from Killeen, Texas who is quite literally the worst recruit Pastner has ever signed.
That's not hyperbole.
Go check your favorite recruiting website.
What you'll find is that Pastner has earned a reputation as one of the sport's top player-getters by luring one elite prospect after another, which is among the reasons he'll have 30 wins on Selection Sunday and make his third straight NCAA tournament. What you'll also find is that Stephens is the outlier, one of Pastner's few unheralded recruits.
The Pastner-Stephens marriage is a marriage rooted in desperation.
For both sides.
Neither initially planned to be with the other.
****
Though an afterthought by high-major standards, it should be noted that Stephens was good enough in high school to receive scholarship offers from North Texas, Western Kentucky, San Francisco and Sam Houston State. But he didn't sign early and was mostly ignorant to how the recruiting process worked. So he was surprised by what happened when he finally picked up the phone and called the North Texas staff to commit.
"They were like, 'We weren't sure you were coming so we gave the scholarship away,'" Stephens said. "Then I called all the other schools that had offered me before, and they all said the same thing. So at that point, I'm stuck. I didn't have a school to go to. So I called my AAU coach, and he told me not to worry ... that he'd get the word out."
Meantime, Pastner was a few months on the job, trying to figure out how to replace John Calipari and the recruiting class his old boss had taken to Kentucky. A signee named Latavious Williams had decided to turn pro. Eric Bledsoe had picked UK over Memphis. Those were gut-punches for the first-year head coach, and then Martin Ngaloro, a forward from France, injured his knee just before the start of classes and opted not to enroll.
Pastner was scrambling.
That's when he got an email from Stephens' AAU coach.
"I had one phone conversation with D.J., and I took him," Pastner said. "You have to understand this was seven days before classes started. Martin Ngaloro had just been hurt. I needed a player so I took him. But I didn't know if he could play until I got him here."
And?
"I was devastated after the first workout," Pastner said. "He couldn't dribble the ball and walk at the same time. It was unbelievable. I thought I'd made a major mistake. He couldn't play worth anything."
Little happened over the subsequent three years to change anybody's opinion. Yes, Stephens proved to have high character, and he was good in the classroom, too. He was a great teammate, and there's some value in that. But he averaged just 7.9 minutes as a freshman, 11.2 as a sophomore, and 8.3 as a junior while battling tendonitis in his knees because the same natural ability that allows him to jump at a world-class level forces him to land on hardwood in a damaging and painful way.
Stephens almost decided to limp away.
"One thing a lot of people don't know is that I was really close to giving up the sport because of the way last season went -- because I was struggling with injuries and because I wasn't playing," Stephens said. "It was tough for me because I was like, 'Man, I have this gift but it's like a curse at the same time. I can jump really high but it's plaguing me with knee injuries.' And then I wasn't sure what my role would be on this team and what my playing time would look like. So I was thinking about doing a graceful bow out, just telling Coach Pastner that I wanted to get my degree but not play my senior season."
Obviously, it never came to that. And when this talented roster lacked energy and a rebounder after a 2-2 start highlighted by losses to VCU and Minnesota, Pastner decided to try to make Stephens an important part of the rotation. Now the Tigers are 26-4 and just a win away from finishing 16-0 in Conference USA. There are seven players at Memphis taller than Stephens, and yet he's the one averaging a team-best 6.6 rebounds. His hustle plays have become legendary, his dunks highlights forever. He's a starter now alongside three McDonald's All-Americans (Joe Jackson, Adonis Thomas, Shaq Goodwin) and a junior college All-American (Geron Johnson), and the wildest part might be the fact that Stephens hasn't practiced since before Thanksgiving because he doesn't know how to play without jumping and diving in a reckless manner, and Pastner doesn't want to risk him getting hurt between games.
"The way he plays in the games is how he practices," Pastner said. "He's just constantly taking spills, and I'm just constantly holding my breath. So I just stopped practicing him."
Oddly, it's worked.
And so on Saturday Stephens will walk to center court for his Senior Day festivities, and a soldout crowd at FedExForum of more than 18,000 fans will do what they've been doing all season, i.e, give him the loudest ovation of anybody. They'll cheer for him louder than they'll cheer for the leading scorer, louder for him than they'll cheer for the coach, louder for him than they'll cheer for their own.
And then the game will tip and Stephens will start dunking like crazy.
It figures to be a memorable afternoon.
It's already been a memorable senior season.
"Walking away from basketball crossed my mind and transferring crossed my mind just like I'm sure it does the minds of most players who don't get to play," Stephens said. "You put all this work in and you're not getting anything to show for it. But you just have to stay positive, and I just tried to stay positive even though I didn't think I'd be a key piece to this team coming into this year. I just decided to wait on my opportunities and try to make the most of them, and, it's weird, but it's turned out great."
Was there contact? 'Everybody saw it,' UK coach John Calipari said

After losing its second game this week, a deep NCAA Tournament run looks far-fetched for U...

Coach K shows he is on on top of his game by landing the best three prospects in the Class...
The Buckeyes and Boilermakers continue to assert their dominance in the Big Ten

The 5-star phenom was thought to be headed to Clemson, but was swayed to the Blue Devils

The nation's No. 3 player will commit Saturday and here's his impact on each of his finali...