Three commits in 4 days; Bruce Pearl is back in business at Auburn
Auburn landed three commitments in the last four days and owned college basketball headlines for an entire weekend.
• 3 min read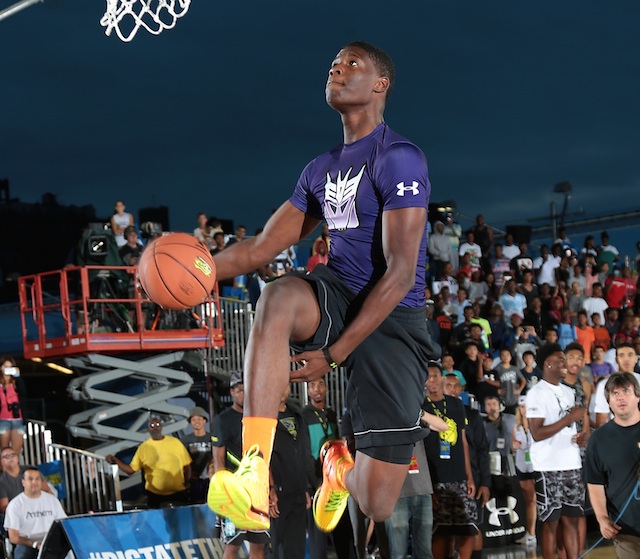 The biggest college basketball headline going into the weekend was the NCAA-issued, three-year show-cause coming to an end for Auburn head coach Bruce Pearl.
And the biggest story coming out of the weekend is Pearl and the Tigers landing three impact recruits in a four-day span.
Of course, the two go hand-in-hand.
Pearl and Auburn went all-out this weekend when his NCAA penalty officially ended. The Tigers had a four-star target in Pearl's office as soon as the clock struck midnight Saturday night, and then they hosted their elite camp on Sunday -- for which multiple targets in 2015, 2016, 2017 and 2018 were on campus.
As a result, Auburn exits the weekend with one of the 10-best recruiting classes in the country for 2015.
It started Friday night, when forward Danjel Purifoy announced his decision during the Elite 24 dunk contest in Brooklyn. Although Pearl was still serving his punishment at the time, making a commitment on national TV set the stage for a monster weekend. Purifoy is a power wing who will play at Hargrave Military Academy (Va.) for his senior season. Ranked No. 56 in the 247Sports Composite, the 6-foot-6 Purifoy chose Auburn over a long list of schools, ranging from Alabama and Georgia to Maryland and Florida State.
When Pearl's penalty officially ended, four-star forward Horace Spencer was already on campus. The Auburn head coach hadn't been able to talk to recruits since he took over the job -- but Spencer met with him immediately after the show-cause was over. Twelve hours later, the Philadelphia native committed to the Tigers. Now at Findlay Prep (Nev.), the No. 57-ranked prospect in 2015 has a tremendous motor and will make an impact on the boards and defensively. Spencer runs the floor and should fit in well with Pearl's system.
It was thought that Auburn's fun for the weekend was over -- but junior college transfer T.J. Dunans made a commitment on Monday morning. Dunans is considered by many to be the best junior college guard in the country, after averaging 22.8 points, 8.4 rebounds and 4.4 assists last season. He scored 52 points in an NJCAA Tournament loss last season.
Four days, three commitments. And I wouldn't be surprised if Pearl and Auburn weren't done in the month of August -- the Tigers are expected to welcome multiple visitors this week. This stretch comes on the heels of a spring period in which Auburn landed five players, including Marshall transfer Kareem Canty, who will sit out this season and be eligible to play with Spencer, Purifoy and Dunans in 2015-16. Pearl's staff -- Harris Adler, Chuck Person, Tony Jones -- made significant recruiting inroads during the spring and summer, and put the Tigers in good position to land players right off the bat.
Although it's August, Auburn was the biggest story in college basketball for four days. On Friday, it was Purifoy. On Saturday, it was Pearl's show-cause ending. On Sunday, it was Spencer. And on Monday morning, it was Dunans. When is the last time a non-blue blood owned headlines like this?
There was little question that Pearl would make an impact at Auburn. He's won at every stop, and his enthusiasm, energy and style are attractive to prospective recruits. Players want to play in his up-tempo system. But no one could have foreseen a weekend like this for the Tigers. 
Auburn might not be an NCAA Tournament contender in 2014-15, but Pearl has the Tigers relevant in the national college basketball landscape again – and this weekend cemented made sure of it.
The gauntlet has been laid down by Pearl and Auburn: He's back.
>> Want more hoops recruiting? 247 Composite Rankings
The Wildcats are 3-2 with two losses to two unranked teams

Trump again says he should have left LiAngelo Ball in China

Cincinnati and Iowa highlight an impressive inaugural field for the Cayman lslands Classic
The president didn't take kindly to not getting a thank-you from LaVar

Southern California, ranked No. 8 in Sunday's Top 25 (and one), travels to face Vanderbilt...

Simons, 18, is a former Louisville pledge who is suddenly eligible for the upcoming draft