Tim Floyd is wrong (and hypocritical) to not release Isaac Hamilton
Tim Floyd is in a standoff with his prized recruit. And the UTEP coach is wrong for a couple of different reasons.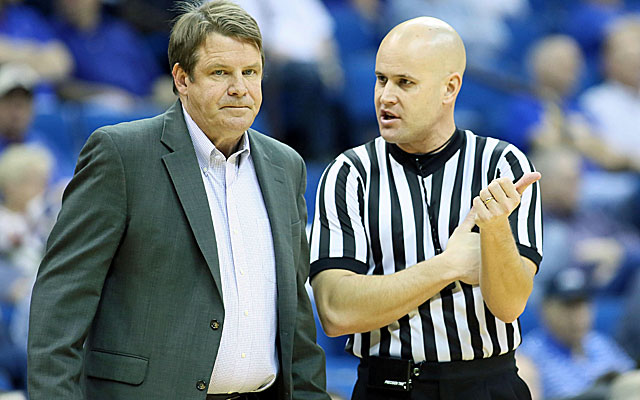 I've never been close with Tim Floyd but have always liked him because he's the type of coach who will say pretty much anything on the record. I'm not sure if he likes to talk. But I know he talks a lot, and he isn't afraid to call out others, defend himself and openly discuss various topics from which most shy away.
Take this past March, for example.
Floyd, on the verge of leading UTEP into the Conference USA tournament, acknowledged that he had talked with USC athletic director Pat Haden for three hours about the job he once held, and Floyd attempted in no way to diffuse the idea that he wanted to return and coach the Trojans. It was unusual and awkward and weird. But it was Tim Floyd. So I wasn't all that surprised to see him talking openly about a vacant job while he still had a job, though I can't speak to what his motivation might've been.
Either way, now Floyd is talking openly again.
This time about a prospect.
UTEP's star recruit, Isaac Hamilton, has decided he no longer wants to be UTEP's star recruit and would like to be released from the national letter of intent he signed last November. But Floyd still wants Hamilton to be UTEP's star recruit, mostly because the McDonald's All-American from Los Angeles could double as UTEP's best player, even as a freshman. He's really, really talented. Floyd won't release him. So what we have here is a standoff between a coach and a prospect that probably won't be resolved any time soon. It's an offseason story worth following. But what I've found most interesting about the still-developing saga is that Floyd hasn't offered the typical "no comment" like most coaches would in a similar scenario. Instead, he's publicly accused his old school -- specifically new USC coach Andy Enfield and staff -- of tampering with Hamilton and even acknowledged calling Enfield to address the situation.
So Talkative Tim has opened right up again.
And I love it.
I genuinely enjoy people who are willing to say how they feel. The only problem, of course, is that Floyd is on the wrong side of the argument. And, making things worse, is that his explanation for refusing to grant Hamilton a release is ridiculous and hypocritical.
Here's Floyd's explanation (via the El Paso Times): "We made our schedule based on having Isaac. People have bought season tickets based on our having Isaac. It's too late."
Simply put, that explanation is silly.
Already made a schedule?
Already sold season tickets?
Look, I don't doubt that both of those things are true. UTEP's schedule is done. UTEP fans have purchased tickets. I understand we're in late July. But I don't care about either of those things. And neither does Floyd. And I'll tell you why in a minute. But first let me make it clear that I think Floyd is wrong for the simple reason that I think any coach who binds a student-athlete against his will to what amounts to a one-sided contract is wrong, regardless of the circumstances. I could explain why in great detail; perhaps I will someday. But I don't want this to be a column about the unfairness of the national of letter intent because I'd rather it be a column about the ridiculousness and hypocrisy of Floyd's statement to the El Paso Times.
What Floyd should've done is kept it simple -- just explained how he thinks USC tampered with Hamilton and that neither Enfield nor the family have been honest with him about it, and that now he's going to do everything possible to make life miserable for both. I would've still thought Floyd was wrong because, again, I don't believe in the letter of intent or in coaches placing restrictions on student-athletes. But I could've at least nodded along and said, "Hey, but I understand why Tim is upset."
But his statement?
I can't understand his statement at all.
Floyd, you see, is no position to insist it's too late in the process for Hamilton to bail on a school because UTEP's schedule has been made based on having Hamilton, and because fans have bought season tickets based on having Hamilton, and here's why: Because once upon a time, back in 1998, Floyd was the head coach at Iowa State until he took a job with the Chicago Bulls ... on July 23rd.
That's later than Hamilton asked for his release.
And I bet the Iowa State schedule was made by late July.
And I bet some Iowa State fans had bought tickets by late July, too.
So if that stuff didn't matter to Floyd back then, tell me why it should matter now?
Jay Wright's undefeated Wildcats are now No. 1 in the Top 25 (and one)

Coach K's Blue Devils are the fourth preseason top-10 team to lose to a sub-75 KenPom team

TCU, which downed Nevada late Friday, continues to flourish under second-year coach Jamie...
The fans rushed the floor and celebrated after Taylor University scored its 10th point of the...

The struggling Bears head to San Diego on Saturday for a late afternoon tip in the Viejas...

The Irish look to get back on track after losing two of their last three