Tiny Dancers: Milwaukee continues run to Horizon title
As the No. 5 seed, Milwaukee ran through the Horizon League to the conference tournament title.
• 2 min read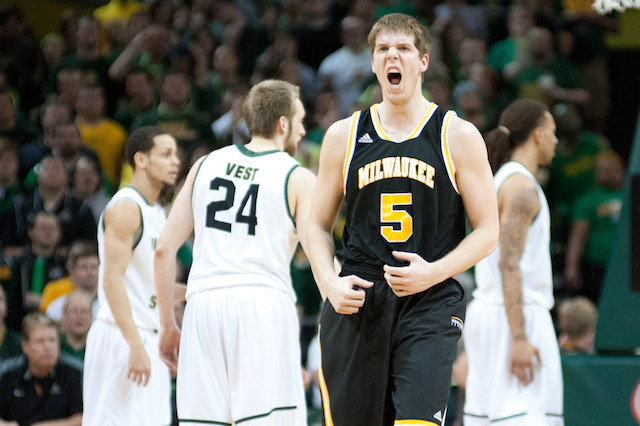 Latest in hoops: Top 25 (and one) | Bracketology | Bubble Watch
The announcement came just as Milwaukee seemed to be turning the corner in Horizon play. The Panthers were coming off a win at conference leader Green Bay, when Jordan Aaron scored 30 points to lead the way.
And then Aaron was suspended for violating team rules. He ended up missing four games, playing against Illinois-Chicago on Senior Day. Milwaukee went 1-3 in his absence, while also losing the game against UIC in the middle of the suspension.
Since Aaron returned for the conference tournament, though, Milwaukee hadn't lost -- and that streak continued on Tuesday night, when the Panthers took down Wright State, 69-63, to win the Horizon's automatic bid and punch their ticket to the NCAA Tournament.
Aaron scored 18 points and nailed four 3-pointers, while Kyle Kelm had 20 points and nine rebounds on the inside. The Panthers grabbed 13 offensive rebounds, taking advantage of second-chance points on the inside.
After Milwaukee beat top-seeded Green Bay on Saturday night, no one was shocked by the Panthers winning the tournament as a No. 5 seed. In that game, Aaron (28 points) led four players in double-figures, as Milwaukee stifled Alec Brown inside and won in overtime.
This will be Milwaukee's first NCAA Tournament appearance since going to three tournaments in four seasons between 2003 and 2006.
Player to know: Jordan Aaron. The team's leading scorer was suspended in mid-February, and the Panthers struggled mightily. But he returned before the conference tournament carried Milwaukee to the Horizon's automatic bid. Aaron averaged 20.5 points in four tournament games, including four 3-pointers and 28 points in the semifinal win over Green Bay. On the season, he averaged 14.9 points and 2.5 assists -- but him taking his game to the next level enabled Milwaukee to get to the NCAA Tournament. 
The Vitals:
Record: 21-13 overall, 7-9 in the Horizon
Most recent tournament appearance: 2006 (lost to Florida in the Round of 32 as a No. 11 seed)
Jerry Palm predicts: 16 seed
RPI: 144

KenPom ranking: 173

Sagarin ranking: 170

Best wins: at Green Bay, at Green Bay (Horizon tournament)

Worst losses: vs. Illinois-Chicago, at Loyola-Chicago
Notable stat: 15.4 percent. Milwaukee gets 15.4 percent of its offensive from post-up opportunities, which ranks third nationally behind only South Dakota State and New Mexico State. Moreover, the Panthers score nearly one point per possession off those post-ups, which ranks No. 17 in the country. Milwaukee might not be able to post up bigger high-major teams, but a smaller lineup could see the Panthers get buckets around the rim in the arly going.

Closing quip: It's been a tremendous run for the Panthers, beating top-seeded Green Bay on its home court for the second time in a month and then taking down Wright State on the road -- but that's where it ends. They will likely be seeded along the 16-line, and that's undoubtedly a loss. They are hoping to avoid the First Four, but it will depend how the other mid-major conference tournaments play out. Side note: in Milwaukee's last two NCAA Tournament appearances, the Panthers won at least one game.  
Indiana's Archie Miller and Mizzou's Cuonzo Martin have been killing it on the recruiting...

Duke's much-anticipated Allen-Duval connection is off to a hot start already

It'll be Miller vs. Miller if the Hoosiers and Wildcats can finalize the proposed series
Wisconsin's Ethan Happ has made only two jumpers in his career, but is adding a long-range...

The deal is part of long-awaited $2.64 billion contract; CBS' hoops-only commitment runs through...

If Wichita State guard Landry Shamet has a breakout season, he could leave early for the N...