Tiny Dancers: UL Lafayette upsets Georgia State in Sun Belt final
Louisiana-Lafayette is going to the NCAA Tournament after upsetting top-seeded Georgia State in the Sun Belt championship game.
• 2 min read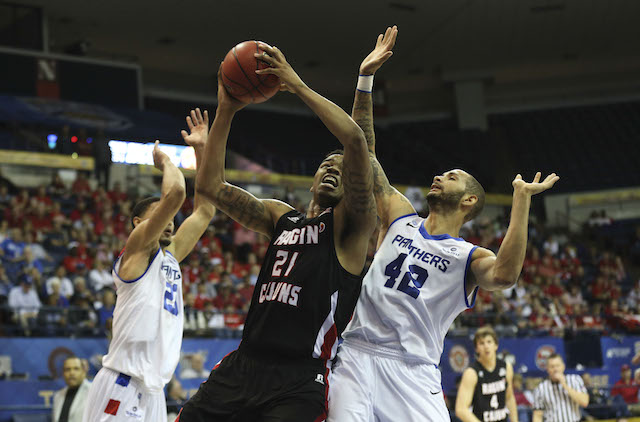 More: Updated bracket projection | Bubble Watch | Live Blog Updates
Back on Jan. 30, Louisiana-Lafayette was one of the biggest disappointments in the Sun Belt. The Ragin' Cajuns returned Elfrid Payton and Shawn Long off last year's team, and they were expected to be a title contender in the league. But they started just 3-5 in the league, and had lost to teams like Jackson State, Louisiana-Monroe and South Alabama in the first two months of the season.
Something changed, though, as UL Lafayette has only lost two games since then -- by a combined six points at Georgia State and Western Kentucky.
The Ragin' Cajuns' winning ways continued in the Sun Belt tournament, as they upset Western Kentucky in the semifinals and then took down top-seeded Georgia State in the championship game, 82-81 in overtime. The Panthers were the heavy favorite, losing just one conference game all season, but UL Lafayette held R.J. Hunter to 4-for-12 shooting and got a career night from junior guard Xavian Rimmer, who scored 27 points. That helped offset the 37 from Georgia State's Ryan Harrow.
Bob Marlin has this team playing at a high level right now, and Payton is the type of player who can put up big numbers on a big stage. 
Player to know: Elfrid Payton. He became something of a national name back in the summer when he was surprisingly named to USA Basketball's U19 team for the FIBA World Championship. He was a stud last season, but getting that sort of recognition took him to the next level. And he hasn't disappointed this season, averaging 19.1 points, 6.0 rebounds and 6.0 assists. He is getting consideration as a potential first-round NBA Draft pick, and he is capable of carrying Lafayette in March.
I would be remiss not to mention Shawn Long, though. He is one of the most productive all-around players in college basketball, averaging 18.9 points, 10.4 rebounds and 2.8 blocks -- while shooting nearly 44 percent from 3-point range. 
The Vitals:
Record: 23-11 overall, 11-7 in the Sun Belt
Most recent tournament appearance: 2005. Lost to Louisville in the Round of 64 as a No. 13 seed.
Jerry Palm predicts: 15 seed
RPI: 98
KenPom ranking: 118
Sagarin ranking: 122
Best wins: at Louisiana Tech, vs. Georgia State
Worst losses: at South Alabama, at Jackson State
Notable stat: 8. That was the combined margin of victory in Lafayette's three Sun Belt tournament wins, including one-point victories in the semifinals and championship game. The Ragin' Cajuns also won their regular season finale by one point. They are figuring out how to win close games.
Closing quip: Georgia State was the team most people wanted to see represent the Sun Belt in the NCAA Tournament, given the talent in the Panthers' starting lineup and the explosiveness of R.J. Hunter and Ryan Harrow. But that doesn't mean Lafayette is going to be a pushover in the dance. Elfrid Payton is a first-round NBA talent, and Shawn Long is one of the most difficult matchups at the mid-major level. If they're allowed to push the tempo and speed teams up, they could be a threat in the Round of 64. Payton could really emerge on the national scene.
The five-star forward put on a dunking and blocking clinic in high school's state quarterfinal...

Pitino dug in and maintained he ran a 'clean program' after the NCAA stripped UL of its 2013...

Bagley is still recovering from a knee injury he suffered during the Blue Devils' loss to...
Izzo was emotional as he coached the seniors on their final home game in East Lansing

The Shockers look to build on their four game winning streak as they return home to face T...

De'Anthony Melton is leaving the Trojans program and will look to jump up to the professional...