Tiny Dancers: Wofford holds off Western Carolina, will dance again
Wofford is going to the NCAA Tournament for the third time in five years.
• 2 min read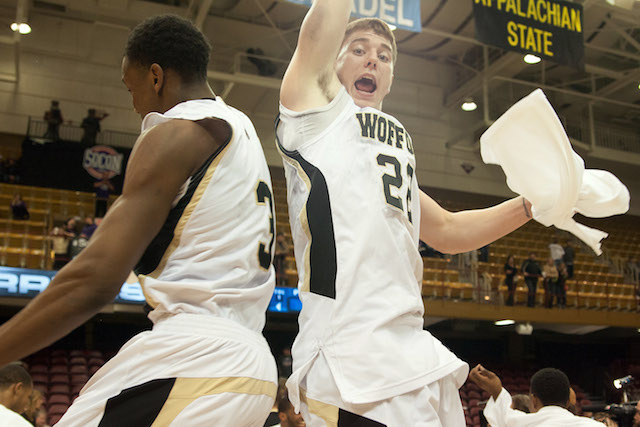 Latest in hoops: Top 25 (and one) | Bracketology | Bubble Watch
The Southern Conference tournament really opened up for Wofford as the bracket progressed. Second-seeded Chattanooga went down in the quarterfinals to Georgia Southern, and No. 1 seed Davidson fell in the semifinals. It suddenly became the Terriers' automatic bid to lose.
And they took advantage.
Wofford knocked off Western Carolina, 56-53, in the SoCon Championship game on Monday. The Terriers never trailed, getting 23 points from Karl Cochran and 11 points down low from Lee Skinner. Most importantly, they limited WCU's Trey Sumler to only nine points on 3-of-12 shooting.
This will be Wofford's third NCAA Tournament appearance in the last five seasons, reaching the Big Dance in 2010 and 2011. The Terriers received a 13- and 14-seed in those two tournaments, but this one seems destined to be in a 1 vs. 16 game. Head coach Mike Young has done a very solid job of making Wofford an annual contender in the SoCon, finishing .500 or above in six of the last seven seasons.
Player to know: Karl Cochran. The junior guard from Marietta, Ga. came up big when it mattered most: the championship game. He knocked down five 3-pointers, finishing with 23 points, five rebounds, four assists and four steals, making multiple clutch shots in the final minutes. Cochran has been excellent late in the season, scoring at least 20 points in eight of the final 15 games. He can make shots from the perimeter, but is also an adept playmaker and gets involved on the glass.
Wofford is mostly a balanced unit, but Cochran is the guy it can count on to make big shots.
The Vitals:
Record: 20-12 overall, 11-5 in the SoCon
Most recent tournament appearance: 2011 (lost to BYU in Round of 64 as a No. 14 seed)
Jerry Palm predicts: 16 seed
RPI: 161

KenPom ranking: 183

Sagarin ranking: 191

Best wins: at Elon, at Winthrop

Worst losses: vs. NC-Greensboro, vs. Chattanooga (twice)
Notable stat: No. 334. That's where Wofford ranks nationally in tempo, meaning the Terriers are one of the slowest teams in the country. They will look to control the pace from the opening tip, taking 30 seconds on the offensive end and not allowing teams to get out in transition too often. They take everything possession-by-possession, meaning they could frustrate a top seed for at least a half.

Closing quip: Wofford is one of the hottest mid-major teams over the last two months, winning 13 of its last 15 games. The Terriers aren't as good as they were whene they lost by single-digits to Wisconsin and BYU in back-to-back NCAA Tournament, but they won't be a pushover. They will look to make it a half-court game and really take the air out of the ball on the offensive end. If they play a team that likes to get up and down, it could be a competitive game for at least 20 minutes.  
The top 10 gets a major shakeup after a wild week of upsets

The Sun Devils make a big jump and the Jayhawks slide after ASU pulls the big upset

Gary Parrish and Matt Norlander spend some time on the SEC, too
Having shocked Kansas at Allen Fieldhouse, Duke legend Bobby Hurley is coaching the Sun Devils...

Jay Wright's undefeated Wildcats are now No. 1 in the Top 25 (and one)

Coach K's Blue Devils are the fourth preseason top-10 team to lose to a sub-75 KenPom team