Title run giving paralyzed Kentucky fan feelings of happiness
Dick Gregory, paralyzed after suffering an injury at a Kentucky game in November, is enjoying every moment of his team's championship run. The Wildcats are giving their longtime fan plenty to smile about.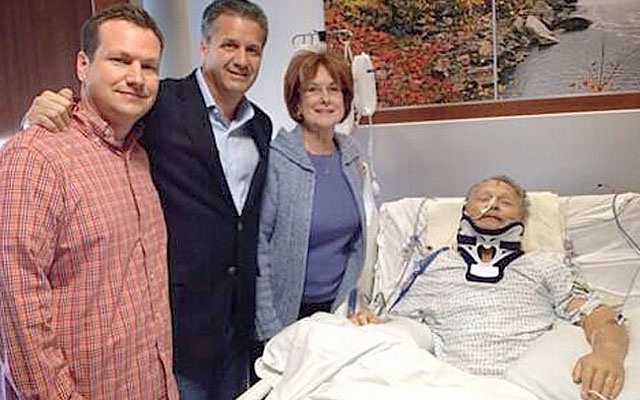 More: UConn-UK preview | Doyel: Cal on cusp of another title | Complete coverage
ARLINGTON, Texas -- He watches the games alone. Dick Gregory watches Kentucky win, one improbable victory after the next in this NCAA Tournament, and then he has a nurse shut down the television and flick off the light and he sleeps as much as he can. Which isn't much. 
Dick Gregory is paralyzed from the chest down, an injury he suffered at Kentucky's exhibition game Nov. 1 against Transylvania. He was there with his wife, Mary Alice, who had never been to Rupp Arena. Dick Gregory is 73 but he grew up like so many in Kentucky, loving the Wildcats and wearing the blue shirts and playing golf with a UK bag and listening to games on the radio when he couldn't get a ticket to the game. As it turns out, he got two tickets to the exhibition game on Nov. 1. Mary Alice, his wife of nearly 50 years, had never been. Dick Gregory took her. 
As they walked to Section 238, Row J -- going a few aisles above their seats because it seemed less troublesome to step down and over a few empty rows than to make everybody on their aisle stand to let them pass -- Mary Alice stumbled. Dick tried to catch her, couldn't, and threw himself between his wife and the chairs. 
Mary Alice got up. Her husband did not. He had suffered a broken neck. What happened next was heartbreaking in every possible way, and uplifting in this way: Kentucky fans rallied around the Gregory family, sending them notes and cards and even plates of food, and the Kentucky basketball team rallied around the family as well. John Calipari heard about the accident and took his team to see Dick Gregory, making such an impact on the man that, after failing his swallow test earlier that day, Gregory wanted to take it again and passed and was able to start eating food.
That was early November, and I wrote about it here, and life went on. Kentucky started playing real games. Kentucky fans went to those games or watched them on TV or talked about them online.
Dick Gregory stayed in the hospital, first at the University of Kentucky's Chandler Medical Center in Lexington, then at a series of facilities in his hometown of Louisville. He went from a hospital to a rehab facility to a hotel, because his insurance wouldn't pay for any more in-patient treatment, and then back to the Heartland of Louisville nursing home when his time in the hotel left him with clots in his legs and lungs, and with bed sores.
One secret about being paralyzed: You can't move, but sometimes you can feel. And Dick Gregory can feel his sores. And his muscle spasms. He's in pain more than he's not, and he's 73, and he's in Louisville watching games on television late at night while his wife is trying to get some sleep at home and his son is traveling and everyone else has gone on with their lives and Dick Gregory has not. Cannot. 
Progress comes in little pieces, pieces so small neither he nor his family is sure if the progress is real or imagined. He can wiggle his thumbs, but maybe he could do that already. He can move his feet to the left and right, which might be a few centimeters more than last month. Or not. Nobody can say yes for sure, but nobody wants to say no. 
"He is making little bits of progress," says Dick Gregory's son, Scott. "I hate to say that this could be it. His goal is to drive a joystick wheelchair. Now he uses the straw to control a wheelchair. I think they call it the puff-and-sip." 
Dick Gregory undergoes physical therapy, attached to a harness and lowered onto a treadmill, bearing as much weight on his feet as he can while a therapy team helps him balance and use his feet and rotate his hips. It takes a village to teach a man how to walk again, and Dick Gregory is trying to learn. 
In the meantime he is watching Kentucky basketball when he can, which is most of the time. He has missed just a few games this season, when he stayed two weeks at a rehab facility that didn't have satellite TV. Dick Gregory wasn't able to watch the Wildcats in that stretch, but he was able to talk to the Wildcats coach. 
John Calipari was at a doughnut shop in Lexington when he ran into one of Gregory's relatives. Calipari asked how Dickie was doing. Not good, he was told. He asked for the number to the rehab facility, where the phone rang that day. 
A nurse answered and said, "Oh my gosh, it's John Calipari," and put the phone to Gregory's ear.
"She kept asking me, 'Is it live, is it live?'" Dick Gregory was saying on Sunday. "Sure, it's live. I'm talking to him right now." 
Dickie gave Calipari some advice, telling him he wasn't being tough enough on the Wildcats. This was late in the regular season, when the Wildcats were losing three times in five games, and Dick Gregory says he told Calipari he needed to get on his players some more.
"He kind of laughed," Gregory said, "and told me, 'I think I've done too much of that. I need to go the other way. I think I got them settled down a little bit. I think we're about to do something.'" 
Sure enough, something happened. The Wildcats reached the SEC tournament championship game and put a 61-60 scare into No. 1 Florida, then reeled off five consecutive victories in the NCAA Tournament to reach the title game on Monday night against Connecticut. 
Dick Gregory has been watching, mostly alone, from his hospital bed. It would be insulting to his predicament, to the life he now lives at age 73, to say this Kentucky run has made him happy. It hasn't. But each Kentucky victory does bring him a moment of happiness, and to his family those moments are priceless. 
Gregory's grandchildren call him "Peepaw," but about 10 years ago when little Joe Gregory could manage just the first syllable of that word, the nickname stuck. Now most of his family calls him Peep, though the grandkids still go with Peepaw. And it was late Saturday night when one of those grandkids, Max, told his mom that he's a UConn fan but wants Kentucky to win so "Peepaw can smile for something that means a lot to him." 
Peepaw says he smiled Saturday night when Aaron Harrison's game-winning shot went down in the final seconds, but that's about all he did. 
"I mostly just smile," he says. "Nobody else is around. I went to myself, 'Well done.' And then I went on to sleep."
He'll be watching Monday night, most likely alone because the game will start after 9 p.m. in Kentucky and his nursing home has visiting hours, but Dick Gregory will be watching. 
"Just like any other fan would be," he says. "I can't holler and hoot because I've got too many people down the hall that don't want to hear it, but I'll be watching." 
And if Kentucky wins a national title? What would he do then? 
"If I could," Dick Gregory says, "I'd clap my hands. But I can't do that just yet, so I'll probably smile and say 'well done' and go to sleep."
For the first time in years, the Shockers played a must-see game with national implications...

Gary Parrish and Matt Norlander discuss a wild weekend of college basketball

Andy Kennedy announced on Sunday he will no longer coach the Rebels
Grayson Allen has taken over with Marvin Bagley (knee) out of the lineup

The loss puts the Buckeyes out of the top 16 and it may lose the one-seed in the Big Ten t...

Austin Hatch has been part of the Wolverines program since 2014