Today's Specials: Bubble teams face must wins
Wednesday is a big day for bubble teams, as nearly a dozen teams on the fence could use wins.
• 4 min read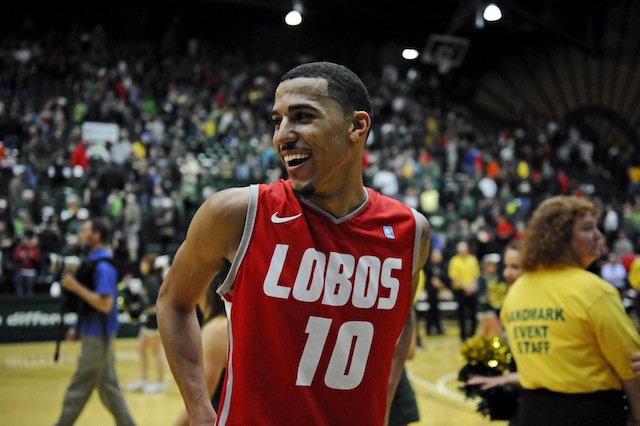 Tuesday was a big night for teams that needed signature home wins, with Minnesota and Tennessee both picking up upset victories. What will Wednesday bring? There is a showdown in the Mountain West, and tons of bubble action in terms of teams that need wins.
Note: All times are Eastern, and the rankings are according to the AP poll.
Best game: San Diego State at No. 14 New Mexico (10:15 p.m., CBS Sports Network). Another game that should be terrific in the Mountain West. New Mexico picked up a monster win over the weekend at Colorado State, with Kendall Williams scoring 46 points and knocking down 10 3-pointers. Meanwhile, San Diego State could use a marquee win to boost its resume -- and a win in Albuquerque would give the Aztecs a season sweep of the Lobos. The key for San Diego State's defense will be to limit New Mexico's opportunities from the free-throw stripe, while its offense has to get opportunities in transition and win head-to-head matchups on the perimeter.
Second-best game: No. 7 Georgetown at Connecticut (7 p.m., ESPN2). Is anyone playing better than Georgetown right now? It's tough to find another team like the Hoyas, who have won nine in a row, including Saturday's 11-point win at Syracuse over the weekend. Otto Porter has played himself into the National Player of the Year conversation, and D'Vauntes Smith-Rivera has become a consistent perimeter option for the Hoyas. Connecticut will have to be disciplined on the defensive end, finding ways to get free shots from the foul line against Georgetown's defense.
Another one to watch: Akron at Ohio (7 p.m.). This might not have the big-name pop of some of the other games Wednesday night, but Akron and Ohio are battling for the MAC title. Akron is undefeated in the conference, while Ohio is one game back -- with its lone loss coming at the Zips a couple of weeks back. Each team still has four regular-season games left, so it's not over yet -- regardless of what happens on Wednesday. From Akron's standpoint, the Zips need to run the table until the title game to have a shot at an at-large bid.
Guaranteed win: Belmont has been one of the best mid-major teams all season, but the Bruins are only one game up on Eastern Kentucky in the Ohio Valley. The Bruins should clinch at least a share of the regular-season title at home against SIU-Edwardsville on Wednesday (8 p.m.). Moreover, should they lose in the conference tournament, they have to avoid bad losses before the title game.
Potential upset: There are a few teams that are heading on the road and could face a tough tilt. Maryland is probably on the wrong side of the bubble right now, and a loss at <span data-shortcode= Tech" data-canon="Georgia Bulldogs" data-type="SPORTS_OBJECT_TEAM" id="shortcode0"> (8 p.m.) would doom the Terrapins. Oklahoma is certainly in the field, but Texas could give them a run down in Austin (9 p.m., ESPN2). Lastly, Baylor faces an absolute must-win on the road at a West Virginia team that's been playing better lately (8 p.m., ESPN3).
Three things to keep an eye on:
Arizona State is squarely on the bubble as it heads on the road for its final three games. On the other side, UCLA needs a win to stay in the Pac-12 title hunt (11:30 p.m., Pac-12 Network).
Several bubble teams face must-wins: Kentucky vs. Mississippi State (8 p.m., ESPN3); Charlotte vs. Dayton (7:30 p.m.); Boise State vs. Nevada (8 p.m.); Ole Miss vs. Texas A&M (9 p.m., ESPN3); Saint Mary's at Pepperdine (11 p.m., ESPNU).
Two teams can clinch outright regular-season titles tonight: Bucknell vs. American (7 p.m.) and Northeastern at Georgia State (7 p.m.).
Other games to watch:
-- Ranked teams
-- At-large implications
-- Conference races
For more college basketball news, rumors and analysis, follow @EyeOnCBB on Twitter, subscribe to our RSS Feed and subscribe to our College Basketball Newsletter. You can follow Jeff Borzello on Twitter here: @jeffborzello
The voter has Northwestern seven spots ahead of undefeated Texas Tech, which just blasted the...

The 7-foot-1 center is the No. 3 prospect in the Class of 2018, according to 247Sports

Alabama enters the top 25 while Northwestern drops out after a rough week
Four years ago, Bryant told Jimmy Kimmel that he'd have picked UNC

Dates, start times and streams of LaVar Ball's interview with CNN

Wichita State and Notre Dame could meet in the final of the Maui Jim Maui Invitational