Today's Specials: BYU and Baylor look for consistency
Can Wyoming stay undefeated? Can BYU or Baylor get some consistency? Will Maryland win its 10th in a row? That and more in Today's Specials.
• 3 min read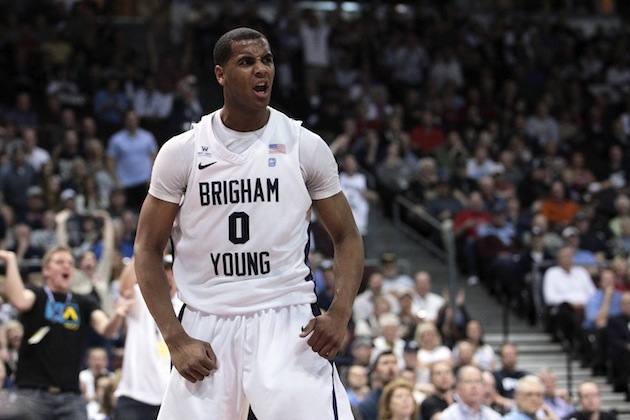 Can Brandon Davies hold his own inside against Baylor's duo of Isaiah Austin and Cory Jefferson? (US Presswire)
Saturday features three big-time battles, but Friday isn't too shabby. There are three very good contests, while an undefeated looks to stay that way. The docket is highlighted by a contest between teams looking to find some consistency -- and a key win.
Note: All times are Eastern, and the rankings are according to the AP Poll.
Best game: BYU at Baylor (9 p.m., ESPN2). A couple of inconsistent-yet-talented squads. BYU has been up and down this season, but the Cougars have won six of their last seven -- even if the best win during that stretch was at Weber State. Meanwhile, Baylor sandwiched a road Kentucky win in between home losses to Charleston and Northwestern. Weird. Can Brandon Davies survive inside against Isaiah Austin and Cory Jefferson? The guard battle between Pierre Jackson and Tyler Haws will also be fun.
Second-best game: Stanford at Northwestern (9 p.m., Big Ten Network). Lots of smart kids in this game -- and also plenty of talent. Stanford gave N.C. State a game earlier this week before losing, and the Cardinal will look to bounce back. Northwestern has lost three of its last five -- despite winning at Baylor during that stretch. Stanford is reliant on the inside-outside duo of Dwight Powell and Chasson Randle, while Northwestern isn't nearly as explosive without injured scorer Drew Crawford. Tempo will be a factor in this one.
Another one to watch: Stony Brook at Maryland (8 p.m., ESPN3). Both teams were expected to take a little while before hitting their stride, yet they are a combined 17-3. Stony Brook has won four in a row, although Friday's game and next week's game at Seton Hall will be telling. Maryland has won nine in a row since losing its opener against Kentucky. The Terrapins are disciplined defensively, really guard the paint and also crash the offensive glass. Stony Brook likes to slow it down and get to the free-throw line.
Guaranteed win: No. 6 Indiana bounced back from its loss to Butler with a win over Mount St. Mary's, and the Hoosiers will string their winning streak to two games against Florida Atlantic (7 p.m., ESPN2). FAU's backcourt of Greg Gantt and Stefan Moody is actually potent offensively, but the Owls simply don't have the size or depth to compete with Indiana.
Potential upset: Washington State has won five of its last six games, but the Cougars will be tested by Buffalo (10:30 p.m., Pac-12 Network). The Bulls have the size down low to compete with Brock Motum in forwards Javon McCrea and Will Regan, and they're also capable of knocking down shots from the perimeter. They'll need to cut down on turnovers and slow down Motum, but there's a shot.
Three things to keep an eye on:
St. John's has the athletes to compete with most teams, but it has had trouble at the point guard spot. Texas A&M transfer Jamal Branch becomes eligible Friday night against UNC-Asheville (7:30 p.m. ESPN3).
No. 22 Notre Dame is in action, as the Fighting Irish look to slow down Juan'ya Green and Niagara (7 p.m., ESPNU).
Wyoming is still undefeated, and the Cowboys will be tested at home by UC-Santa Barbara (9 p.m.).
BONUS: Goodman pointed this one out to me on Twitter -- when Wagner and SMU face off on Friday, it will be a battle of the youngest (Bashir Mason) and oldest (Larry Brown) head coaches in the country.
Temple could be a big problem for undefeated Villanova, the No. 1 team in the Top 25 (and...

It appears he's more than happy to pay up, given the circumstances

Lithuania seems ready for the Ball era to begin
The Sun Devils make a big jump and the Jayhawks slide after ASU pulls the big upset

Arizona's big man from the Bahamas balled out against two talented teams

Coach Shaka Smart doesn't expect him to be out for an extended period of time