Today's Specials: Crosstown 'Classic' highlights top-heavy sked
No more Crosstown Shootout -- it's now called the Crosstown Classic. But Xavier vs. Cincinnati is always one of the best rivalries in the sport.
• 3 min read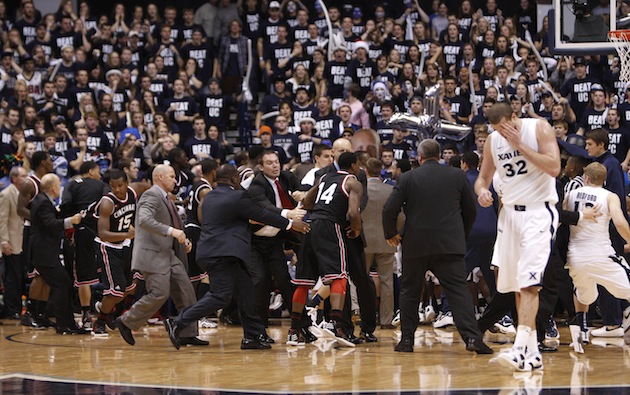 This happened last year when Cincinnati and Xavier played. I highly doubt we will see punches this season. (US Presswire)
With 12 ranked teams in action on Wednesday, including one of the most heated rivalries in the sport, we have plenty of action to watch. In bigger news, I'll be at UNC-Greensboro vs. UNC-Wilmington -- and no, that did not get a mention in the top games of the day.
Note: All times are Eastern, and the rankings are according to the AP poll.
Best game: Xavier at No. 11 Cincinnati (7 p.m., ESPN2). The last time these two teams met, well, it got ugly. There was a brawl, punches, suspensions, etc. How heated will it get Wednesday night? On the court, Cincinnati has been playing some of the best basketball in the country. The Bearcats are 10-0, but a rivalry game renders records meaningless. Xavier has had a couple of strange losses, to Pacific and Vanderbilt, but the Musketeers have also blown out Butler. I don't expect too many antics in this one -- but we could have a good game.
Second-best game: No. 23 North Carolina at Texas (9 p.m., ESPN2). Neither team has been as good as many thought at the beginning of the season, but both are looking to build momentum. North Carolina has won three in a row since getting stomped at Indiana, although the Tar Heels' defense has been extremely porous during that stretch. Texas still looks lost offensively without Myck Kabongo, and it remains to be seen when he will be cleared to play. With the game being in Austin, this could be where the Longhorns start to turn things around. Maybe.
Another one to watch: Northern Iowa at No. 21 UNLV (10 p.m., Regional TV). Despite Northern Iowa's inconsistencies this season, this one could be closer than people think. UNLV has had some surprisingly close calls this year, and the Runnin' Rebels are still getting used to having Khem Birch as a piece on the inside. Northern Iowa lost three in a row in the Bahamas, and the Panthers also dropped one to Iowa over the weekend. If they slow the game down, though, and keep UNLV off the free-throw line, this one could get interesting.
Guaranteed win: Despite Florida losing to Arizona, I still came away from that game more impressed with the Gators. To me, they are still a legitimate Final Four contender, especially with their defense, as long as Scottie Wilbekin can be the point guard. SE Louisiana and its winless record against Division-I opponents this season won't pose much of a challenge on Wednesday night (7 p.m., ESPN3).
Potential upset: New Mexico State is just 4-5 against D-I opponents this season. New Mexico is 11-0, and just beat the Aggies by 15 over the weekend. But now the game is in Las Cruces (9 p.m., ESPN3) -- and New Mexico State will make it much closer. The Aggies have to be more disciplined defensively, and also get to the rim against the Lobos. Tyrone Watson has to snap out of his slump, too.
Three things to keep an eye on:
Illinois State and Dayton have both been solid this season, and a win on Wednesday night (7 p.m., Comcast Chicago) could be a nice chip for Selection Sunday.
Two of the better mid-major teams in the country face off, when South Dakota State visits Belmont (8 p.m.).

Kerron Johnson

vs. Nate Wolters.
Another great individual matchup will take place in Ohio at Massachusetts (7:30 p.m., Regional CBS), when D.J. Cooper and

Chaz Williams

do battle.
Other notable games:
Cornell at No. 1 Duke (7 p.m., ESPNU)
Florida International at No. 5 Louisville (7 p.m., ESPN3)
Mount St. Mary's at No. 6 Indiana (7 p.m., Big Ten Network)
Kennesaw State at No. 22 Notre Dame (7 p.m., ESPN3)
Canisius at Temple (7 p.m.)
Delaware State at Pittsburgh (7 p.m.)
Texas-Arlington at No. 24 Oklahoma State (8 p.m.)
Tulsa at No. 17 Creighton (8:05 p.m., ESPN3)
Campbell at No. 14 Gonzaga (9 p.m., ROOT)
Junior point guard was the subject of a Title IX investigation launched by the school last...

Creighton AD Bruce Rasmussen answers questions about some of the committee's grouping metr...

Guy, the leading scorer for the No. 1 Cavaliers, had a big weekend even though UVA didn't...
The stigma of being the first men's Division I team to vacate a title will be difficult to...

The Quicken Loans Confidence Builder focuses on Syracuse, Butler and Florida

Rhode Island can clinch a share of the A-10 regular season title with a win on Tuesday