Today's Specials: Stanford and NC State look to keep momentum
Tuesday has quite a few games to keep an eye on, highlighted by Stanford visiting NC State and Miami squaring off against UCF in an in-state battle.
• 3 min read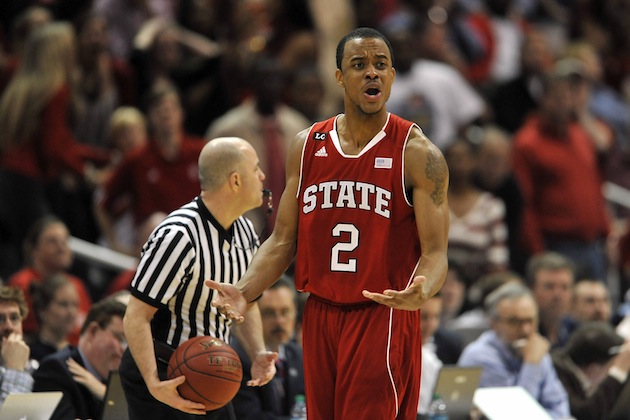 NC State's Lorenzo Brown is still trying to take that next step and become a truly elite point guard. (US Presswire)
There are no coaching milestones to watch for on Tuesday, although we should take another moment to appreciate Syracuse coach Jim Boeheim and his 900th win on Monday. As for Tuesday's slate, there is a couple of intriguing major-conference matchups, as well as potential upsets on the schedule. The best part? Hoops starts on Tuesday at 11:30 a.m., with Georgia and Mercer.
Note: All times are Eastern, and the rankings are according to the AP poll.
Best game: Stanford at No. 25 NC State (9 p.m., ESPN2). Both squads had struggles in mid-to-late November, but have each won three in a row and are looking for some momentum heading into the holidays. Stanford has been relying heavily on Dwight Powell and Chasson Randle for points, although injured guard Aaron Bright has returned for the past two games. NC State is getting plenty of balance and can score with the best of them, but turnovers have been an issue at times. In this one, Stanford has to limit NC State's points in the paint, while NC State has to keep Stanford off the offensive glass.
Second-best game: Miami (Fl.) at UCF (8 p.m., CBS Sports). An intrastate battle. Miami has really turned things around since Durand Scott came aboard, winning five in a row after losing to Florida Gulf Coast in early November. That streak also included a win over Michigan State. UCF doesn't have any bad losses, but the best win is over South Florida – which doesn't look so great now. There are plenty of fun head-to-head matchups in this one, with Isaiah Sykes going against Scott, and Keith Clanton taking on Reggie Johnson. Miami's ability to knock down the 3 could be a key against UCF.
Another one to watch: Richmond at No. 9 Kansas (7 p.m., ESPN2). A rematch of the 2011 Sweet 16 matchup in San Antonio, which Kansas won – before falling to VCU in the Elite Eight. Richmond isn't as good as it was two seasons ago, but the Spiders are 9-2 and have won five in a row. Kansas is absolutely rolling right now, beating Colorado and Belmont by a combined 55 points in the last two games. Can Richmond keep it close? The Spiders have multiple offensive weapons, but they need to take care of the ball and also slow the game down.
Guaranteed win: No. 7 Ohio State has a showdown with Kansas on Saturday, and the Buckeyes should get an easy tune-up with Winthrop coming into town (7 p.m., Big Ten Network). Winthrop picked up its first Division-I win of the year on Saturday, and while it was against Ohio, the Eagles aren't poised for a second-consecutive one in Columbus on Tuesday.
Potential upset: There are a couple of games to keep an eye on tonight. LSU lost its first game of the season last week to Boise State, and the Tigers have to be careful against UC-Irvine on the road (10 p.m.). Irvine has beaten Fresno State and Nevada, and also took UCLA to the wire. Meanwhile, Stephen F. Austin takes a trip to Oklahoma (8 p.m., Regional TV). SFA has lost just one game this season, and the Lumberjacks' defense is as solid as ever. Oklahoma could struggle to score consistently.
Three things to keep an eye on:
No. 4 Arizona looks to avoid a letdown after its big win over Florida on Saturday. The Wildcats host Oral Roberts (9 p.m., Pac-12 Network).
A couple of NCAA tournament teams from last season battle in Richmond, as Western Kentucky visits VCU (7 p.m., NBC Sports).
UCLA has been playing better lately, and the Bruins will get a chance at more improvement against Long Beach State (11 p.m., Pac-12 Network).
Zack Cimini has been on a roll in college basketball and locked in a play for Texas-West V...

Zack Cimini is on a college basketball heater and just locked in a strong pick for Saturda...

Our advanced computer model simulated Saturday's Arizona-Stanford game 10,000 times
'If you want it, you're world champs,' A-Rod told the Spartans, which isn't exactly correc...

The players have the right to appeal the decision within three business days

Young is coming off his worst game as a Sooner and will try and bounce back vs. the Cowboy...