Today's Specials: Two undefeated teams at risk for first loss
Will two more undefeated teams fall on Friday? Charlotte and LSU head on the road.
• 2 min read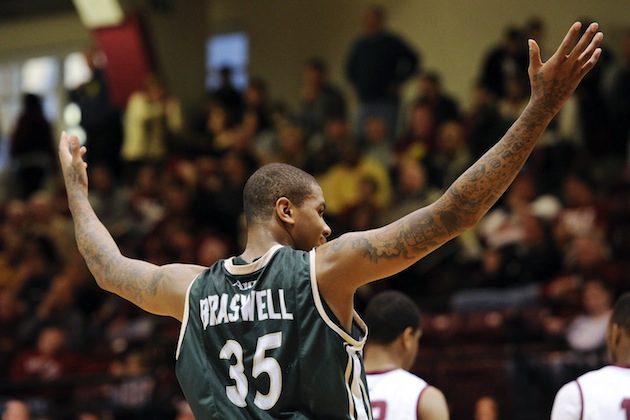 Chris Braswell and Charlotte can send a message by winning at Miami on Friday. (US Presswire)
This week finally got some marquee matchups on Thursday (or something resembling marquee), when Tennessee handed Wichita State its first loss. Two more undefeated teams are at risk on Friday, heading on the road against more-than-capable teams.
Note: All times are Eastern, and the rankings are according to the AP Poll.
Best game: Charlotte at Miami (7 p.m., ESPN3). Charlotte will answer a lot of questions on Friday night, primarily if it is for real. The 49ers are 9-0 this season, and a road win over Davidson last week temporarily silenced some doubters. Miami has been a completely different team with Durand Scott in the fold, although the Hurricanes haven't played in nearly two weeks. Chris Braswell battling down low with Kenny Kadji and Reggie Johnson will be interesting. Miami has to protect the rim.
Second-best game: LSU at Boise State (9 p.m.). LSU is flying under the radar as an undefeated team, sitting quietly at 6-0. The Tigers' best win, though, was home against Seton Hall. Boise State was everyone's favorite non-BCS team for about a week, after beating Creighton on the road by 13. Since then, though, the Broncos lost by 19 to Utah. Can they hand LSU its first loss? Pace could be a factor, as LSU likes to push it. Keep an eye on the battle on the glass, too. Shavon Coleman and Johnny O'Bryant have been great for LSU, and it's unclear if Boise has an answer.
Another one to watch: UCF at Old Dominion (7 p.m.). Old Dominion has taken several steps back this season, starting 1-8 with the lone victory coming more than a month ago against Morgan State. Even at home, the Monarchs will struggle against UCF. The Knights are getting great production from big man Keith Clanton and all-around guard Isaiah Sykes. Old Dominion might be able to make an impact on the offensive glass, but that's about it.
Guaranteed win: Although it suffered its first loss last weekend at Middle Tennessee, Ole Miss should get back on the right track against East Tennessee State (8 p.m., ESPN3). ETSU has just one win over another Division I team, as well as a 25-point loss to 3-6 James Madison. Keep an eye on Mississippi's Marshall Henderson and its ridiculous 3-point attempts rate.
Potential upset: There's only one other Division I game on the schedule, so we'll go out on a limb and say it could be an upset. Army is 4-5, although it has lost two in a row to Penn State and NJIT. It will host Maine (7 p.m.) on Friday. The Black Bears have two very productive players in sophomore guard Justin Edwards and double-double threat Alasdair Fraser. Can they pull the upset?
Three things to keep an eye on:
There are only five games between Division I teams on Friday, so there won't be much to watch.
Cal Poly, which beat UCLA in late November, hosts Eastern New Mexico (10 p.m.).
Portland had a couple of close losses last week to high-major opponents, and it will get to face Portland Bible on Friday (10:30 p.m.).
The selection committee will again reveal what it is thinking ahead of Selection Sunday

Teams not in major conferences with a shot at an at-large NCAA Tournament bids

The nation's No. 3 player will commit Saturday and here's his impact on each of his finali...
Gary Parrish and Matt Norlander also preview the weekend and Zion Williamson's announcemen...

The Sun Devils started 12-0, but since then are 2-4 after Wednesday's loss to Stanford

Andrew Jones is Texas' second leading scorer