Top-10 2015 guard Charles Matthews in high demand
Charles Matthews is in hot demand, and Kentucky recently offered him a scholarship. Michigan State, Arizona and Wisconsin also are interested in Matthews.
• 1 min read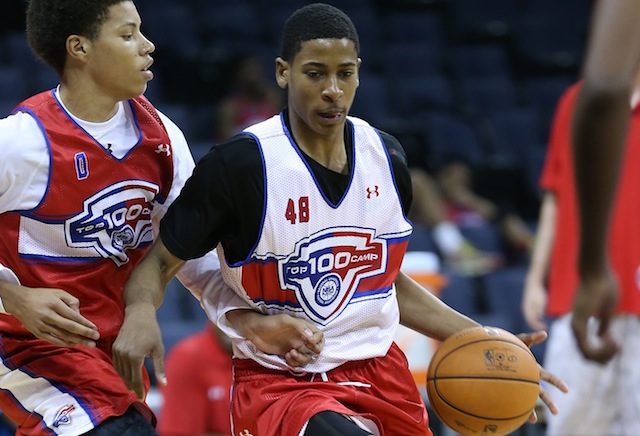 Charles Matthews was already a top-10 player in the class of 2015, one of the most explosive guards in the country. His ability to play both backcourt positions and score in a variety of ways put him near the top of most prospect lists.
But when Kentucky offered, Matthews really put himself on the map.
"It means a lot," Matthews told 247Sports last week. "I'm really happy for it. [John Calipari] said, 'Kentucky isn't for everybody.' I think it's a really great program."
Matthews, a product of St. Rita (Ill.), could be the next in a high-level lineage of Chicago-area players going to suit up for Calipari. There was Derrick Rose, then Anthony Davis.
Could Matthews follow in their footsteps?
First, he needs to sort through the rest of his recruitment. Matthews holds offers from Arizona, Illinois, DePaul, SMU, Providence, Marquette, Miami, Wisconsin and Kansas -- along with Kentucky.
"I don't have any favorites," Matthews told CBSSports.com this month. "I'm planning to make a decision my senior year. They've all been after me."
The only visit that he has taken is Illinois, and that came last summer.
"Coach [John] Groce really welcomed me in a lot," Matthews said. "I met his coaching staff and had a really good time there."
He plans to make some trips in the near future, with Michigan State, Wisconsin and Arizona on his to-do list.
Wisconsin has offered, and Matthews has a strong relationship with the staff in Madison.
"It's a good program," he said of the Badgers. "Coach Lamont [Paris] really does a good job recruiting me there."
At Arizona, Matthews pointed to the recruiting efforts of assistant coach Book Richardson and head coach Sean Miller.
While Michigan State hasn't offered yet, the Spartans are making a concerted effort for Matthews' services.
"For the schools that haven't offered me, they might be the one coming at me the hardest," he said, singling out Dane Fife and Tom Izzo as his main recruiters. "They are really on me a lot."
Matthews, a 6-foot-5 guard, is ranked No. 7 in the 247Sports Composite for 2015.
Ball says UCLA told him to thank Trump for getting him back to the states after shoplifting...

SportsLine's advanced computer model simulated Wednesday's Villanova vs. Temple game 10,000...

Will any of these six teams make it to 2018 without their first loss?
Temple could be a big problem for undefeated Villanova, the No. 1 team in the Top 25 (and...

It appears he's more than happy to pay up, given the circumstances

Lithuania seems ready for the Ball era to begin