Top-10 prospect Chase Jeter to make college decision this week
Chase Jeter told CBSSports.com that he will decide between Duke, UCLA, UNLV and Arizona this week.
• 2 min read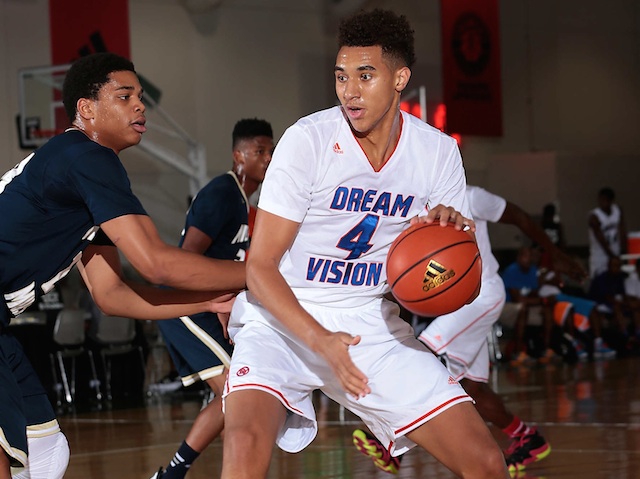 Latest in hoops: Latest News | Coaching Changes | Recruiting
LAS VEGAS -- A decision is coming up for Chase Jeter -- but we won't know his choice until a couple weeks after the fact.
Jeter, a top-10 prospect in the class of 2015, told CBSSports.com on Saturday that he is ready to end his recruitment.
"I think I'm going to make my decision this week," Jeter said at the Adidas Super 64. "And then I'll probably announce in two weeks or so."
He will be at Adidas Nations in early August, and that is one of the possible announcement dates he's considering.
Jeter, a 7-foot power forward from Bishop Gorman (Nev.), is ranked No. 10 in the 247Sports Composite for the class of 2015. While plenty of schools have been involved in his recruitment at one point or another, he said he is focused on four schools: UCLA, Duke, UNLV and Arizona.
Duke has been considered the leader, but Jeter insists it's not a done deal.
"I've made it clear that they were one of my favorites, but I've taken visits to all my other schools, and I just feel like each school is a great option for me," he said.
The Blue Devils are still firmly in the mix, of course.
"I have a great relationship with all the coaches," Jeter said. "Coach [Mike] K[rzyzewski], coach [Jeff] Capel. They have great guys, great history. Overall, just a great program."
UCLA has made up some ground, and Jeter's skillset could fit well with the Bruins, especially the tempo at which Steve Alford's team played last season.
"So close to home," Jeter said. "Coach Alford, they've been pushing out a lot of pros lately. They're one of the best schools for skill development."
Two other West coast schools are also on his list, including one just a few minutes from where he plays his high school ball.
"UNLV is my hometown," Jeter said. "My father played there, so that's a real good look for me. Coach [Dave] Rice has recruited me real well, him and all the rest of their staff. The hometown feel, the hometown love, and I feel that would be a good place for me to really get better."
Arizona isn't pushing for him as hard as the other three schools, according to Jeter, but the Wildcats are still a possibility.
"That's another one that's really close to home," he said. "Coach [Sean] Miller, I got a chance to play for him at USA basketball. That was a great opportunity for me to feel what the collegiate level is like under a top coach."
Which one will he choose? Jeter will know this week, but it will be a little bit longer for the rest of us.
Matt Norlander is on a 11-7 run in college basketball picks and shares his best bets for W...

Kentucky losing this game probably cost it a shot at earning a high NCAA Tournament seed

Freshman had 12 turnovers and 20 points; the Wildcats rattled him and kept OU on its heels
Kentucky and UNC are just behind the Blue Devils and Jayhawks

Cal's form wasn't pretty, but when it works, it works

Josh Nagel has his finger on the pulse of Purdue basketball and locked in a play for Tuesd...