Top-10 prospect Kevon Looney more involved in recruiting process
Kevon Looney is one of the best players in the country, yet he took a hands-off approach to his recruitment. Until recently.
• 3 min read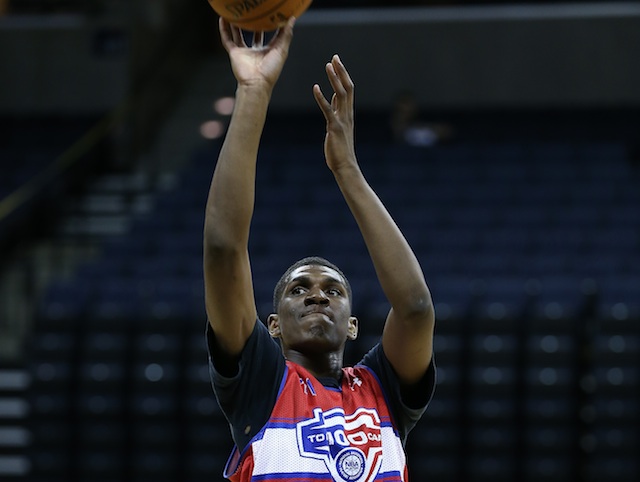 Despite his status as one of the top players in the class of 2014, 6-foot-9 forward Kevon Looney mostly keeps to himself when he's not away playing basketball. He doesn't like talking to reporters and media while he's at home, and coaches mostly speak to his parents when giving recruiting pitches.
In fact, college coaches didn't even have Looney's personal cell phone number until recently.
"A month ago, I began giving my number out to coaches," Looney said. "At first, they didn't have my number. Instead of calling my parents, they can call me and text me."
And, of course, coaches have taken advantage of this new development to really ramp up their pursuit of Looney.
"It's a lot of fun," he said. "You get to meet a lot of coaches, meet a lot of different personalities. They all have different sells, but they're pretty much around the same thing. They're all great schools, so they always have great things to say."
Florida, Duke and Michigan State are all making a serious effort for Looney, with Michigan, Wisconsin, Georgetown, Tennessee and Stanford also in the mix. UCLA and Connecticut are making a late push.
Looney took unofficial visits to Tennessee and Wisconsin last year but hasn't made any trips recently. He will take his official visits in the fall.
"I'm going to have a list of five at the end of July, hopefully," he said. "And after that, I'm going to take my visits. I have no locks. Everything is pretty open. I have to sit down with my family and talk about it first."
While he's still months away from making a college decision, Looney has his checklist ready to go. Not surprisingly, a school that can get him to the next level while also helping him in the classroom is the main criteria.
"A program that can send me to the NBA," Looney said. "A winning program with great tradition. Program that has great academics. A lot of schools have great academics, but a school, if I can't go to the NBA, I can go four years and get a good degree."
Looney watched more college basketball this past season than he had previously, seeing how he would fit at different schools and how players at his position perform in the system. He is a versatile forward who can make plays in a variety of ways. He is capable of starting his offense from the wing when he's facing up, but he's also good around the rim.
The Milwaukee Hamilton (Wis.) product said he would prefer to play small forward at the next level.
"I think I'm a three," Looney said. "But if we got three wings out there, I'll go play the four. As a four, I'm in the post a lot more. It changes your role. I have to rebound a lot more. At the three, you can kind of float around. At the four, it's not as much freedom on offense. I like playing off the wing, facing up. That's my favorite thing to do."
Some would like to compare his game to a Kevin Durant-type of player, but Looney said his perimeter shooting isn't quite where he wants it to be. Nevertheless, ranked eighth in the 247 Sports Composite, he still might be the best small forward in the country.
As a result, the phone keeps ringing for him.
And this time, it's his phone. 
SportsLine's advanced computer model simulated UConn vs. Michigan State 10,000 times

It's not every day that a team gets to the line zero times and doesn't complain

The Wildcats were No. 2 two days ago, but a two-game losing streak keeps them out of our r...
No. 2 Arizona and No. 18 Purdue are each 0-2 in the Battle 4 Atlantis, and they'll play each...

It's rare to see two incredibly gifted big men going head to head this early in a college hoops...

The Wildcats are no longer undefeated after losing to NC State