Top-25 rising junior Jalen Lindsey taking game to the next level
Jalen Lindsey is ranked No. 22 in the class of 2014, but you wouldn't know it from the way he constantly looks to get better. He has dozens of high-major suitors involved in his recruitment.
• 1 min read
CHARLOTTESVILLE, Va. – Despite his status as one of the top 25 players in the class of 2014, Jalen Lindsey doesn't necessarily act like a star. He constantly is looking to take his game to a new level and make a statement to people who might not have seen him before.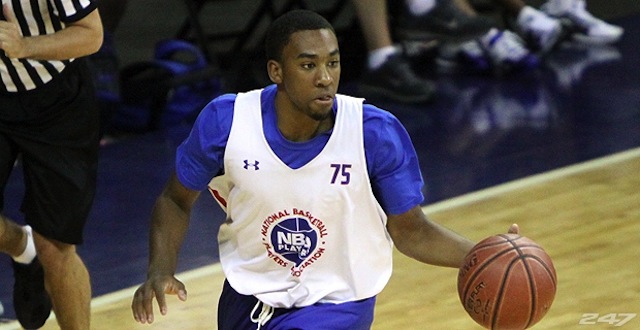 Jalen Lindsey is ranked as the No. 22 overall prospect in the class of 2014. (Davide DePas)
At the NBPA Top 100 Camp, Lindsey made an effort to turn some heads.
"I'm trying to impress the people here," Lindsey said. "I want to show my potential, that the hard work is paying off. I always think I could play a lot better."
Lindsey, a 6-foot-6 forward from Christ Presbyterian (Tenn.), is ranked No. 22 in CBSSports.com's class of 2014 rankings. He's tremendously athletic and therefore excels in transition where he can finish at the basket. His length and shooting ability are also assets offensively.
His recruitment is still pretty quiet, but it has heated up recently, especially with coaches being able to text and call all the time.
"I think it's going to be crazy, but I'm going to try to manage it as much as possible," Lindsey said.
Kentucky, North Carolina, Miami (Fl.), Georgetown, Marquette, Vanderbilt, Alabama, Memphis, Tennessee, North Carolina State, Louisville and Florida are all making efforts with Lindsey, while Providence, Georgia, Auburn and Cincinnati each offered him in the past few days.
No school in particular is standing out right now, but he does want to take trips to North Carolina, Kentucky, Florida and Kansas.
"I want to see how the coaches treat the players, and how the players treat the coaches," said Lindsey, who added that he's looking for "a community feel, a place with history." 
These teams went to The Big Dance in March, but could take a step back this season

The success of Chris Chiozza and KeVaughn Allen have the Gators ready to compete for SEC t...

FBI investigation suggests Quinerly received improper benefits from a Wildcats assistant c...
Meet the mid-major coach who refused to vote for the teams involved in the recruiting scan...

The player, now at the University of Portland, says he was injured during a workout which broke...