Top-50 big man Khadeem Lattin has decisions to make
Khadeem Lattin isn't ready to make a college decision, but he does need to choose where he will play high school ball next season -- and in which class.
• 1 min read
LAS VEGAS – Khadeem Lattin has been something of a mystery for the past year. He went to high school at Canarias Basketball Academy in Spain, but reemerged on the AAU scene with Houston Hoops this spring.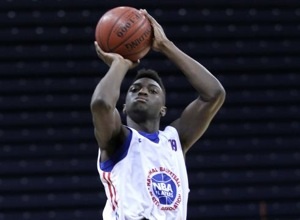 Khadeem Lattin spent last high school season at a basketbal academy in Spain. (USA Today)
With the difference in playing styles, Lattin has had some trouble adapting in both countries.
"I'm catching on fast," he said. "I'm more accustomed to fast-paced, but we slow it down over there."
Lattin struggled offensively on the travel team circuit, but he was a major factor on the defensive end of the floor and on the glass. 
"I'm playing so many games, so it's been up and down," he said.
The 6-foot-9 Lattin has yet to decide if he will spend next season in America or back in Spain, and also whether he will stay in the class of 2014 or reclassify back to 2013. If he goes to Spain, he would likely stick in 2014, but he stays in America, he could spend only one year before college.
Lattin said he would make up his mind on both of those things this month. In terms of college, he's not close to a commitment.
Baylor , Arizona, Georgetown and the Texas schools are showing the most interest in Lattin. There are several colleges making strong cases for his services.
"Arizona – I love those guys," Lattin said. "I love Georgetown, Texas, USC."
However, one school is coming at him the hardest: Baylor. He has taken two trips to Waco, and is highly interested in the Bears.
"I love the family community and I love big schools in small cities," Lattin said.
He is ranked No. 45 in the class of 2014.
After a close game against Michigan, Air Force is playing San Diego State with some moment...

Quickley played for John Calipari this summer with USA Basketball

A revamped Erwin Center is part of a $4.25 million upgrade to the Longhorns' hoops facilit...
Nov. 10 will be here before you know it so here's what you need to know

The league would be wise to treat that series like the ACC treats Duke-North Carolina

Pacific is penalized after the NCAA found academic rules were broken