Travis Ford among coaches facing pressure to deliver this week
The Oklahoma State coach has never advanced to the Sweet 16 in 13 years at the Division I level. He's only won one NCAA Tournament game since arriving in Stillwater in 2008.
More NCAA: Tourney hub | Expert Brackets | Celebrity brackets
There are exceptions, sure -- like UCLA's Ben Howland and Minnesota's Tubby Smith last season. But, for the most part, coaches do not get fired immediately after making the NCAA Tournament. So is anybody's job really on the line this week? I doubt it. But there are still coaches dealing with unusual amounts of pressure to win and advance.
Here are five such men listed for different reasons (and in alphabetical order):
John Calipari
Calipari is facing pressure for two reasons: 1) He's at Kentucky, and there's always pressure at Kentucky. 2) He's still coaching the consensus preseason No. 1 team, and everybody understands that a roster with more future NBA Draft picks than any other roster in America shouldn't be bounced early in the NCAA Tournament.
Except Calipari, of course.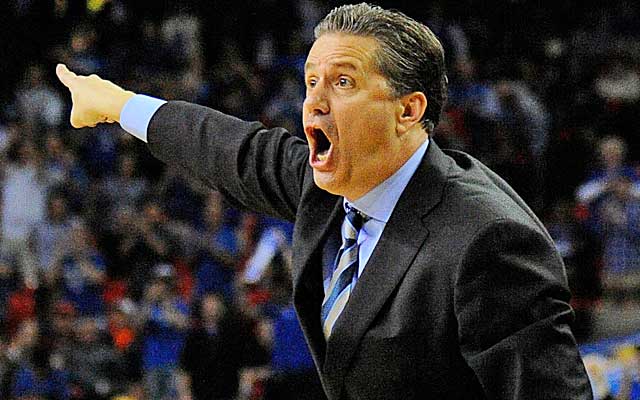 It's been fascinating watching Calipari try to change the conversation in recent weeks, even going so far as to suggest that it's been a good season for the Wildcats. Needless to say, nobody is buying it. When a preseason No. 1 team finishes the regular season unranked, there's no rational way to spin that into a positive. Granted, that doesn't mean UK can't right a bunch of wrongs with two wins in St. Louis, and, again, the Wildcats are certainly talented enough to do it. But if they don't, yeah, the reaction from Kentucky fans will be rough.
Travis Ford
Ford is the one coach who might actually be coaching for his job -- though my guess is he'll be back at Oklahoma State, regardless. Either way, pressure is mounting. A loss to Gonzaga in the Round of 64 would double as a fifth straight year without an NCAA Tournament win, and it would send Marcus Smart to the NBA with an 0-2 record in the Field of 68.
Remember, the Cowboys were ranked No. 8 in the preseason.
Now they're a No. 9 seed in the NCAA Tournament.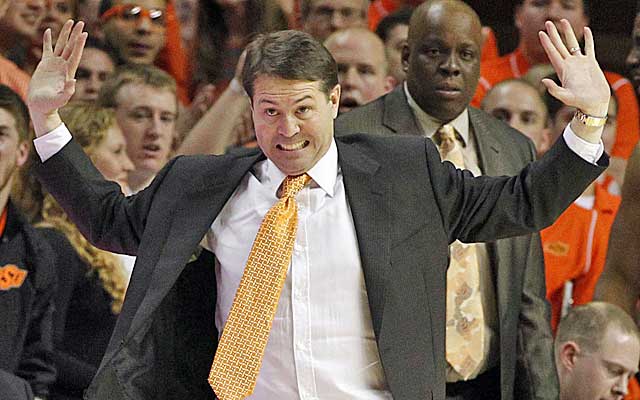 A Round of 64 loss won't play well in Stillwater.
Tom Izzo 
Obviously, there are different kinds of pressure, and the pressure on Izzo is not the same kind of pressure that's on, say, Ford; nobody will suggest Izzo isn't fit for his job regardless of what happens in this NCAA Tournament -- mostly because he's fit for any job and undeniably great. Still, anything short of a Final Four for Michigan State would mean four straight years without a Final Four, and, you've probably heard, Izzo has never gone four straight years without a Final Four.
So that streak is at stake.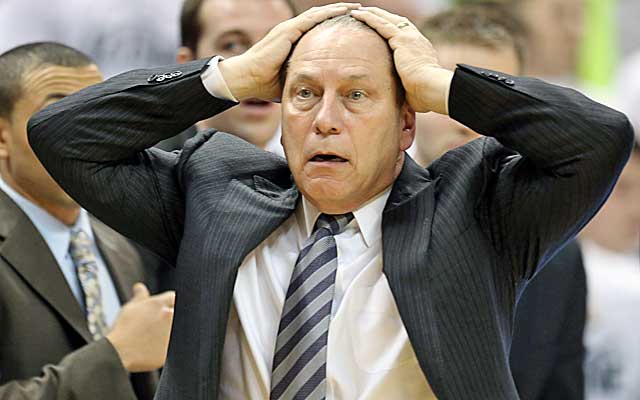 But the larger question is this: If not now, when?
The Spartans will lose Keith Appling and Adreian Payne after this season, and they'll probably lose Gary Harris, too. Those are Michigan State's best three players, and there isn't much, on paper, set to fill the void they'll leave on the roster. So this is probably the last great chance Izzo will have to do something big, at least over the next couple of years. Thus, there's some pressure, and it's probably internal pressure, to do something big this month.
Gregg Marshall
The more I thought about it, the more I convinced myself that nobody is facing more pressure than Marshall, whose team has been discounted by most and dismissed by lots despite a 34-0 record. Just so we're clear, Wichita State fans won't turn on Marshall with a Round of 32 loss to either Kentucky or Kansas State because they're smart people who understand what they have. But everything Wichita State accomplished from November to now will be tossed to the side by the masses with an early exit, and Marshall knows it.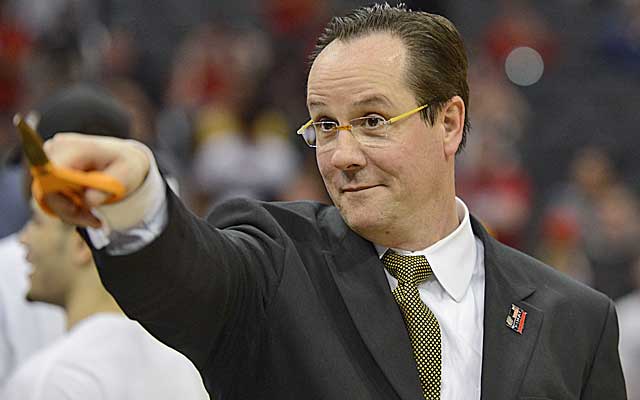 "We have to win that [Round of 32] game," Marshall told me Tuesday. "If we lose that game, the detractors will win. So we have to win. And I'm excited about it."
This is all ridiculous, of course.
If Florida gets upset in the Round of 32, nobody will scream that the Gators were frauds. Same goes for Arizona and Virginia and Michigan State and pretty much every big-name school because folks understand that almost anything can happen in a single-elimination event of 40-minute basketball games, and that even a roster with John Wall and DeMarcus Cousins can get caught prematurely. It happens to somebody every year.
Still, Wichita State is going to be held to a different standard.
Do I think it's right?
No.
But I know it's true.
And Marshall knows it's true, too.
And that's why he's under pressure to guide the Shockers deep.
Josh Pastner
Pastner is in his fourth straight NCAA Tournament, and he's coaching a team with a perfect APR score and zero off-the-court issues through five years, which is frankly amazing given the history of the Memphis program. Because of all that, his bosses love him, and rightfully so. But Memphis fans can be a hard bunch to please in the post-Calipari era, and that's why Pastner had better not lose to George Washington in the Round of 64.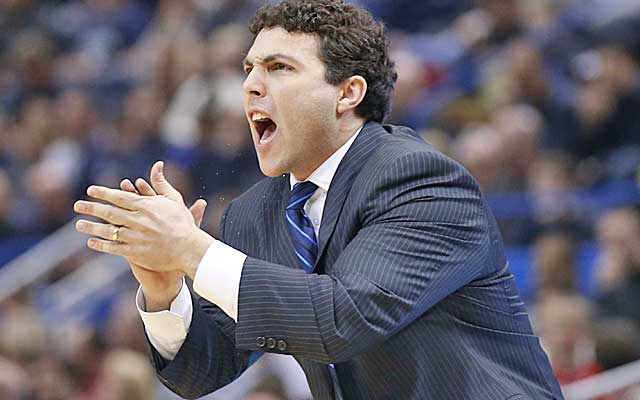 Will he be fired? Of course not. But that won't stop some Memphis fans from screaming that he should. A loss to GW on Friday or a loss to (presumably) Virginia on Sunday, and the following will be true: Pastner will have had four straight preseason top-20 teams that failed to advance past the Round of 32 of the NCAA Tournament. That, by definition, is an annual underachievment even if the big picture remains mostly positive.
The Mountaineers blew a double-digit lead in the second half and Huggins decided he'd seen...

The No. 3 Wildcats crush the No. 4 Musketeers to move closer to winning a 5th consecutive Big...

The No. 2 Spartans overcame a 27-point deficit vs. Northwestern and South Carolina holds on...
John Calipari's team gets a healthy home win over Alabama, and UK fans can finally calm th...

McLemore was taken to a nearby hospital for further evaluation

Bagley is leading the Blue Devils in scoring and rebounding