Trey Burke, Michigan show mettle in win over Michigan State
Michigan had gone into a tailspin -- and there weren't a lot of answers. It began with a loss to Wisconsin, continued with a thrashing at Michigan State and also included an embarrassing setback to Penn State. Trey Burke & Co. needed to prove a point and did just that Sunday against rival Michigan State.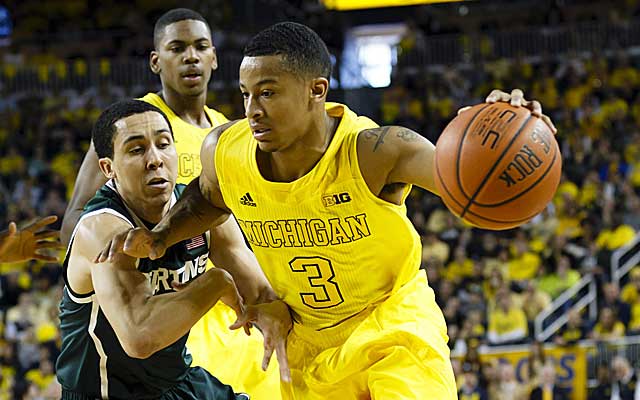 ANN ARBOR, Mich. -- Trey Burke and his teammates knew exactly what they were saying, even after taking a group vow to remove themselves temporarily from Twitter.
Soft. Emotionless. Overrated.
The grey clouds that seemingly always plague Ann Arbor this time of year were beginning to become even darker around these parts. Burke's Wolverines had dropped three of their past five games -- including a butt-whooping over in East Lansing and another road setback against a Penn State club that hadn't won a single league game.
"It was embarrassing," Burke admitted.
More on Michigan-Michigan State
Related links
More college hoops coverage
Even the diehard fans in Maize Rage, Michigan's student section, were admittedly nervous on Sunday afternoon. So was Wolverines coach John Beilein -- and not necessarily because the chance to catch Indiana for a Big Ten regular-season title was slipping away, as was the opportunity to earn a No. 1 seed later this month. Usually, he'll show his players about 45 minutes of tape from the previous contest. However, the players were forced to witness just 20 minutes from the Penn State debacle.
"I was worried about their psyche," Beilein said.
This wasn't the same team that had reeled off 16 consecutive victories to start the season and vaulted to the top of the rankings for the first time since the Fab Five ruled the campus. Gone was that confidence, that swagger with a bunch of kids who comprised the third-youngest team in the land. It began, though, with the road loss at Wisconsin -- one that was theirs until Ben Brust hit a Hail Mary of a 3-pointer to send the game to overtime. Then came the humiliating blowout in East Lansing to their rival Michigan State Spartans, and finally -- within a five-game span -- came the shameful setback at Penn State.
The vets called a meeting. There had been meetings before, but none of the players-only variety. This one took place at the Pizza House -- and everything was put out on the table. Senior Corey Person, who rarely plays, did most of the talking -- and the players didn't hold back. They spoke about a lack of toughness, a void of emotion, now players weren't being held accountable by one another.
"I think we just expected our talent would win games," Burke said.
But it doesn't work that way, especially with a team this inexperienced that hadn't really dealt with significant adversity. People tend to forget that Burke is just a sophomore, and that four of the top seven players in the rotation are freshmen.
"I hate to beat it up, but it's the reality," Beilein said of his young group.
Michigan State was coming to town on Sunday afternoon. Nationally televised and an opportunity not just for revenge, but also redemption. Tom Izzo is all about physical play and toughness. That's why the Spartans beat the living you-know-what out of Michigan on Feb. 12. Michigan State was coming into Crisler Arena hungry, on a two-game losing skid after a home setback to Indiana and a road loss in Columbus against Ohio State.
Nik Stauskas went down early with a gash over his eye and the freshman shooter's night was history after just four minutes. Michigan would fail to make a 3-pointer, the first time Beilein could remember one of his teams going 0-for from beyond the arc since he roamed the sidelines at Canisius in the early to mid-1990s. However, with Stauskas out of the lineup, there was an increased commitment on the defensive end. Michigan State shot 36 percent from the field and the Wolverines came away with a pivotal 58-57 victory.
Burke made the play of the game, maybe the play of the year for this program thus far, when he picked Keith Appling's pocket with 17.7 seconds left and went in for an uncontested dunk to break a 56-56 tie.
"He's a special player," Beilein said.
All is not forgotten, though. Burke said the Wolverines learned from the Penn State loss, not by watching what they failed to do down the stretch, but instead by looking at how the Nittany Lions competed, played with intensity and never threw in the towel. Not despite being 0-14 in Big Ten play, and down 15 points with less than 11 minutes remaining in the game.
"They showed toughness," Burke said. "And they fought all the way until the end. They kept fighting."
That's exactly what this team needs to do. It's a young group, and there aren't a ton of high-energy guys on the roster. Freshman Mitch McGary gave the team a spark off the bench against the Spartans with 11 points, four rebounds and two huge free throws with less than three minutes left. The Wolverines only had one other player in double figures, Burke with 21, and the game wound up being played in the 50s.
There was floor-slapping by Burke and his teammates, there were key defensive plays, there was toughness. There was also a much-needed victory heading into the final two regular-season contests against Purdue and Indiana.
"We're not all the way back to what we were," Burke said.
Maybe not, but those frigid temperatures, blustery winds and dark clouds won't look the same Monday morning in Ann Arbor.
CBS Sports HQ Daily Newsletter
Get the best highlights and stories - yeah, just the good stuff handpicked by our team to start your day.
Please check the opt-in box to acknowledge that you would like to subscribe.
Thanks for signing up!
Keep an eye on your inbox for the latest sports news.
Sorry!
There was an error processing your subscription.
Keep an eye on these 10 star-studded freshmen as you enjoy this college basketball season

The Vols are on a roll on the recruiting trail, surging into the top 10 of the national rankings

A look at six Big 12 draft prospects who are on the radar going into the season, and where...
Gary Parrish and Matt Norlander also talk about the return of Kansas-Missouri

Langford missed most of last season with injury and isn't expected to play until at least 2020

It's likely going to be the first of many for Bronny