Triple Threat: Big SEC void beyond Gators, Wildcats
Jon Rothstein takes a look at the plight of the SEC, and tells you why Duke and Ohio State are trending up in his latest edition of the Triple Threat.
• 8 min read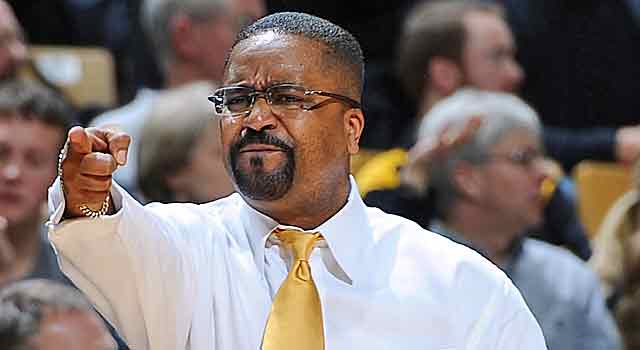 What three conference tournaments will be unpredictable in a few weeks? Which middle of the pack teams in their own respective leagues will be a nuisance to play early in the NCAA Tournament? Answers to those questions and more in this week's edition of the Triple Threat:
Three quick hits
1. Will the SEC get a third team in the NCAA Tournament after Florida and Kentucky?
It's looking less and less likely with each passing day. Missouri has non-conference wins over both West Virginia and UCLA but has failed to separate itself in conference play. The Tigers are 7-8 in the SEC after Tuesday night's loss at Georgia and while the Bulldogs are in third place in the league standings with a 10-5 record, Mark Fox's squad didn't do enough in the non-conference to warrant an at-large bid. There's a strong chance the Gators and Wildcats will have to carry the banner for this league in the NCAA Tournament.
2. How has Saint Joseph's gone 16-3 after starting out 4-4?
Chemistry. Phil Martelli had a more talented roster in each of the past two seasons but the chemistry on this particular team is noticeably different than the past two units that played on Hawk Hill. Saint Joseph's lost two starters after last year in Tay Jones and C.J. Aiken, but it still returned three veteran starters in Langston Galloway, Halil Kanacevic, and Ron Roberts and those three players have all had All-Atlantic 10 caliber seasons. Freshman wing DeAndre Bembry (11.5 points, 4.4 rebounds, 2.3 assists) has emerged as somewhat of a missing piece because he's a small forward who can have an impact without needing the ball. The Hawks are 20-7 overall and 10-3 in the Atlantic 10 after Tuesday night's 79-53 win over Dayton. This team is primed to return to the NCAA Tournament for the first time since 2008.
3. Which Pac-12 team could play its way back into the bubble picture this week?
Oregon. The Ducks have won three consecutive games and have an enormous two-game stretch in Los Angeles where they'll play at both UCLA and USC. Dana Altman's team hasn't had the right flow on both sides of the ball since Dominic Artis and Ben Carter returned from their early season suspensions, but Oregon still sits at 18-8 overall and 6-8 in Pac-12 play heading into Thursday night's game at Pauley Pavilion. The Ducks are talented enough to come out of nowhere and make a run in March. Will this trip to Southern California be the first step in that particular direction? We'll all know soon enough.
Three games I'm looking forward to
1. Cal at Arizona (Wednesday, 9:00 PM ET)
The Wildcats looked like a team that could win the national title when they beat Colorado by 27 last Saturday in Boulder and it will be interesting to see how they respond against the Bears, the first team to beat Arizona this season. Cal beat the Wildcats in Tucson last season and Mike Montgomery will be sure to test Arizona's outside shooting with a solid dose of zone defense. Keep an eye on Wildcats freshman Aaron Gordon, who had 23 points and eight rebounds on Saturday against Colorado. The talented freshman is a big time talent, but struggles to make enough shots from the foul line area to consistently extend the defense on a regular basis.
2. Baylor at Texas (Wednesday, 9:00 PM ET)
Scott Drew's team can add another marquee win to its resume with a victory over the Longhorns in Austin. The Bears have won four straight games and own serious equity thanks to early season wins over both Colorado and Kentucky. Texas meanwhile, is coming off two straight losses to Iowa State and Kansas, but appears to be safely in the field. If you like great big men, this is the game for you. Baylor's duo of Cory Jefferson and Isaiah Austin has been playing well of late and will have its hands full with the Longhorns front line of Jonathan Holmes and Cameron Ridley.
3. Arkansas at Kentucky (Thursday, 9:00 PM ET)
The Razorbacks are one of five SEC teams tied for fourth place with a 7-7 conference record and they could start to solidify a position in the NCAA picture with a win at Rupp Arena. The problem? Mike Anderson's teams never play well on the road, though they did beat the Wildcats at Bud Walton Arena earlier this season and also have a win over SMU. If the Razorbacks want to play in the NCAA Tournament, they have to win this game.
Three reasons to buy stock in Duke
1. The "close out" lineup
Mike Krzyzewski is regularly closing out games with a lineup of Quinn Cook, Tyler Thornton, Rasheed Sulaimon, Rodney Hood, and Jabari Parker. That's an extremely difficult group of five to match up with. The combination of Hood and Parker is an absolute nuisance for opposing frontcourts to defend and the triumvirate of Cook, Thornton, and Sulaimon gives this team the spacing it needs to allow the duo of Hood and Parker to operate one-on-one. This lineup gives the Blue Devils the chance to have its best opportunities in crunch time and allows Duke to exploit mismatches, get to the foul line, and be in position to have open three-point shots.
2. The Jabari factor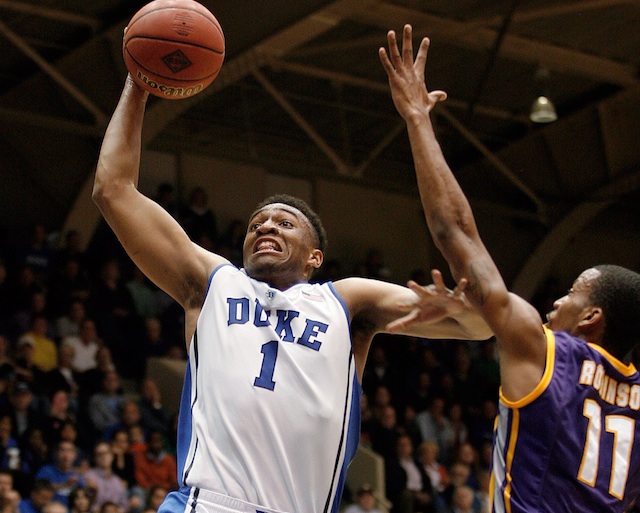 Unless Duke faces Creighton in the NCAA Tournament, the Blue Devils will always have the best player on the floor in each postseason game they play. Parker has played like a first-team All-American during his freshman season and is averaging 18.8 points and 8.9 rebounds. Parker has more than enough ability to do for the Blue Devils what Carmelo Anthony did for Syracuse in 2003. He's that good.
3. Shooting makes up for a multitude of sins
The level of separation between teams in college basketball is as close as its been in a long, long time but not every squad that's in the NCAA Tournament will be able to shoot the ball like Duke. Other than Creighton, the Blue Devils will have the best chance of any potential team in the bracket of winning a game from the outside. Duke is currently tied with Utah State (40.7 percent) as the fourth-best three-point shooting team in college basketball. Lots of teams in the field of 68 are going to struggle to score, but the Blue Devils aren't likely to be one of them.
Three conference tournaments that will be nearly impossible to predict
1. Big 12
Is Kansas the clear favorite? Absolutely. Could nine teams make the title game? No question. The Big 12 has been clearly the best conference in college basketball during the entire season and the conference tournament will be must see TV. Kansas, Iowa State, Texas, Oklahoma, and Kansas State all look like they'll be in the field of 68 but Baylor, West Virginia, and Oklahoma State may need to do work in the conference tournament to ensure a place in the NCAA Tournament. This will be a fun couple of days for basketball junkies everywhere.
2. Atlantic 10
It's been some season for a league that lost Temple, Xavier, Butler, and Charlotte and still looks they'll have at least five teams in the NCAA Tournament. After Saint Louis, there's minimal difference between teams that are between two and eight in the conference standings. The Atlantic 10 Tournament in Brooklyn could very well have teams like Richmond and Dayton playing for their NCAA lives, along with a veteran team like La Salle that's more than capable of getting hot at the right time and upsetting the apple cart. The Barclays Center will be a pretty good place to be during championship week. Count on it.
3. Conference USA
Yes, Conference USA. This is a one-bid league and there's four or five legitimate contenders for that one spot. Middle Tennessee, Southern Miss, UTEP, Tulsa, and Louisiana Tech are all right in the mix at the top of the conference standings and the Bulldogs could be a bit of a wild card if they get star guard Raheem Appleby (ankle) back in the fold. The sleeper to watch in this tournament? UAB. The Blazers have a star in lead guard Chad Frazier (18.0 points, 3.4 rebounds, 4.4 assists), rebound the heck out of the ball, and have already beaten both North Carolina and Nebraska this season.
Three middle-of-the-pack teams that will be a nuisance in the NCAA Tournament
1. Ohio State
The Buckeyes have some offensive limitations, but they're as tough defensively as any team that plays in the Big Ten. Thad Matta's team doesn't have the star power it's had in past years with players like Jared Sullinger and Deshaun Thomas, but is still a blue-collar group that's going to scratch and claw on every possession. This is the last go-round in Aaron Craft's memorable collegiate career and you can guarantee he's going to do everything possible to make sure his final appearance in the field of 68 is a special one. You won't want to see this team in the early portion of your bracket.
2. Oklahoma
Kansas may have clinched its 10th consecutive Big 12 title on Monday night, but it was also mighty impressive how competitive the Sooners were at Phog Allen Fieldhouse. Oklahoma starts two sophomores and a freshman on the perimeter, but no one in that trio (Jordan Woodard, Isaiah Cousins, Buddy Hield) was intimidated by one of college basketball's most fabled venues. The Sooners can score, have a toughmatch up for opponents in 6-7 senior Cameron Clark, and also possess one of the sport's best tacticians in Lon Kruger. In a year where seeds may not make much of a difference, Oklahoma could be a team that does a little damage in the NCAA Tournament if they get the right draw.
3. SMU
Ever had a root canal? That's what it's like playing the Mustangs. Larry Brown managed SMU's win at UConn on Sunday similar to how Bobby Fischer used to manage big chess matches. If you have a strength offensively, Brown takes it away. If you like to accelerate the pace, Brown uses 32-34 seconds each time his team has the ball on offense. SMU is well coached, disciplined, and unbelievably long on defense. The Mustangs aren't just good enough to make the NCAA Tournament. They're good enough to win in the NCAA Tournament.
Cal's form wasn't pretty, but when it works, it works

Josh Nagel has his finger on the pulse of Purdue basketball and locked in a play for Tuesd...

Gary Parrish and Matt Norlander discuss the latest in college basketball
The Mountaineers' coach surprised Self with a pullover -- and Self actually wore it during...

After beating West Virginia, the Jayhawks are on a four-game winning streak and jumped to No....

Oklahoma's basketball phenom has won the national Freshman of the Week award again