Triple Threat: Can Shockers go unbeaten?
The possibility of Wichita State finishing undefeated is among the topics in this week's edition of Jon Rothstein's Triple Threat.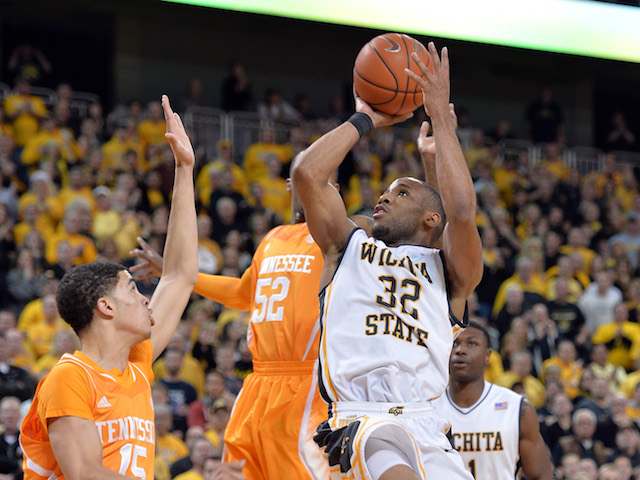 Who are some players you may not know now, but will by the time the season enters the home stretch? Which freshman point guards do you need to have on your radar? Answers to those questions and more in this week's edition of the Triple Threat.
Three quick hits
1. Wichita State will likely enter conference play with an undefeated record. Can the Shockers go undefeated?
It's an interesting question and it will provide college basketball with yet another intriguing storyline for however long the Shockers remain perfect. The Missouri Valley is a tough conference to deal with on the road and Wichita State's game at Indiana State on February 5th seems like the most likely place where a perfect season could be in jeopardy. Here's the bigger picture thought, though, for Gregg Marshall's team. Barring a major collapse, the Shockers are likely to have a terrific record heading into the NCAA Tournament just like Gonzaga did last year. Could a team outside the power six conferences be a number one seed in the field of 68 in back-to-back seasons? It's definitely something to keep in the back of your head.
2. Who is Mangok Mathiang?
Someone Louisville is going to have to get mileage out of if the Cards hope to reach the Final Four for the third consecutive year. The 6-10 freshman is gradually getting more comfortable up front for the defending national champions, and has averaged 9.0 points, 7.0 rebounds, and 2.3 blocked shots per game over Louisville's last three outings. Mathiang's progression in the pivot is huge for Rick Pitino's team, which needs as much help up front as it can get following Gorgui Dieng's departure after last season.
3. What's so intriguing about the Diamondhead Classic that starts on Sunday in Hawaii?
It's a hoops junkie's type of tournament and it gives all of us a welcome distraction during a stretch where there's just not that much college basketball being played. Iowa State is one of the hottest teams in the country and will play a George Mason team in the first round that desperately needs a quality win. Oregon State will also play Akron on the event's first day, and upstart Boise State will play a potential Big West contender in Hawaii. There's also a day one nightcap between South Carolina and Saint Mary's as the Gaels look to continue their surprising start under Randy Bennett. The brand names aren't necessarily there for this tournament, but that doesn't mean the field for this three-day event is lacking in storylines.
Three games I'm looking forward to
1. Texas at North Carolina (Wednesday, 7:00 PM ET)
Does anyone else realize that the Longhorns are 9-1? Texas may not have any marquee wins but did beat two well-coached teams in Vanderbilt and Temple and appear to have significantly better chemistry than last season. Freshman point guard Isaiah Taylor has been an absolute gem and 6-9 sophomore Cameron Ridley is one of the more improved players in the country. Is this team for real? We'll know after their trip to Chapel Hill. Roy Williams has done one of the best coaching jobs of his career so far this season, and the Tar Heels already own wins over Louisville, Michigan State, and Kentucky.
2. Stanford at UConn (Wednesday, 9:00 PM ET)
This is the start of a pivotal week for the Cardinal. Stanford has yet to earn a quality victory in the non-conference portion of its schedule and needs to start building an NCAA resume. Johnny Dawkins' team plays the Huskies in Storrs tonight followed by a date with Michigan on Saturday at the Barclays Center in Brooklyn.
3. Duke vs. UCLA at Madison Square Garden (Thursday, 7:30 PM ET)
A showdown between two of the sport's most prized programs is the type of gift we should all cherish for the holidays. Much of the hype in this game will surround Duke freshman Jabari Parker and UCLA's versatile sophomore Kyle Anderson, but keep an eye on Jordan Adams. The 6-5 sophomore is quietly playing like the best player in the Pac-12, and getting minimal attention considering his level of production. Through 10 games, Adams is averaging 21.2 points, 4.6 rebounds, and 3.5 steals per game while shooting 53.3 percent from the field and 37.5 from three-point range.
Three names you may not know now but will by February 1st
1. Jordan Loveridge, Utah
Versatile forward is a matchup nightmare and can score the ball in a plethora of ways. The 6-6 Loveridge is averaging 17.6 points, 9.5 rebounds, and 3.0 assists per game for the 9-1 Utes. Utah didn't receive much attention prior to the season but that may change once conference play begins in the Pac-12.
2. Nic Moore, SMU
Larry Brown has always demanded elite play from his point guards and that's just what he's gotten so far from Moore. The 5-9 floor general is leading the Mustangs in scoring (14.5 points per game) and assists (4.5 per game). Moore is also shooting an eye-opening 60% from three-point range and his presence should keep SMU in the top half of the AAC standings all season long.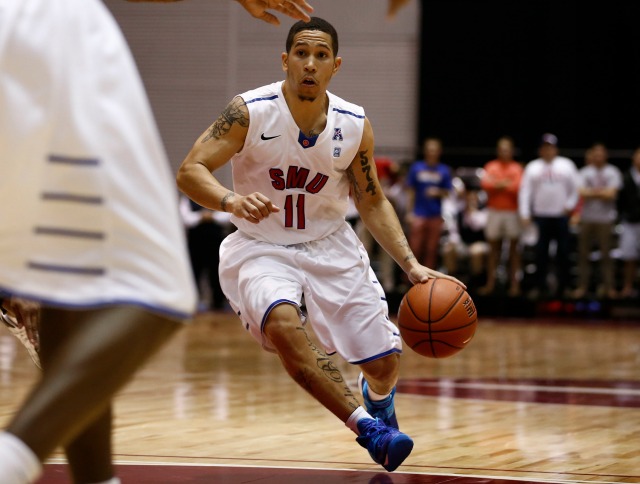 3. Darius Carter, Wichita State
Another year, another quality junior college transfer for Gregg Marshall. Carter has scored 32 points and grabbed 27 rebounds in Wichita State's last three games and looks like he'll be a major piece to the Shockers' frontcourt moving forward. At 6-7, Carter has the versatility to play both power forward and center.
Three freshman point guards to put on your radar
1. Jordan Woodard, Oklahoma
Extremely poised and unbelievably savvy, the 6-foot Woodard is a coach's dream. Through the Sooners' first 11 games, the freshman floor general is averaging 11.5 points and 5.5 assists per contest while shooting an impressive 39% from three-point range. Lon Kruger has implemented a faster style of play this year in Norman, and Woodard has been a major beneficiary. The first-year point guard plays every possession like he's running downhill and is always looking to attack.
2. Wes Clark, Missouri
If Clark continues to progress, the Tigers have a chance to be a real factor in the SEC. The Detroit native is averaging just over 21 minutes per game and allows Missouri to go a four-guard lineup with Earnest Ross sliding down to power forward. Clark had five turnovers in Sunday's win over Western Michigan, but is getting incrementally better each time he takes the floor. Through 10 games, he's averaging 6.0 points and 2.8 assists per outing.
3. Kendall Smith, UNLV
It took some time, but Dave Rice finally found his point guard moving forward. The Runnin' Rebels have been at their best this season with Smith initiating their offense, and UNLV may have actually beaten top-ranked Arizona a few weeks back in Tucson if Smith didn't miss the final 10 minutes of the game with leg cramps. Despite a 4-4 record through eight games, the Rebels still have the requisites to be a factor in the Mountain West and Smith is a big reason why.
Three guys who need to keep their motor turned on
1. Alex Poythress, Kentucky
When Poythress plays like he did against North Carolina last Saturday, the Wildcats get a major lift in reserve. The 6-8 forward had six points and eight rebounds in the loss to the Tar Heels and gave Kentucky exactly what it needed -- a guy who could have a major impact on the game without needing the ball. He did the same thing in the team's first three games of the season and also against Cleveland State, but has been inconsistent with his overall production level. For the Wildcats to achieve what they hope to achieve this season, Poythress has to bring constant energy.
2. Juvonte Reddic, VCU
If Reddic is locked in, he's the best frontcourt player in the Atlantic 10. If he's not, this team could struggle to manufacture points in the paint. On Dec. 8 against Old Dominion, the 6-9 big man was as engaged as I've ever seen him and tallied 24 points, 12 rebounds, and four blocks in 30 minutes worth of work. In Saturday's loss at Northern Iowa, Reddic had five points and six rebounds. 
3. A.J. Hammons, Purdue
The one phrase that comes to mind when Hammons' name is mentioned? Potentially dominant. That's what the 7-footer can be and that's what he's shown in spurts throughout his career. The problem though? Consistency. Hammons always seems to be in foul trouble and can never seem to get into a rhythm on a consistent basis. For the Boilermakers to be a factor in the Big Ten, they need Hammons on the floor for longer stretches. Through 11 games, he's averaging 8.2 points, 6.4 rebounds, and 3.7 blocks per contest in just 19.6 minutes per game.
Thousands of fans were turned away (even LeBron!) from the LaMelo Ball-Zion Williamson sho...

"Four Sides of the Story" also takes a look at Tiger Woods' first PGA tournament and the role...

Indiana's Archie Miller and Mizzou's Cuonzo Martin have been killing it on the recruiting...
Duke's much-anticipated Allen-Duval connection is off to a hot start already

It'll be Miller vs. Miller if the Hoosiers and Wildcats can finalize the proposed series

Wisconsin's Ethan Happ has made only two jumpers in his career, but is adding a long-range...