Triple Threat: Duke's Dawkins on fire; St. John's poised to make move
Scanning the nation, let's look at Arizona without Brandon Ashley, marvel at Duke's torrid Andre Dawkins, check out some hidden gems and spotlight mid-major coaches doin' work.
• 5 min read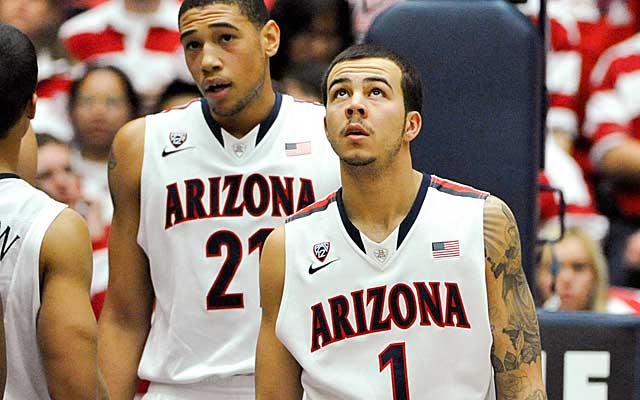 Latest in hoops: Latest Top 25 (and one) | Bracketology | News & notes
Which players in college basketball are quietly having all-conference caliber seasons? What mid-major coaches are quietly doing unbelievable jobs? Answers to those questions and more in this week's edition of the Triple Threat.
Three quick hits
1. How does Brandon Ashley's loss (broken foot) affect Arizona? Plenty. Sean Miller's team will now alter its starting lineup with Aaron Gordon sliding to power forward and Rondae Hollis-Jefferson stepping in at small forward. Ashley wasn't a lethal outside shooter, but he was still able to create decent spacing on offense because he could extend defenses to just inside the 3-point line. Without him on the floor, defenses will pack the paint and force Gordon to be a regular offensive threat -- which he has not done consistently at the collegiate level. The real wild card for the Wildcats? Sophomore guard Gabe York. Without Ashley, Miller could play more three-guard sets featuring York, T.J. McConnell and Nick Johnson. The 6-foot-3 York is Arizona's best outside shooter (40.7 percent from beyond the arc) and will be forced into a bigger role with Ashley out the rest of the season.
2. How good has Andre Dawkins been for Duke lately? Game-changing good. The redshirt senior is averaging 15.5 points over the past four games, making 17 of 31 3-point shots. Two years ago, Duke was a different team when Dawkins played well and it looks like he once again is emerging as the Blue Devils' X-Factor. If Dawkins can play half as well as he's played over the past two weeks, he'll take immense pressure off Jabari Parker and Rodney Hood.
3. Which Big East team is trending upward? St. John's. The Red Storm have won 5 of 6 and finally resemble the team many thought they'd be. Steve Lavin's squad still has a ways to go in terms of building an NCAA resume, but this is an example of a team that could enter championship week outside the bracket and then play its way into the field. St. John's has the most-talented roster in the Big East and easily could win three consecutive games in the conference tournament to earn an automatic NCAA tournament bid. As we approach March, the Red Storm (14-9, 4-6 Big East) certainly fit the profile of a potential bid-stealer.
Three games I'm looking forward to
1. Oklahoma at West Virginia (7 p.m. ET Wednesday): Raise your hand if you've become a Big 12 junkie! This conference has six different coaches who have Final Four experience and is truly a bear to navigate. The battle between the Sooners and Mountaineers will feature two of the league's best young backcourts. Juwan Staten had 35 points in West Virginia's win against Kansas State on Saturday and Jordan Woodard has been a revelation at point guard for Oklahoma as a freshman. This will be a typical Big 12 game --- down to the wire.
2. Saint Louis at Saint Joseph's (7 p.m. ET Wednesday): The Hawks are in position to enter the NCAA discussion and their overall body of work would better with a win here. Saint Joseph's (15-6, 5-2 Atlantic 10) held on for a big win over UMass on Saturday and faces the Billikens (20-2, 7-0) at Hagan Arena. Keep an eye on the perimeter battle between the Hawks' backcourt of Chris Wilson and Langston Galloway against the Billikens' veteran defensive duo of Mike McCall Jr. and Jordair Jett.
3. UConn at Cincinnati (7 p.m. ET Thursday): The Bearcats look like the best team in the American Athletic Conference while the Huskies have the league's best player in Shabazz Napier. Cincinnati has taken its defense to another level, but Mick Cronin's team faces no taller task than defending Napier. The senior is averaging 17.9 points, 6.0 rebounds, 5.7 assists, and 1.9 steals while shooting 45 percent overall and 43.5 percent from beyond the arc. There is no better guard in college basketball.
Three guys quietly having all-conference seasons
1. Jarvis Summers, Ole Miss: Sturdy guard has nearly doubled his averages in points and rebounds from last season. Summers is averaging 17.5 points as a junior (up from 9.1 PPG last season). A sporadic shooter his first two seasons, the 6-3 guard is shooting an impressive 50.7 percent from 3-point range and 50.8 percent overall. A year ago, Summers shot 40.4 percent overall, 34 percent from long range. The Rebels' anchor is also handing out 3.8 assists.
2. Chasson Randle, Stanford: After having a somewhat disappointing season as a sophomore, Randle has come back with a vengeance as a junior. The 6-2 guard has become the Cardinal's alpha dog, averaging 18.8 points while shooting 48 percent overall, 39 percent from three-point range. Randle has already scored 30 or more points three times this season.
3. Halil Kanacevic, Saint Joseph's: Fifth-year senior has become the Atlantic 10's version of Draymond Green. An elite passer and rebounder as well as a capable scorer, Kanacevic is doing a little bit of everything. The 6-8 Kanacevic is averaging 11.2 points, 8.8 rebounds, 4.4 assists, and 1.2 blocks while shooting 56 percent.
Three hidden gems
1. Hallice Cooke, <span data-shortcode= State" data-canon="Oregon Ducks" data-type="SPORTS_OBJECT_TEAM" id="shortcode0">: The 6-3 freshman is starting to look like a major steal. Cooke scored 20 points in Oregon State's upset of UCLA on Sunday and has really excelled since he was inserted into the starting lineup. Cooke is averaging 7.4 points and 2.0 assists while shooting an impressive 53.8 percent from three-point range.
2. Terran Petteway, Nebraska: What a difference a redshirt year makes. After averaging only 3.1 points two years ago at Texas Tech, Petteway has become a big-time scorer for the Cornhuskers. The 6-6 wing is averaging 18.2 points and 5.3 rebounds, and had 35 points in a Jan. 26 win over Minnesota.
3. Akil Mitchell, Virginia: The Cavaliers are 8-1 in 2014 and Mitchell is a big reason why. An enforcer in the paint, Mitchell is averaging 6.8 points and 6.7 rebounds for Virginia, which is starting to look like a legitimate ACC contender. Mitchell posted a double-double (10 points, 12 rebounds) in Sunday's 48-45 win at Pitt.
Three mid-major coaches doing an unbelievable job
1. Ron Hunter, Georgia State: The Panthers (16-6, 9-0 Sun Belt) look like a potential 13 or 14 seed, and Hunter is a major reason why. After turning around IUPUI, the veteran coach aims to take a second program to the NCAA Tournament and has the pieces to get there thanks to a loaded perimeter. Georgia State has three BCS level players --- Hunter's son R.J., former Virginia Tech forward Manny Atkins, and former Kentucky guard Ryan Harrow -- in its starting lineup.
2. Monte' Ross, Delaware: Despite losing an anchor down low in Jamelle Hagins, the Blue Hens (17-7, 9-0 Colonial Athletic Association) have won 11 straight. Thanks to the addition of Mississippi Valley State transfer Davon Usher (17.9 PPG), Ross has implemented a more free-flowing approach and Delaware has benefited. As March approaches, remember the name Devon Saddler. The broad-shouldered guard has quietly had a terrific four-year career. He's averaging 21.2 points this season and broke the school's all-time scoring record in Monday's win over Northeastern.
3. Mike Brennan, American: First-year head coach is having one heck of a start. The Eagles (14-7, 10-0 Patriot League) have the whole conference perplexed, thanks to their infusion of the Princeton offense Brennan learned during his playing days under Pete Carril. American is shooting 37 percent from three-point range.
It appears he's more than happy to pay up, given the circumstances

Lithuania seems ready for the Ball era to begin

The Sun Devils make a big jump and the Jayhawks slide after ASU pulls the big upset
Arizona's big man from the Bahamas balled out against two talented teams

Coach Shaka Smart doesn't expect him to be out for an extended period of time

Jackson isn't showing the Sun Devils much respect after beating KU