Triple Threat: Hood Duke's top gun (now); No. 1 Zona, KU facing tests
Looking around the country, we find that Rodney Hood is Duke's best player right now, and Arizona and Kansas face stiff tests Wednesday night.
• 7 min read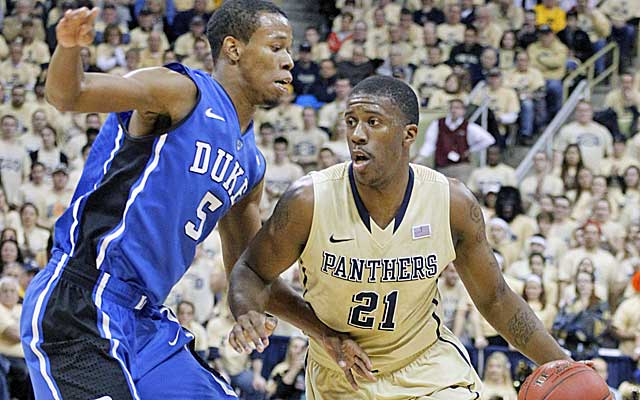 Latest in hoops: Top 25 (and one) | Bracketology | News & notes
What three teams have big opportunities this week? Which freshmen could be household names a year from now as sophomores? Answers to those questions and more in this week's Triple Threat.
Three quick hits
1. Is Rodney Hood currently Duke's best player?
Yes. Jabari Parker is clearly the better NBA prospect, but right now Hood is the best all-around basketball player on the Blue Devils' roster. Always under control and efficient, the 6-foot-8 lefty plays within the confines of Duke's system and showed his defensive prowess Monday night when he locked up Pitt star Lamar Patterson. Patterson came in playing as well as anyone in the ACC, but Hood held him to just 14 points on 14 shots. The transfer from Mississippi State is averaging 17.4 points and 4.6 rebounds, while shooting 51 percent, 44.8 percent from three-point range.
2. When will Bob Huggins have West Virginia officially "back?"
Next season. The Mountaineers are now 12-9 after Tuesday night's two-point win at Baylor and are slowly picking up some traction in the Big 12. This team may not reach the NCAA Tournament, but Huggins will have them back in the field of 68 in 2015. West Virginia's top seven players are underclassmen and the Mountaineers also have two potential front-court starters sitting out the season in Elijah Macon and Jonathan Holton. Another thing to keep in mind about West Virginia? They might very well have the Big 12's best perimeter next season with Juwan Staten (17.3 PPG, 6.0 RPG, 5.9 APG), Eron Harris (17.6 PPG), and Terry Henderson (12.3 PPG).
3. Which true mid-major could win an NCAA game in the NCAA Tournament?
It's hard to make these types of statements until you see the actual match ups, but <span data-shortcode= Miss" data-canon="Southern Jaguars" data-type="SPORTS_OBJECT_TEAM" id="shortcode0"> is definitely a team to keep on the radar. The Golden Eagles will have to win the Conference USA Tournament to get in, but they have a proven coach in Donnie Tyndall (he beat Louisville in 2011 when he was at Morehead State). Southern Miss has legitimate depth, terrific length, and a senior point guard in Neil Watson who has been through the gamut.
Three games I'm looking forward to
1. Iowa State at Kansas, Wednesday, 9 p.m. ET: The Cyclones aren't going to shoot 4 of 25 from three-point range, as they did in a 77-70 loss in the first meeeting Jan. 13 at Hilton Coliseum. But can Iowa State be the first team to beat the red-hot Jayhawks in Big 12 play? It all depends on Georges Niang. The skilled big man is a mismatch for Joel Embiid at center because of his ability to bring the 7-footer away from the basket. Niang will have to make multiple three-point shots if the Cyclones to have a chance.
2. Arizona at Stanford, Wednesday, 9 p.m. ET: There is no time like the present for the Cardinal. Stanford already has a resume win on the road at UConn and beating the top-ranked Wildcats would go a long way in helping the Cardinal's NCAA Tournament hopes. Look for Johnny Dawkins to regularly test Arizona's outside shooting by playing an extended 2-3 zone featuring Josh Huestis, Dwight Powell and Stefan Nastic along the back line.
3. Cincinnati at Louisville, Thursday, 7 p.m. ET: The teacher meets the student in a potential a battle between the AAC's two best teams. Mick Cronin was an assistant for Rick Pitino for two seasons at Louisville before he became the head coach at Murray State and has had quality success against his mentor at Cincinnati. The Bearcats aren't going to beat the Cardinals with skill. They have to make this thing ugly. If the score breaks 70, it's tough to see how Cincinnati leaves the KFC Yum Center with a victory.
Three storylines to keep in mind
1. Duke likely has one NCAA Tournament team remaining on its schedule: And it's Syracuse. The Blue Devils will play the Orange twice, beginning with Saturday's highly anticipated game at the Carrier Dome. Syracuse makes a trip to Cameron Indoor Stadium on Feb. 22, but aside from those two games the Blue Devils likely won't face another team that is NCAA caliber. Duke still has two battles with North Carolina (Feb. 12 at UNC, March 8 at Duke), but until the Tar Heels prove they can be consistent and string together a few quality games, it's tough to look at them as a legitimate contender for the field of 68.
2. Oklahoma State's lack of size could cost them a high NCAA seed: The Cowboys had absolutely no answer for Oklahoma's Ryan Spangler on Monday night. He torched Oklahoma State for 15 points and 17 rebounds. The Cowboys knew they were going to be short-handed when they lost their starting 5-man Michael Cobbins for the year (Achilles'), but replacing him in the middle has been harder than expected. Kamari Murphy was very effective as a 15- to 20-minutes per game guy off the bench, but stepping in for Cobbins and handling the bulk of the minutes in the pivot is proving difficult. Several times against Oklahoma, Travis Ford went to a smaller lineup featuring Le'Bryan Nash at the 5, surrounded by four perimeter players -- putting this team at a disadvantage on the glass. The Cowboys (16-4, 4-3 Big 12) still have two games a piece against Iowa State and Baylor along with home games against Kansas, Oklahoma, and Kansas State. Oklahoma State also heads to Austin to face Texas on February. That's eight tough games to play without a capable interior presence.
3. Providence needs road performance to reach NCAA Tournament: Ed Cooley has rallied the Friars and Providence has won five straight after starting 0-2 in the Big East. The Friars have limited personnel (for various reasons) and play seven of its final 11 on the road, where lack of depth hurts. Providence doesn't have a perimeter sub for lead guard Bryce Cotton, who's played every second of the Friars' games during this five-game winning streak. Limited depth could make it hard to sustain things if this team hopes to keep momentum going into February and March. But keep in mind that Providence's surge helps the Big East. The Friars given the conference a potential fourth NCAA Tournament team -- along with Creighton, Villanova and Xavier. Without Providence, it's tough to see this conference getting four bids unless someone comes from nowhere to win the Big East Tournament in March.
Three freshman who will be formidable as sophomores
1. Troy Williams, Indiana: A freak athlete with a tremendous wingspan, Williams has shown flashes of being a very productive player down the line for the Hoosiers. The 6-7 freshman can finish in transition and is also very accurate around the basket. Blessed with all the tools to be an elite defender, Williams needs to spend all summer in the gym refining his jump shot to make a major jump next season. In Indiana's past two games, Williams is averaging 8.5 points and 4.5 rebounds.
2. Nick King, Memphis: Josh Pastner is slowly working the 6-7 wing into the rotation and King is embracing his role. Armed with great length and feel, King has scored in double figures in two of the past three games and will be in line for a major perimeter role next season after Joe Jackson, Michael Dixon, Geron Johnson and Chris Crawford depart. King is averaging 5.6 points and 3.1 rebounds in only 10 minutes per game.
3. Mike Young, Pitt: The starting power forward is coming into his own. At 6-8, Young has good hands and can extend the defense from the 4 spot with his ability to make perimeter shots. In Pitt's loss to Duke on Monday night, Young scored nine points and grabbed seven rebounds, and proved he could hold his own against elite competition.
Three teams with a week full of opportunities
1. Kansas: This is a separation week for the Jayhawks. Kansas (15-4, 6-0 Big 12) leads the conference by two games in the loss column. Bill Self's team can put serious distance between themselves and the rest of the pack with two more victories this week. Kansas was hosting Iowa State on Wednesday and travels to Austin to face Texas on Saturday.
2. Arizona State: The Sun Devils have not beaten a sure-fire NCAA Tournament team, but also really don't have any bad losses. Arizona State needs to cash in on some opportunities this week. The Sun Devils travel to the Bay Area for games against Cal and Stanford, two squads that are very much in the NCAA Tournament discussion. A win against either would go a long way toward putting Arizona State on the NCAA radar.
3. Richmond: The Spiders have all of a sudden become Atlantic 10 team trending upward. Richmond has won four straight, including a key win against UMass. Can Chris Mooney's squad join the NCAA conversation? They'll have a two strong chances this week. The Spiders were visiting Saint Louis on Wednesday before they face crosstown rival VCU on Saturday.
Missouri freshman will miss the season and likely never play another minute of college bal...

College basketball fans, especially those at Missouri, are robbed of the excitement Porter...

School officials expect the five-star freshman to miss the rest of the season
Cincinnati and Iowa highlight an impressive inaugural field for the Cayman lslands Classic

The Bluejays are 4-0 with some impressive victories, including a win vs. the Bruins on Mon...

The world's most prominent Basketball Dad responded to Donald Trump calling him 'very ungr...