Triple threat: Intrigue as Georgia Tech's Gregory faces ex-team
Jon Rothstein knows good things in college basketball happen in threes, and tells you about them in this week's installment of the Triple Threat.
• 5 min read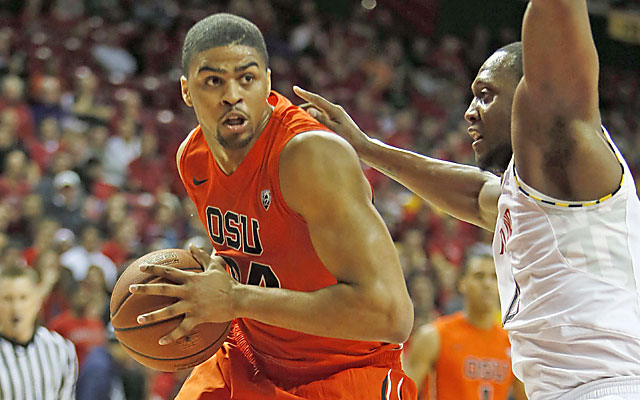 What players have impressed me, including a few who are returning from injuries? Answers to those questions and more in this week's edition of the Triple Threat:
Three of your hypothetical questions, answered
1. How does Oregon State lose to Coppin State at home but win at Maryland seven days later? Devon Collier. The 6-8 forward missed the Beavers' first game because of suspension and responded with back-to-back double-doubles, including a 29-point, 11-rebound performance against the Terrapins. With Collier, Roberto Nelson (30.3 points per game), and junior point guard Challe Barton, Oregon State has enough pieces to enter Pac-12 play with legitimate momentum. The key is Barton. Now entrenched as the Beavers' starting point guard after Ahmad Starks transferred to Illinois, Barton gives Craig Robinson's team a pass-first floor general who allows teammates to get opportunities more within the flow of the offense. Barton's ability will be augmented when Eric Moreland returns from suspension at the start of conference play in early January.
2. Why should Villanova fans be most excited about their team's 3-0 start? Because they're getting great leadership and production from two of their upperclassmen -- James Bell and Jayvaughn Pinkston. When I attended a Wildcats practice during the preseason, Jay Wright said one of the keys was going to be getting great veteran leadership. That's obviously happening early. Bell and Pinkston are Villanova's top two scorers through the first three games (Bell 18.7 points per game, Pinkston 18.3 ppg), and both seem to be relishing expanded roles. Bell has also averaged 7.0 rebounds per game so far this season and seems primed to have a great senior year. Scottie Reynolds and Corey Fisher may have gotten a great deal of attention when the Wildcats advanced to the Final Four in 2009, but Wright has always said that the leadership displayed by that team's seniors -- Dwayne Anderson, Dante Cunningham, and Shane Clark -- was the backbone of that particular run. For Villanova to be an elite team moving forward, Bell and Pinkston need to keep doing what they're doing.
3. How good is Indiana State? Good enough to challenge Wichita State in the Missouri Valley and be a Top 40 team nationally. The Sycamores won convincingly at Notre Dame on Sunday, and that shouldn't be a surprise. Greg Lansing's team was on our list of five mid-majors on the rise during the preseason because they've got three cornerstone players in point guard Jake Odum, scoring wing Manny Arop, and big man Justin Gant. Indiana State also got 15 points off the bench from guard Khristian Smith against the Irish, but Lansing told CBSSports.com after the game that the Sycamores' success this season has nothing do with offense. "It's all about defense," Lansing said. "If we guard, we're going to always have a chance to win."
Three freshmen you may not know but should
1. Ben Moore, SMU: Larry Brown told me prior to the season that Moore reminded him of Derrick McKey. After watching him play early, it's hard to argue. Long and versatile at 6-8, Moore gets into passing lanes defensively and is also efficient on offense. The freshman scored 19 points in 19 minutes in the Mustangs' loss on Monday at Arkansas and is averaging 11.3 points per game and 4.7 rebounds per game in only 14 minutes a game.
2. Zach LaVine, UCLA: Can a freshman who plays for the Bruins really be slightly under-the-radar nationally? That's the way it feels with LaVine. A potent scorer, LaVine has scored in double figures in two of the Bruins' first three games and looks like he's the type of player that can explode offensively any given night. The 6-5 combo guard is one of the keys to Steve Alford's first season in Westwood.
3. John Egbunu, South Florida: This 6-10 big man gives the Bulls the type of size they desperately lacked last season. While Egbunu is extremely raw offensively, he provides the type of protection Stan Heath's team needs to guard the rim and keep penetrating teams out of the paint. Through three games, the first-year center is averaging 8 points, 8.2 rebounds, and 2.3 blocks.
Three great individual performances
1. Jeff Elorriaga, Boise State: Stuff like this just doesn't seem real. Elorriaga shot 9 for 10 from the floor and made 7 of 8 three-point shots en route to 26 points in only 12 minutes in a win over Simpson Univeristy. Elorriaga missed Boise State's first game of the year because of a concussion, but is back now as the one of many snipers Leon Rice has at his disposal.
2. Juwan Staten, West Virginia: Bob Huggins told me when I was in Morgantown a few weeks ago that Staten was the Mountaineers' best player by a "landslide" and his performance against Duquesne on Sunday warranted that claim. Playing all 40 minutes against the Dukes, Staten scored 28 points, dished out nine assists, had three steals, and only committed one turnover in West Virginia's 96-83 win. The point guard also made 14 of 19 shots from the foul line.
3. Frank Kaminsky, Wisconsin: Raise your hand if you saw this coming. The junior big man had scored 26 points in the Badgers' first three games of the season but broke out with 43 on Tuesday night against North Dakota. Kaminsky was 16 for 18 from the floor and was perfect on all six of his three-point attempts. College basketball -- where the unexpected becomes the ordinary.
Three guys we're thrilled to see back healthy
1. Tim Frazier, Penn State: Is Frazier one of the best guards in the country? He's certainly playing like it. After missing most of last season with an Achilles' injury, Frazier has returned to the floor with a vengeance. The fifth-year senior is averaging 20.8 points, 7.3 assists, and 4.25 rebounds through four outings for the Nittany Lions, who are 3-1 after Tuesday night's win over La Salle.
2. Maurice Creek, George Washington: After suffering multiple injuries throughout his career at Indiana, Creek looks re-energized with the Colonials. Eligible immediately since he's a graduate transfer, Creek is averaging 17.3 points per game through four games for George Washington and has made 15 of 24 three-point shots. Mike Lonergan's squad is 4-0 and could be a sneaky good team in the Atlantic 10.
3. Anthony Brown, Stanford: The 6-6 wing missed the majority of last season because of a hip injury and his return has been a major reason why the Cardinal are 3-1. Brown takes the regular responsibility of guarding the opponent's best perimeter player and also brings tremendous intangibles on both ends. Through four games, Brown is averaging 15.7 points and 5.3 rebounds while shooting an impressive 46.7 percent from three-point range.
Calipari threw major shade at Duke and the coaching staff's recruiting pitch

Brown is the No. 2 center in the Class of 2018 and a big get for the Bruins

The Sooners are on a two-game losing streak but still rising on one AP ballot
Vegas legend Kenny White has nailed 3 straight UNC picks and just made a play for Monday's...

Josh Nagel has almost two decades of handicapping experience and locked in a play for Monday's...

The Wildcats stumbled to an 0-2 record this week and fell out of the top 25