Triple Threat: Intriguing Wildcats-Aztecs matchup on tap
CBSSports.com and CBS Sports Network's Jon Rothstein tells you who's impressed, who he's looking forward to seeing more of, and most importantly, where he's eaten.
• 8 min read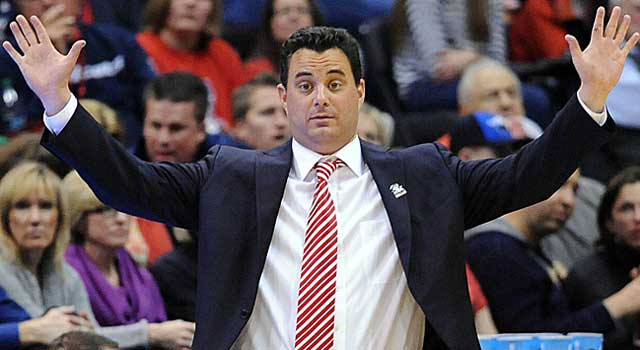 What to watch? Which teams have stood out? And most of all, where to eat? We cover it all in this first edition of the Wednesday Triple Threat.
Three games I'm looking forward to this week
1. Arizona at San Diego State, Thursday. Steve Fisher told me earlier this week that he feels like he's essentially looking in a mirror when he watches tape of Arizona. "A lot of the things we do well they do well," Fisher told CBSSports.com in regards to the Wildcats. "They probably shoot the ball a little better from the perimeter than we do, but we're very similar." This game will feature two teams that excel on defense and sport incredible length across their respective front lines. The Aztecs will start four players taller than 6-7 while Arizona will likely start a frontcourt of Aaron Gordon, Brandon Ashley, and Kaleb Tarczewski. A player to watch in this game is Wildcats sophomore Gabe York. The 6-3 guard has made 6-of-11 three-point shots in Arizona's first two games and could have a big role against San Diego State thanks to his ability to extend the defense. Tip-off is Thursday at 10 PM ET on CBS Sports Network. 
2. Temple at Towson, Thursday. This isn't a vintage Fran Dunphy team in terms of experience but the Owls still represent a formidable opponent for the Tigers. Pat Skerry led Towson to the single biggest turnaround in NCAA history last season but he needs a marquee win early to cement his team as one of the better mid-majors in America. After hosting Temple Thursday night, Towson will travel to Villanova Sunday. This is a big couple of days for Skerry, who will have the best player on the floor -- Jerrelle Benimon -- when his team hosts Temple. In last season's meeting with the Owls in Philadelphia, Benimon scored 30 points and grabbed 18 rebounds in the Tigers' loss.
3. Northwestern at Stanford, Thursday. Two former Duke assistants square off as Chris Collins will be in his first true road game as a head coach. Is this a must win for the Cardinal? It's pretty close. Stanford was dominated on Monday at home against BYU and needs to avoid an 0-2 start. Johnny Dawkins seems committed to playing Josh Huestis, Dwight Powell, and Stefan Nastic together up front but he may have a hard time doing that against the Wildcats. Collins is a big advocate of putting his best players on the floor regardless of position and will likely use four perimeter players around big man Alex Olah when these two teams do battle on Thursday night. A big key in this game for Northwestern will be 6-5 junior JerShon Cobb, who had eight assists and only one turnover in the Wildcats' opener against Eastern Illinois. "He's the one guy we have that can really create for others," Collins told CBSSports.com in reference to Cobb.
Three teams that have impressed early
1. Oregon
We knew the Ducks were going to be good but they were beyond impressive against Georgetown. Playing without starting point guard Dominic Artis and forward Ben Carter due to suspension, Dana Altman's team didn't miss a beat against the Hoyas and never trailed after falling behind 2-0 early. The biggest thing that stood out for Oregon? The way it attacked the rim. The Ducks got to the line 44 times against Georgetown and their strong core of guards -- Joseph Young, Jason Calliste, Johnathan Loyd, and Damyean Dotson -- are all players who should benefit from the new rules in college basketball. Once Young was cleared by the NCAA, it became apparent that Oregon looked like the number one challenger to Arizona in the Pac-12. After their performance against the Hoyas, it's hard to argue with that statement.
2. SMU
Length, length, and more length. Larry Brown's team is ridiculously long and makes it extremely difficult for opposing big men to finish around the basket. Another thing we like about the Mustangs? Their collective balance. In Monday night's 89-58 win over Rhode Island, SMU scored 89 points but only had two players score in double figures. One of those players was point guard Nic Moore, who has made an early statement with his stellar play. Through two games, Moore is averaging 13.0 points, 8.0 rebounds, and four assists per game while shooting an impressive 37.5% from three-point range. If the Mustangs were a snake, Moore would be the head.
3. UMass

Derek Kellogg told me over the summer that this is the year he believes he can lead his alma mater back to the NCAA Tournament and he's certainly got them headed in that direction. The Minutemen had a tremendous second-half comeback against Boston College on Sunday and then beat a very talented LSU team Tuesday in Amherst. Chaz Williams looks like the best guard in the Atlantic 10 and big man Cady Lalanne has also emerged. Noticeably more svelte than he was a year ago, Lalanne is averaging 21 points, 9.0 rebounds and 2.0 blocks through UMass' first two games.
Three off-the-radar freshmen who have stood out

1. Frank Mason, Kansas
How inexact a science is recruiting? Mason was originally committed to Towson, then didn't qualify and had to go to prep school to improve his academics. The result? He became good enough to earn a scholarship offer from Bill Self. Tuesday night in the Jayhawks' win over Duke in the Champions Classic in Chicago, Mason scored 15 points and played with the poise of a grizzled veteran. This pesky floor general should have four very productive years in Lawrence.
2. Brandon Randolph, Xavier
True freshman point guard has played 75 minutes in the Musketeers' first two games. Xavier coach Chris Mack raved about the expanded depth his team has in the back court this season and Randolph is a major reason why. The highly touted prospect gives the Musketeers another capable ball handler they can play next to Semaj Christon. Through two games, the California native has 11 assists and just three turnovers.
3. Sindarius Thornwell, South Carolina
Burly guard scored 20 points and attempted 10 free throws in the Gamecocks' narrow loss at Baylor on Tuesday. The 6-5 Thornwell possesses a more than ready college physique that allows him to get into the paint and initiate contact. This should be a major building block for Frank Martin in Columbia.
Three quick hits on recruiting
1. Three of 247 Sports' top prospects in the Class of 2014 -- Jahlil Okafor, Tyus Jones, and Cliff Alexander -- will all announce their college choices on Friday, as my colleague Jeff Borzello detailed earlier. How significant a day is it for the sport when the Chicago trio makes their respective decisions?
Beyond significant, because these three players will drastically alter the landscape of the 2014-15 season. Jones and Okafor are likely a package deal that will wind up at either Kansas or Duke, while Alexander will likely stay home and play at Illinois or head to Kansas. If John Groce winds up with a Chicago product with Alexander, it would give him an immediate boost in his home state, something that is beyond critical moving forward. Okafor has been considered the best post prospect to enter college in several years while Jones is a throwback type of point guard that sets the table for his teammates on each and every possession.
2. Stanford landed another elite prospect last week in power forward Reid Travis. What does it mean for the Cardinal?
That they'll be very competitive next season in the Pac-12. Travis (No. 7 in 247 Sports' power forward rankings) is an instant double-double guy at power forward and should step right in up front for Stanford next to Stefan Nastic. Chasson Randle will be one of the best guards in the country next year as a senior and Anthony Brown will add perimeter depth along with Marcus and Malcolm Allen. This program is set up for consistent success, but still need to earn an NCAA berth this season.
3. VCU and Dayton have put together terrific recruiting classes for 2014. Who else in the Atlantic 10 is quietly making waves in recruiting?
Fordham. The Rams struck gold last year during the late-signing period when they got a commitment from New York State's Mr. Basketball Jon Severe (Christ The King), and this week they'll add another high-profile recruit when they receive a letter of intent from 6-6 wing Eric Paschall (St. Thomas More). The versatile Paschall can play four different positions and opted to stay home and play for Tom Pecora despite offers from other Atlantic 10 and BCS programs. With Severe and Paschall, Fordham is putting together the type of foundation it needs to be successful.
The three best places I ate during the preseason
1. Pamela's Diner, Pittsburgh
You can see why President Obama brings the chef from this place into the White House. For whatever reason, I haven't had pancakes in years but I put down six when I went to Pamela's a few weeks ago and had to restrain myself from getting another three. Crispy on the outside and soft in the middle, Pamela's provided by far the best flapjacks I've ever had in my life. This is a must-visit if you pass through the Steel City.
2. Mike's Pastry, Boston's North End
This might be a little mainstream but Mike's certainly lives up to the hype. The peanut butter brownie I devoured when I went there last month was beyond tremendous. Fresh gelato is always an option in addition to a slew of other high profile pastries. This is a must if you're dining in Boston's North End.
3. Guadalajara Grill, Tucson
My trip to see Arizona wouldn't have been complete without a meal at a traditional Mexican spot. The hype surrounding the guacamole in the desert is beyond warranted -- I went through three bowls of chips just sampling it. This is the spot to hit if you're in Tucson if you want some native cuisine. Try the tequila shrimp for an appetizer and any traditional Mexican dish for an entree. But the guac -- it's all about the guac baby!
The Mountaineers blew a double-digit lead in the second half and Huggins decided he'd seen...

The No. 3 Wildcats crush the No. 4 Musketeers to move closer to winning a 5th consecutive Big...

The No. 2 Spartans overcame a 27-point deficit vs. Northwestern and South Carolina holds on...
John Calipari's team gets a healthy home win over Alabama, and UK fans can finally calm th...

McLemore was taken to a nearby hospital for further evaluation

Bagley is leading the Blue Devils in scoring and rebounding