Triple threat: Newcomers Syracuse, Pitt carrying ACC
Jon Rothstein explorers the value of ACC newcomers Syracuse and Pitt in his weekly Triple Threat, also looking ahead to a big one between the Wolverines and Hawkeyes.
• 7 min read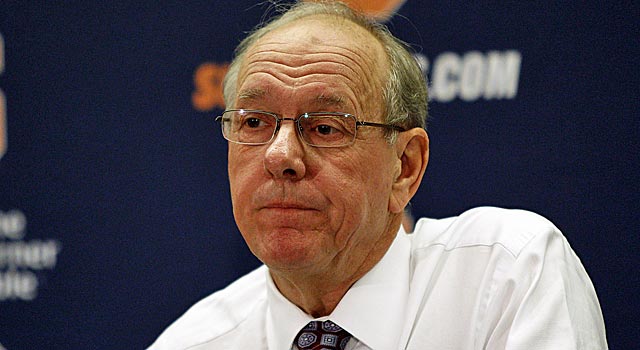 Which teams need to turn their seasons around quickly? What players aren't getting enough national attention? Answers to those questions and more in this week's edition of the Triple Threat.
Three quick hits
1. Where would the ACC be without Syracuse and Pitt?
In a very bad place. The two additions from the old Big East have carried the conference in the early portion of the season. With North Carolina and Duke both struggling compared to their normal standards, two of the ACC's three new additions (Notre Dame is the other) have anchored a league that they'd never played in until this season. Virginia and Florida State have both shown signs of being capable enough to reach the NCAA Tournament, but aside from that the conference has been a massive disappointment. This looks like a five-bid league at the max.
2. Northwestern has won three of its last four games in the Big Ten. What's been the key to the Wildcats' recent run under Chris Collins?
Tre Demps. The sophomore guard has scored in double-figures in four consecutive games for Northwestern, which is now 10-10 overall and 3-4 in the Big Ten. Demps scored 19 points in Tuesday night's double-overtime win over Purdue and gives the Wildcats another offensive threat to go alongside veteran Drew Crawford. Skilled and talented, Demps is averaging 10.3 points per game for the season but has tallied 14.3 in the Northwestern's last four outings.
3. Is there a player in America who means as much to his team as Bryce Cotton means to Providence?
Probably not. The 6-1 senior has logged every second of the Friars' last four games and is averaging over 39 minutes per game. Due to injuries and suspensions, Providence doesn't have a perimeter sub for Cotton, who came into this season expecting to be Ed Cooley's starting shooting guard but has had to adapt and become his primary floor general. Cotton is averaging 20.4 points, 5.8 assists, and 3.5 rebounds per game for the Friars, who have now won four straight in the Big East.
Three games I'm looking forward to
1. Iowa at Michigan (Wednesday, 7 PM ET)
Fran McCaffery said before the season that the goal for his team this year was to win a Big Ten title and after watching the Hawkeyes so far this season, it's tough to say that's not a legitimate possibility. Iowa is deep, balanced, and the best offensive team in the Big Ten. But can it win another big game on the road? The Hawkeyes beat Ohio State in Columbus 10 days ago and tonight will face a Michigan team that is coming off an impressive road victory at Wisconsin. This game is the epitome of the Big Ten. There's never a night off.
2. VCU at Dayton (Wednesday, 7 PM ET, CBS Sports Network)
Archie Miller's team has the look of an NCAA team, but is only 1-2 in three Atlantic 10 games. The Flyers have the depth, skill, and shot making ability to handle the Rams' relentless full-court pressure, but how will Dayton handle the big moment? This is a nationally televised game against the flagship program in the Atlantic 10 and a major opportunity for the Flyers to be make a major statement. VCU plays in games like this every week. Dayton does not. Will that be a major factor? We'll find out on Wednesday.
3. Stanford at UCLA (Thursday, 11 PM ET)
This is a big week for the Bruins. UCLA's frontcourt has been its major question mark all season long and that aspect of Steve Alford's team will be severely tested against the Cardinal and then versus Cal on Sunday. Johnny Dawkins has quietly led Stanford to three consecutive Pac-12 victories and is getting incredibly productive play from junior guard Chasson Randle. The 6-2 Randle is averaging 19.5 points per game after scoring 33 points in Saturday's win over Washington.
Three teams that need to turn things around
1. Oregon
The Ducks are 1-4 in the Pac-12, and one possession away from being without a win in league play. Oregon's sole conference victory was in its league opener at Utah and that was decided on a last second dunk by Damyean Dotson in overtime. What's different about Oregon now versus the earlier part of the season? Chemistry. The Ducks were rolling early when Dominic Artis and Ben Carter were out due to suspension, but their chemistry and role allocation has taken a bit of a hit since those two players returned to the lineup. Oregon was able to figure out its personnel in the latter games of their non-conference slate, but doing it in the Pac-12 has been a different story due to the increased level of competition.
2. Ohio State
Despite four straight losses, I'm not overly concerned with the Buckeyes' struggles. Thad Matta and Aaron Craft have proven that they're always going to find a way to stay in the picture at the top of the Big Ten and this season should be no different. The one thing about Ohio State that's worrisome is it regularly struggles to score and that's something that needs to be remedied as soon as possible. The guy the Buckeyes need to get going? Shannon Scott. The junior guard has only scored a combined seven points in his last three games.
3. St. John's
The Red Storm are still without a win (0-5) in Big East play and need to get things going immediately. How big is Thursday's game against Seton Hall at Carnesecca Arena? Monumental. After it hosts the Pirates (Thursday, 7 PM ET, CBS Sports Network), St. John's travels to both Butler and Creighton. The Red Storm didn't get things going in Steve Lavin's first season until late January, but this team is running out of chances to build palpable momentum.
Three guys who deserve more national attention
1. Sean Kilpatrick, Cincinnati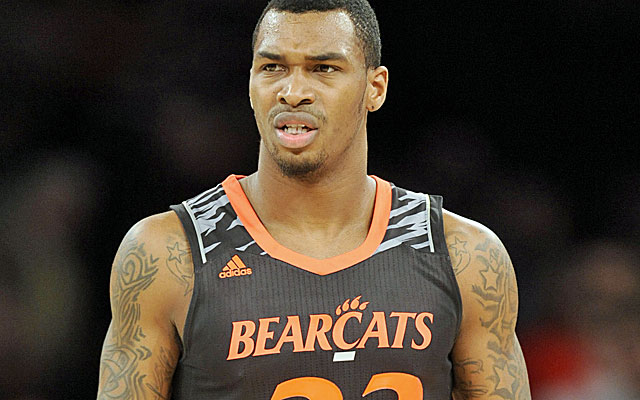 The fifth-year senior is on pace to become the second all-time leading scorer in the history of the Bearcats' program and will only trail Oscar Robertson for the top spot on the list if he reaches that post. Kilpatrick is averaging 18.4 points and 4.2 assists per game and will likely be a part of four consecutive teams that reach the NCAA Tournament. This 6-4 guard is about one thing -- winning.
2. Langston Galloway, Saint Joseph's
The Hawks have won eight of their last nine games since losing at home to Villanova on 12/7 and Galloway is a major reason why. The senior guard has been on a tear of late, and has made 12 of 17 three-point shots in his last two games. Galloway is averaging 17.9 points and 4.8 rebounds on the season, while shooting an impressive 47.9 percent from long range.
3. Eric Moreland, Oregon State
After missing the first 12 games of the season due to suspension, Moreland has been one of the main reasons for the Beavers' quiet resurgence. The 6-10 forward has posted three double-doubles in his last five games and provided Oregon State with the type of interior presence it has desperately missing on the boards. Moreland is currently averaging 10.4 points and 10.0 rebounds for the Beavers, who are 2-3 in Pac-12 play after taking down Oregon Sunday night.
Three injury updates and what they mean for their respective teams
1. Kethan Savage, George Washington
One of the nation's most improved players is out six to eight weeks with a left foot fracture. What does this mean for the Colonials? Extremely limited depth moving forward. Mike Lonergan was able to go 6-0 during the early portion of the season when Patricio Garino was out with a finger injury but navigating through the guts of the Atlantic 10 schedule will be a significantly harder task without a player like Savage (13.4 points per game). Look for Garino to take Savage's place in the starting lineup and 6-8 forward Nemanja Mikic (5.2 points per game) to have an expanded role moving forward.
2. Kenyatta Smith, Harvard
Crimson coach Tommy Amaker told CBSSports.com this week that Smith is out of a walking boot but has yet to practice with contact. The 6-8 junior injured his foot in the preseason and has yet to play since. When I was in Cambridge during the preseason, Amaker said the biggest key to this team's long-term hopes hinged on getting regular production from the center spot. Those hopes are directly related to Smith's health. A healthy return for the big man may dictate whether or not the Crimson can win a game in the NCAA Tournament for the second consecutive season. Last year as a sophomore, Smith averaged 5.8 points and 4.3 rebounds per game.
3. Ricky Kreklow, Cal
The Bears look like the second best team in the Pac-12 behind Arizona and have yet to be at full-strength during league play. Mike Montgomery told CBSSports.com that Kreklow is still a few weeks away from returning from a wrist injury that's sidelined him since late December. Kreklow is an extremely pivotal piece for Cal thanks to his outside shooting and ability to give this team a different look as a stretch power forward. The 6-6 Kreklow was averaging 6.4 points per game and shooting 38.9 percent from three-point range before the injury. The Bears are 14-4 overall and 5-0 in the Pac-12. Cal visits USC Wednesday night and UCLA on Sunday.
After losing its second game this week, a deep NCAA Tournament run looks far-fetched for U...

Coach K shows he is on on top of his game by landing the best three prospects in the Class...

The Buckeyes and Boilermakers continue to assert their dominance in the Big Ten
The 5-star phenom was thought to be headed to Clemson, but was swayed to the Blue Devils

The nation's No. 3 player will commit Saturday and here's his impact on each of his finali...

Clemson, Kentucky, South Carolina, North Carolina, Duke and Kansas are all in the running