Triple threat: Turkey Day not just for football
Jon Rothstein tells you what games he'll be watching on Thanksgiving, including an intriguing Big 12 vs. Big Ten matchup in the Old Spice Classic.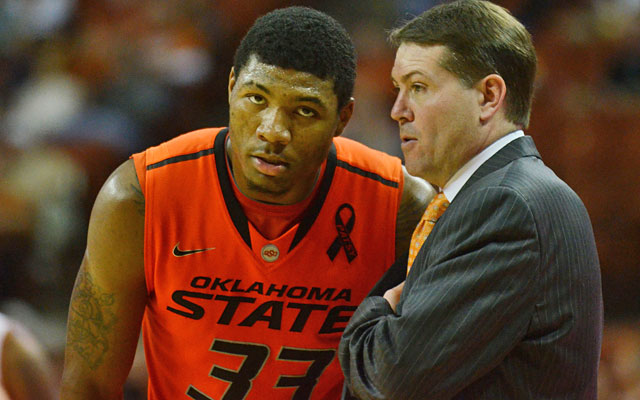 What to watch on Thanksgiving Day? Which teams have stepped forward? And which big men do you need to keep your eyes on? We have it covered in this week's edition of the Triple Threat.
Three Thanksgiving games I'm looking forward to
1. Oklahoma State vs. Purdue (Old Spice Classic, Orlando), 12:00pm ET
The Cowboys have quickly become a must-watch every time they step on the floor. Travis Ford's squad deserves to be in the conversation among the elite teams in the sport -- they're that good. Oklahoma State has one of the best backcourts in the country with Marcus Smart and Markel Brown along with a slew of talented role players who were all part of a team last season that reached the NCAA Tournament. Purdue has several returning players and should be right in the Big Ten mix. The key for the Boilers to stay close in this one? Reliable outside shooting from freshman Kendall Stephens . The 6-6 guard has made six three-point shots in Purdue's last two games.
2. Iowa vs. Xavier (Battle For Atlantis, Bahamas), 7:00pm ET
This feels like a Round of 64 NCAA Tournament game. Iowa looks set for a big season under Fran McCaffery while Xavier is set to begin a new era in the Big East under Chris Mack. The Musketeers will have the best player in the floor in Semaj Christon , and he's been nearly impossible to keep out of the paint. It will be interesting to see how the Hawkeyes' depth plays a role in this one. McCaffery is currently playing 10 different players 15 minutes or more and can use different alignments and configurations thanks to the versatility of his personnel. This is a big stage for Iowa, who needs to pick up some tangible momentum in the non-conference portion of its schedule before Big Ten play begins.
3. Creighton vs. Arizona State (Wooden Classic, Anaheim), 11:00pm ET
An 11 PM ET start on Thanksgiving night? Let's hope the turkey doesn't knock us all out before then! Not to worry, the pace of this game should be more than enough to put a cap on a great day of hoops. Both these teams want to get out and run, but at some point someone is going to have to stop somebody. Sun Devils big man Jordan Bachynski is having a career year (14.0 points, 11.8 rebounds, 4.8 blocks per game) but will he be able to step out on the perimeter and guard the Bluejays when they go to their skilled front court of Doug McDermott and Ethan Wragge ? This one should be beyond entertaining from start to finish.
Three of your hypothetical questions, answered
1. Why are people blasting VCU for losing to Florida State and Georgetown in Puerto Rico?
I have no idea. The Rams are the favorites in the Atlantic 10 but that doesn't mean they're incapable of losing to teams from the ACC and Big East. The Seminoles have four veteran guards in Devon Bookert , Ian Miller , Aaron Thomas , and Montay Brandon that can handle the Rams' pressure along with a veteran big man in Okaro White who was able to finish at the rim in transition. Florida State hasn't been on many people's ACC radar, but is now. Leonard Hamilton's team looks like it will again be right in the mix for an NCAA bid., Georgetown meanwhile also had veteran guards in Markel Starks , D'Vauntes Smith-Rivera , and Jabril Trawick along with an immovable object down low in Josh Smith . VCU may have went 1-2 during their trip to Puerto Rico, but that doesn't mean the sky is falling. Another thing to keep in mind? The Rams went 1-2 in each of their early-season tournaments during the past two seasons and then went on to reach the field of 68 and win a game.
2. Is UCLA's Jordan Adams the best player in the Pac-12?
He's definitely in the conversation. Adams doesn't have the NBA potential of Arizona's Aaron Gordon or the hype of Arizona State's Jahii Carson , but he still possesses unbelievable efficiency and basketball IQ. The Bruins haven't played anyone of note yet but the 6-5 Adams has put up numbers that are beyond ridiculous. Through five games, Adams is averaging 22.2 points, 4.6 rebounds, and 3.4 steals per game while shooting 56.3 percent from the field and 46.2 from three-point range. The most underrated thing about Adams? His ability to get into passing lanes defensively. Adams had eight steals in a win over Sacramento State on 11/21. UCLA will play Nevada and Northwestern on Thursday and Friday in Las Vegas.
3. Kentucky narrowly escaped against Cleveland State on Monday night -- will this type of game be a recurring theme for the Cats before they begin SEC play?
It's a legitimate possibility. To his credit, John Calipari didn't short-change Kentucky when it came to their non-conference schedule. The Wildcats will see teams with all sorts of styles and schemes before they begin league play on January 8th. In December, Kentucky will host Belmont, Boise State, and Louisville, travel to North Carolina, and play neutral site games against Providence and Baylor.
Three teams that showed they're going to be heard from this season
1. Pitt
New conference, same old Panthers? Kind of. The biggest difference between this Pitt team and past squads under Jamie Dixon is this one can really shoot the basketball. Tuesday night against Stanford, the Panthers made 8 of 17 three-point shots en route to an 88-67 rout of the Cardinal. Senior wing Lamar Patterson looks like he's primed for a big-time senior year and James Robinson continues to be a floor general who always seems to "move the chains. "Pitt has the chops to be a real player in the ACC.
2. Dayton
The Flyers may have fallen to Baylor by a point Tuesday night in the semifinals of the Maui Invitational, but they've proven that they're going to be a factor at the top of the Atlantic 10 standings. Dayton has already beaten Gonzaga and Georgia Tech and possesses a plethora of scorers that can make shots from anywhere on the floor. This is a really skilled team that's exceptionally well-coached by Archie Miller.
3. Charlotte
The 49ers aren't flashy, but boy are they tough. Alan Major's front line combo of Willie Clayton and Mike Thorne is relentless enough to trade blows with any baseline in America and Pierria Henry is a unique point guard that fills up the box score at will (13.8 points, 6.2 rebounds, 5.5 assists, 3.0 steals per game). Charlotte's win over Michigan in the finals of the Puerto Rico Shootout was the type of breakthrough victory Major needed to put this program on the national map. The 49ers should have a wave of momentum entering Conference USA.
Three big men who deserve more attention
1. Chris Obekpa , St. John's
Obekpa is a joke. Far and away the best shot blocker in college basketball, the sophomore is averaging a ridiculous 5.3 blocks per game and has swatted 22 shots in the Red Storm's last three contests. Think another Theo Ratliff.
2. TaShawn Thomas , Houston
Skilled and talented, Thomas is a big-time producer each time he steps on the floor. Armed with a good feel along with a solid touch around the rim, the 6-8 junior has emerged as the focal point for the Cougars as they get set to jump from Conference USA to the American Athletic Conference. Thomas is currently averaging 17.7 points, 12.0 rebounds, and 4.3 blocks per game, and had 22 points and 14 rebounds on Monday night against Stanford's front line of Josh Huestis , Dwight Powell , and Stefan Nastic .
3. David Kravish , Cal
Mike Montgomery will be the first to tell you his team doesn't have many big men but he'll also tell you how glad he is to have Kravish. Bigger and stronger than he was a season ago, the 6-9 junior is starting to assert himself more on the offensive end of the floor. Kravish had 19 points and 15 rebounds in the Bears' win over Arkansas on Monday in the first round of the Maui Invitational.
Three under-the-radar mid-majors to keep an eye on
1. Toledo
The Rockets are loaded, with several players who could play at a higher level. Guards Julius Brown and Rian Pearson are two crafty scorers who carve up defenses on a nightly basis while 6-6 forward J.D. Weatherspoon is a talented player who originally began his college career at Ohio State. Skilled big man Nathan Boothe is a producer at 6-9 while Loyola (MD) transfer Justin Drummond is a an effective player at 6-4 that was a big part of the Greyhounds' run to the NCAA Tournament two years ago. Toledo has already won at Boston College and beaten America East favorite Stony Brook.
2. New Mexico State
Marvin Menzies has returned the bulk of last season's core that went to the NCAA Tournament and lost to Saint Louis. Junior guard Daniel Mullings is a tremendous athlete at 6-2 who resembles a mid-major version of Russell Westbook. The Aggies have solid size up front with Tshilidzi Nephawe (10.6 points, 8.6 rebounds per game) and 7-5 big man Sim Bhullar . New Mexico State has already beaten UTEP twice and won a game at Hawaii. The Aggies will play at Arizona, Gonzaga, and New Mexico in December.
3. Boston University
Great guards win in college basketball, and Joe Jones has a pair of them in D.J. Irving and Maurice Watson. The Terriers aren't a very big team and rarely play anyone over 6-7, but their quickness and ability to get baskets in transition makes them dangerous. BU already has wins over Northeastern, LIU-Brooklyn, and Big West favorite UC Irvine. The Terriers host Harvard and visit George Washington, Saint Joseph's, and Maryland in December.
An incredibly fun idea has been put on the table for next year

College coaches give the edge to Michael Porter -- just barely over Miles Bridges

CBS Sports' college basketball experts polled more than 100 coaches to get their pick to win...
Marvin Bagley, if eligible at Duke this season, projects as the country's top power forwar...

The Big Ten Tournament is a week earlier than usual, so the regular-season schedule may look...

Arizona, Grand Canyon and Tulane are also in Barcelona and have reported to be accounted for...