Triple Threat: Vaughn makes Rebels 2014-15 favorite in MW
Jon Rothstein looks at the impact Rashad Vaughn will have on UNLV, breaks down Wednesday's epic Syracuse/Pitt matchup, and wonders about depleted Colorado's chances of making the field of 68.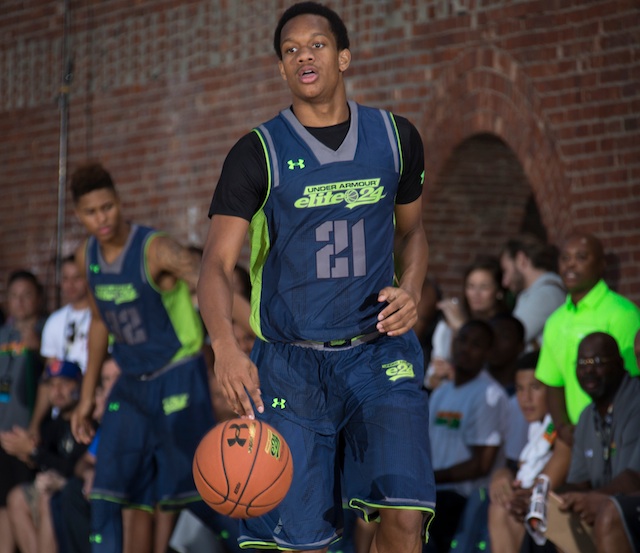 What are some untapped storylines in college basketball? Which three players aren't household names now but will be next season? Answers to those questions and more in this week's Triple Threat.
Three quick hits
1. Findlay Prep's Rashad Vaughn verbally committed to UNLV Tuesday night on CBS Sports Network. What does it mean for the Runnin Rebels in 14-15?
It means that Dave Rice's team will likely be the favorite in the Mountain West entering next season. Vaughn is a 6-6 guard who brings instant offense and can immediately help with the Runnin Rebels' outside shooting. In addition to Vaughn, UNLV will add two high-level freshmen that can contribute immediately in 6-7 forward Dwayne Morgan and big man Goodluck Okonoboh. That trio along with the returning frontcourt duo of Roscoe Smith and Khem Birch should make the Runnin' Rebels as talented as any team they'll face in their league. The big question for this team will once again be chemistry. Rice needs big-time offseasons from his two point guards -- Deville and Kendall Smith -- if UNLV is to return to the field of 68 in 2015.
2. What's the most underrated part about Texas?
Frontcourt depth. The Longhorns played Oklahoma State Tuesday night without starting power forward Jonathan Holmes (knee) but didn't miss a beat thanks to their bench. Six-foot-nine sophomore Conner Lammert started in place of Holmes and finished with nine points and nine rebounds in the win over the Cowboys while fellow sophomore Prince Ibeh tallied four points and six rebounds in 19 minutes of work. Holmes (13.1 points, 7.4 rebounds) and Cameron Ridley (12 points, 13 rebounds vs. Oklahoma State) get most of the attention for Texas up front, but Rick Barnes has options when he goes to his bench.
3. Is K.J. McDaniels the best kept secret in America?
He's definitely one of them. The 6-6 forward is quietly having an all-ACC season for Clemson and had 30 points, 14 rebounds, and five blocks in the Tigers' double overtime loss Tuesday night at Notre Dame. McDaniels is averaging 17.0 points, 7.5 rebounds, and 2.7 blocks on the season. A tremendous athlete with terrific timing on the backboards, McDaniels is one of the main reasons why Clemson is 15-8 overall and 6-5 in in the ACC. 
Three games I'm looking forward to
1. Syracuse at Pitt (Wednesday, 7 PM ET)
Is this the game where the Orange will suffer their first loss of the 2013-14 season? Not unless Pitt gets Lamar Patterson (17.2 PPG) back on track. The Panthers' fifth-year senior needs to get his "mojo" back after shooting just 14-51 from the field over his last four games. Desperate times call for desperate measures and Pitt is desperate for a marquee win. Jamie Dixon's team is 20-4 this season but has yet to beat a team that's a lock for the field of 68. How can the Panthers knock off the number one team in the country? They have to be desperate.
2. Duke at North Carolina (Wednesday, 9 PM ET)
No team in America has enjoyed the big spot more this year than the Tar Heels and that's just what they'll get on Wednesday night in Chapel Hill. North Carolina has won six of its last seven games but hasn't beat a team that looks to be a lock for the NCAA Tournament since they played Kentucky on 12/14. Duke, meanwhile, seems to have hit another gear in the last few weeks and will have the most talented player in this game in Jabari Parker. The team with the most talented player on the floor usually has a distinct advantage, but that doesn't always make the entire difference in a rivalry of this magnitude.
3. St. John's at Seton Hall (Thursday, 9 PM ET)
Why am I so intrigued with this game? Because I'm very curious to see how the Red Storm handle success. St. John's played its best game of the season on Sunday night against Creighton and if this team wants to stay in the bubble conversation for the NCAA Tournament, it needs to win this game on the road against the Pirates. Steve Lavin's team has won six of its last seven games, and has the talent to play its way into the field of 68.
Three unheralded storylines
1. Mike Gesell is pointing the way for Iowa
The sophomore floor general isn't the first person people circle when they scan the Hawkeyes' roster, but he's one of Iowa's most important players. For Fran McCaffery's team to win at a high level, it needs to accelerate the tempo and manufacture more possessions. That's what Gesell does best. The 6-1 guard had 10 points, eight assists, and just a single turnover in Iowa's win over Michigan on Saturday. Gesell has 20 assists and just six turnovers in his last five games and is averaging 7.6 points and 3.8 assists this season.
2. Colorado has weathered the storm
Tad Boyle's squad isn't nearly as formidable as it was in the beginning of the season when it had Spencer Dinwiddie at point guard, but that doesn't mean the Buffaloes aren't capable of making the NCAA Tournament. Colorado has won three consecutive games and is 17-6 overall and 7-5 in Pac-12 play heading into this week's trip to LA to play UCLA and USC. Another thing to remember about the Buffaloes? They own two major wins -- Kansas and Harvard -- that will enhance their NCAA resume. Even if those victories came prior to Dinwiddie tearing his ACL against Washington on 1/12, it helps to have that kind of equity if you're a potential team on the bubble.
3. The Ivy League may be more competitive than we initially thought
Remember when Harvard was a lock for the NCAA Tournament? Well, it appears the Crimson may actually have some work to do before they get nice and cozy for Selection Sunday. After Yale's upset over Harvard on Saturday night in Cambridge, the Bulldogs and Crimson are now tied for first place in the Ivy League with identical 5-1 records. Tommy Amaker's team still has to play Yale in New Haven on 3/7, which means the road to an automatic bid no longer runs through Cambridge. This is why they play the games!
Three potential bid-stealers to keep an eye on
Bid-stealer: a team that enters championship week without an NCAA Tournament resume but is more than capable of winning its conference tournament to get an automatic bid to the field of 68.
1. Oregon
The Ducks may be just 3-8 in Pac-12 play and 15-8 overall but they've lost four games in conference play by a single bucket. Dana Altman's team has enough talent to beat anyone in the Pac-12, but has struggled to regularly guard for 40 minutes. Oregon won't enter its conference tournament with an NCAA resume, but it's more than capable of running the table at the Pac-12 Tournament in Las Vegas.
2. Boise State
I'm not sure there's a coach in America that's lost more sleep than Leon Rice. The Broncos nearly picked off San Diego State in each of their two meetings this season and Boise State also suffered a four-point loss against Iowa State in the finals of the Diamondhead Classic in Hawaii. This team has had ample opportunities to earn resume-building wins only to come up short each time. The biggest reason why the Broncos could be a nuisance during championship week in March? Backcourt experience. Anthony Drmic (17.2 points) and Derrick Marks (16.0 points) are two junior guards who played in the NCAA Tournament last March and won't be intimidated by the big stage. This team will be a tough out in the Mountain West tournament.
3. La Salle
I'm not sure if I've ever seen a team suffer two more excruciating losses than when the Explorers lost to Saint Louis on Saturday and to VCU two weeks ago in double overtime. John Giannini's team will have to win the Atlantic 10 Tournament at the Barclays Center to return to the field of 68 after last year's run to the Sweet 16, and that's something it has the capability to do. La Salle's entire core of players -- Tyreek Duren, Sam Mills, Tyrone Garland, Steve Zack, and Jerrell Wright -- all played major minutes last season when the Explorers won three games in the NCAA Tournament and then lost to Wichita State. The biggest key for this team to build some momentum over the next month? They have to get back to playing like they did before they experienced any success last March. La Salle brought a certain "edge" to the floor every time it played a game last season and that dynamic hasn't been as consistent as it was during the 2012-13 campaign. The Explorers are currently 12-11 overall and 4-5 in the Atlantic 10.
Three guys who will be household names next season
1. Delon Wright, Utah
It's amazing that Wright hasn't gotten more national attention this season. The 6-5 point guard is the swiss army knife of college basketball because there's not an area of the box score that he can't affect. The junior college transfer is currently averaging 16.0 points, 6.7 rebounds, 5.4 assists, 1.3 blocks, and 2.8 steals this season for Utah, who has become a sneaky good team in the Pac-12 . If Wright can become a better three-point shooter (25.6 percent) a year from now, he'll undoubtedly be one of the better guards in the Pac-12, and maybe the country. Larry Krystkowiak has the Utes positioned for a run at the NCAA Tournament in 14-15 and Wright is one of the main reasons why.
2. Eron Harris, West Virginia
The 6-3 shooting guard Harris has followed up a great freshman season (9.8 points per game) with an even better campaign as a sophomore. Harris is second on the Mountaineers in scoring at 17.4 PPG and has emerged as one of the better offensive players in the Big 12. Harris may not be known nationally just yet, but as West Virginia's brand continues to re-emerge, more and more people will become familiar with this ultra talented two-guard.
3. Nigel Hayes, Wisconsin
This undersized power forward can beat opponents inside or out. Blessed with the perfect blend of power and quickness, the 6-7 Hayes can beat teams with his face-up game but also can go around people and get to the rim. The freshman has scored in double-figures in three straight games for Wisconsin and will be one of the best big men in the Big Ten next year as a sophomore. Hayes is currently averaging 7.8 points and 2.6 rebounds.
Indiana's Archie Miller and Mizzou's Cuonzo Martin have been killing it on the recruiting...

Duke's much-anticipated Allen-Duval connection is off to a hot start already

It'll be Miller vs. Miller if the Hoosiers and Wildcats can finalize the proposed series
Wisconsin's Ethan Happ has made only two jumpers in his career, but is adding a long-range...

The deal is part of long-awaited $2.64 billion contract; CBS' hoops-only commitment runs through...

If Wichita State guard Landry Shamet has a breakout season, he could leave early for the N...