UCF signs coach Donnie Jones to five-year contract extension
Donnie Jones' future at UCF seemed uncertain this time last year. But that's no longer the case thanks to a new five-year contract extension.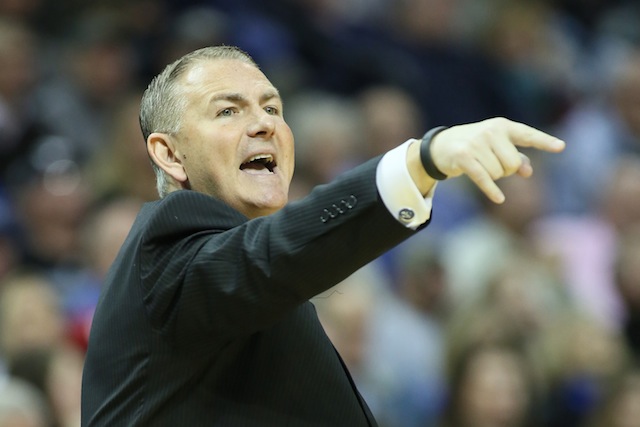 UCF's Donnie Jones signed a five-year contract extention that would keep the coach with the Knights through 2018, the Associated Press reported Friday.
Central Florida's athletic director, Todd Stansbury, announced the deal, which adds three years to Jones' current contract.
I never thought the NCAA violations committed at UCF were that big of a deal relative to other things that go on in high-major recruiting. They certainly didn't compare to what happened at Connecticut under Jim Calhoun. But they still resulted in probation and a postseason ban for the Knights, and they also cost athletic director Keith Tribble his job.
Which seemed like a bad sign for Donnie Jones.
Truth be told, it's almost never good when a basketball coach finds himself working for somebody other than the person who hired him because that person is typically eager to put a stamp on the program and bring in his own guy, so to speak. And it's especially nerve-racking when you're trying to ingratiate yourself with a new athletic director while dealing with NCAA sanctions that, in part, cost you three key players -- in this case, Marcus Jordan, C.J. Reed and Josh Crittle -- before a season even begins. Combine those things with the fact that Jones only had three years left on his contract this time last year, and it was reasonable to assume he might spend the 2012-13 season coaching for his job, and the long-term prognosis didn't appear all that positive, or at least not as good as it did on the day that Jones was hired away from Marshall in 2010.
But Jones never seemed to lose focus.
He never seemed that down.
Instead, Jones decided to try to do as much as he could with a diminished roster and hope for the best. The result was 20 wins and a third-place finish in Conference USA, and the result of that is expected to be a five-year contract extension that will soon be finalized and represent stability within the program. The deal highlights a commitment between UCF's second-year athletic director Todd Stansbury and his fourth-year men's basketball coach, and it should go a long way in putting those NCAA penalties announced nearly a year ago behind Jones.
Yes, they'll always be part of his legacy. Yes, they'll always be part of his resume. But it's now clear the violations represented more of a bump in the road of Jones' career than a total derailment, and now UCF can head into the American Athletic Conference with a future free of questions about whether Stansbury is seriously committed to the basketball coach whom he inherited under less-than-ideal circumstances.
Marvin Bagley, if eligible at Duke this season, projects as the country's top power forwar...

The Big Ten Tournament is a week earlier than usual, so the regular-season schedule may look...

Arizona, Grand Canyon and Tulane are also in Barcelona and have reported to be accounted for...
The Kansas forward is no longer accused of walking out on an $88 tab

Cavaliers basketball coach tapes statement on behalf of his university and his city

Gary Parrish and Matt Norlander discuss all things Marvin Bagley and his immediate future