UCF unveils new 'blacktop' court design
The UCF basketball program has been on the rise in recent years -- and now the Knights have a new court that will draw some attention.
• 1 min read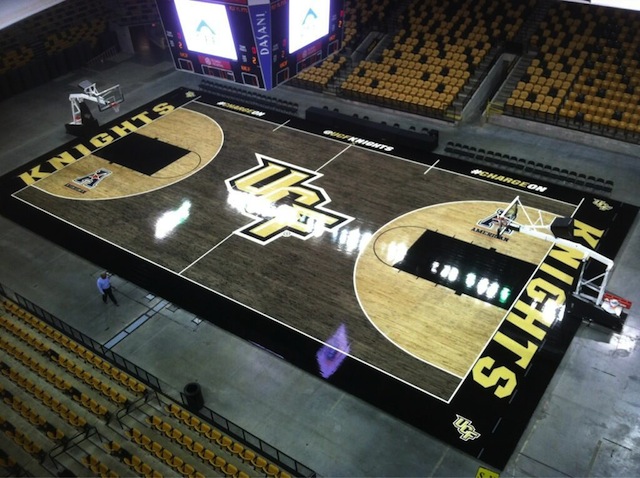 The UCF basketball program is clearly taking steps with its future in mind. Last week, head coach Donnie Jones signed a five-year contract extension to stay with the Knights through 2018.
And on Monday morning, the school unveiled a new court design for CFE Arena.
After trying multiple times to get a "blacked out" look for the court, the school was finally able to get the "blacktop" court that it wanted. The process took seven months.
"The court is part of our branding," Jones said. "When you turn on the TV, you will know when UCF is playing. We are moving into a new league and will have new opportunities for exposure, and the timing is right for a new floor, as well."
In my opinion, it's pretty cool. It might take some getting used to at first, but it's different from anything else in college hoops. It's another nice step in an attempt to draw more attention to UCF basketball -- especially after some issues in recent years.
To see more photos, head to the school's official site. 
College coaches give the edge to Michael Porter -- just barely over Miles Bridges

CBS Sports' college basketball experts polled more than 100 coaches to get their pick to win...

Marvin Bagley, if eligible at Duke this season, projects as the country's top power forwar...
The Big Ten Tournament is a week earlier than usual, so the regular-season schedule may look...

Arizona, Grand Canyon and Tulane are also in Barcelona and have reported to be accounted for...

The Kansas forward is no longer accused of walking out on an $88 tab