UConn, Calhoun pay Newtown children a visit
Nearly 24 hours after the tragedy took place in Newtown, Conn., Kyle Lyddy made an emotional call on a whim. That call was to UConn coach Kevin Ollie. "I asked if he and the team would be willing to come to Newtown at some point," Lyddy, 25, said. Ollie immediately agreed.
• 4 min read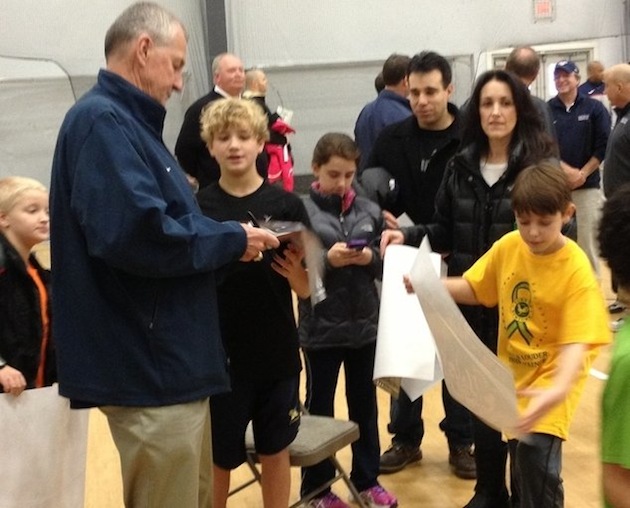 Jim Calhoun signs autographs for children at the Newtown Youth Academy on Thursday. (photo via Kyle Lyddy)
Nearly 24 hours after the tragedy took place in Newtown, Conn., Kyle Lyddy made an emotional call on a whim. That call was to UConn coach Kevin Ollie.
"I asked if he and the team would be willing to come to Newtown at some point," Lyddy, 25, said.
Ollie immediately agreed and promised to get his team on a bus and make the 75-minute drive down I-84 southwest of Storrs some time before December was through. He made good on his word Thursday.
Everyone associated with the team -- players, coaches, managers, walk-ons, video coordinators, administrative assistants and, yes, Jim Calhoun -- walked in to the Newtown Youth Academy and saw approximately 150 young faces eager to get autographs and basketball lessons. They spent an hour and a half with locals, laughing, exchanging stories and playing ball.
Media was strictly prohibited from attending. The Newtown Youth Academy in general has been a sanctuary for everyone in and around Newtown to get away from the somberness that still hovers over the sleepy Connecticut town. Lyddy, a lifelong Newtown resident and UConn alumnus, was able to arrange the meetup due to his ties as Huskies basketball manager from 2005-09.
"It's natural humanity to want to do something, to be honest, but we don't know how to help after things like this," Lyddy said. "There have been tons of different events that have popped up in support of this. So I thought, the one thing I can do is call Kevin Ollie."
He left the message, hoping for the best. Ollie called back 15 minutes later and made the promise.
"It was extremely difficult to [ask him] and he was so genuine," Lyddy said. "It was perfect."
For UConn men's basketball (which has worn this patch), by far the biggest sports attraction in the state, to make time to do this meant lifetime memories for the young children and teenagers in attendance.
"They've never seen anything like that in this town," Lyddy, who has also spearheaded the "We Are Newtown" movement on Facebook, said.
"We know that this community is coming together and will prevail and we just wanted to go there and show our support, show them that our team and the whole state of Connecticut is behind them," Ollie said. "It was great for us to be able to see some smiles on their faces and to spend some time with them and do what we could. It was a great experience for our kids. We were proud and honored to be able to help."
The town didn't know the trip was on until about 24 hours prior. UConn had to go through its compliance office to make sure it wasn't violating any NCAA rules in doing this. (I know -- nuts, but true.) On a normal day it'd be a few dozen kids playing pickup at the Newtown Youth Academy, but the facility's been something of a safehouse, according to Lyddy.
"I'm not sure what the town would do without the facility," Lyddy said. "It's gotten people's minds off things."
As soon as they walked in, the team sat down and the kids lined up to get autographs.
Shabazz Napier signing posters today in Newtown. twitter.com/Lydkid/status/…

— Kyle Lyddy (@Lydkid) December 27, 2012
Then it was a lot of shootarounds and playfully blocking the kids' shots and getting in some games of knockout. Thursday also happened to be the 40th birthday for Ollie and 20th for UConn sophomore Ryan Boatright.
"On the bus we were talking about bringing joy and bringing happiness to the kids," Boatright said. "We've been down up here, and we wanted to get their minds off of that. ... It was just a positive experience all around. To see the smile of the kids' faces and be so happy to see us, I had a great time and I look forward to doing it again someday."
Boatright said he and the children talked mostly about basketball, and they all wanted to know who thought who was the best player, best dunker, their favorite NBA players. He said it reminded him of a decade ago, when he was a child and he looked up to Allen Iverson.
"I remember I used to be just like that, like those kids," Boatright said.
There's more to come, too. Lyddy said he spoke with UConn assistant George Blaney, and as of now the program is in the early stages of organizing a basketball camp next summer that would offer five to 10 scholarships for those from Newtown in the 10-year-old age group.
---
For more college basketball news, rumors and analysis, follow @EyeOnCBB on Twitter, subscribe to our RSS Feed and college hoops newsletter. You can follow Matt Norlander on Twitter here: @MattNorlander.
The Big Ten will start playing 20 conference games a season earlier than the ACC

Pitino appeared on ESPN to discuss his ousting and the lie detector test he passed

The subpoenas are related with the FBI's ongoing investigation into corruption within the...
College basketball's recruiting scandal rocks Louisville again

Pitino was fired from his post as Louisville coach for helping funnel money to players

The seats of the winners who cut corners are hotter than the losers who do it right.