UConn coach Jim Calhoun suffers broken hip in bike accident
UConn's 70-year-old head coach Jim Calhoun has overcome no shortage of health issues. The latest is another bike incident. This time -- according to a source -- Calhoun suffered a broken hip and will have surgery Saturday night.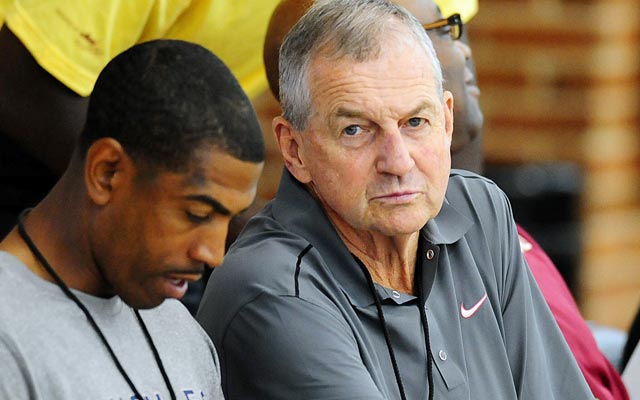 Jim Calhoun has dealt with a plethora of health problems in the last several years.
(US Presswire)
UConn coach Jim Calhoun has beaten cancer a couple times, has suffered broken ribs and now has suffered a broken hip while riding his bike just hours prior to a full weekend of charity events in which former players were in town. 

The school put out a release Saturday night that Calhoun suffered a hip fracture and will undergo surgery Saturday night at the John Dempsey Hospital at the UConn Health Center in Farmington. 

Calhoun, an avid bike rider, broke five ribs in 2009 while riding in a charity event.  
Calhoun, according to a source, was riding mid-afternoon Saturday near his summer home in Madison, Conn., when he hit a patch of dirt and his feet became entangled in the pedals. He fell to the ground, couldn't get up and called his wife. He was then transported to a local hospital. 
The initial indication was a broken hip, and  the 70-year-old Calhoun was then taken to UConn health center -- where the injury was confirmed. 
"He could have surgery tonight," the source said. 
Calhoun was slated to be at a charity basketball game Saturday night at the Mohegan Sun which opened a weekend of events. There is a golf tournament scheduled Sunday and another one in Avon, Conn. on Monday. 
I spent a couple hours with Calhoun less than a month ago in Indianapolis on the summer circuit and he told me he just finished riding 25 miles. He also said he was invigorated despite the fact that the Huskies were ineligible to play in the postseason this year due to low academic scores. 

Calhoun's medical issues are lengthy. He had prostate cancer in 2003, skin cancer in 2008, suffered his first major bike accident three years ago, missed nearly a month in 2010 due to health issues and sat out a month last season because of back problems. 

He won his third national title in 2011 and has more than 600 career victories. 
 
Fall is being shut down after dealing with shoulder injuries and will undergo surgery soon

The Wildcats' resume doesn't seem too impressive right now

Was there contact? 'Everybody saw it,' UK coach John Calipari said
After losing its second game this week, a deep NCAA Tournament run looks far-fetched for U...

Coach K shows he is on on top of his game by landing the best three prospects in the Class...

The Buckeyes and Boilermakers continue to assert their dominance in the Big Ten